The Lowepro's DroneGuard is a Modular Protective Storage System for Your Quadcopter
Having a flexible and reliable all-in-one solution to store, transport and keep your quadcopter save at the same time is a must, no matter if you are a seasoned professional working on various commercial projects on a daily basis, or you simply enjoy shooting aerial videos in your backyard on a sunny weekend just for fun.
The Lowepro DroneGuard modular pack is designed to be the ultimate grab-and-go carry system providing the ability to accommodate various X-shape drones, such as the DJI Phantom models including the latest Phantom 3 and other similarly sized quadcopters. The center portion of the bag carries the quadcopter and accessories are organized around it. The system also features a few smaller compartments, which are still open and accessible, and is made for quick and easy access to cameras, batteries, transmitters and other piloting gear.
Drone Guard Kit Product Video from Lowepro on Vimeo.
One of the big assets of the DroneGuard is that the system is highly adaptive and flexible, and there is enough room to keep all parts and accessories of your drone kit organized, neat and within easy reach, so when you arrive at the location or whenever you need, you can pull the outer layers away in a matter of seconds and access the quadcopter instantly without having to worry about components catching or shifting when pulling it out of a bag or case.
Furthermore, you can easily remove and reposition the DroneGuard Kit divider system to ensure a snug and neat fit for your drone, no mater if it's DJ Phantom 1,2 or 3, 3d Robotics IRIS+, Ghost Aerial Plus, Blade 350 QX3, the new Solo Smart Drone or any other quadcopter in this class. The sides of the DroneGuard Kit also can be folded down, thus turning this additional space into a decent working area for minor assembly and repair jobs in the field.
The modular components include a Battery Box with 4 dividers and outer loops, sidewalls with pockets, plus Transmitter Divider. The system also provides extra security and protection for your gear with a plethora of retention straps, elastic loop system, rigid base, padded and adjustable dividers and durable materials that resist extreme weather conditions.
Here is a brief summary of the Drone Guard kit features:
The system keeps all parts of a drone kit organized, neat and within easy reach
The modular design may be configured for multiple uses and scenarios
Protective and supporting dividers keep all parts tightly arranged and provide extra security for fragile gimbal-and-drone set-up
Rigid and protective tray with honeycomb interior, plus comfortable carry straps
Detachable Battery Box includes 4 padded and removable dividers
Hook/loop attachment system with Velex for secure configuration
Built to fit and organize all your drone/quad components, including cameras, transmitters, cords, tools, spare parts, manuals, etc.
Lightweight and portable design keeps all equipment safe and within each for storage, transport, set-up and use on location – place it in car or larger bag for travel
Includes modular components for flexible use and easy customization: Battery Box with 4 dividers and outer loops, Sidewalls with pockets, plus Transmitter Divider
Built to secure and protect gear with retention straps, elastic loop system, rigid base, padded and adjustable dividers and durable materials that resist moisture and abrasion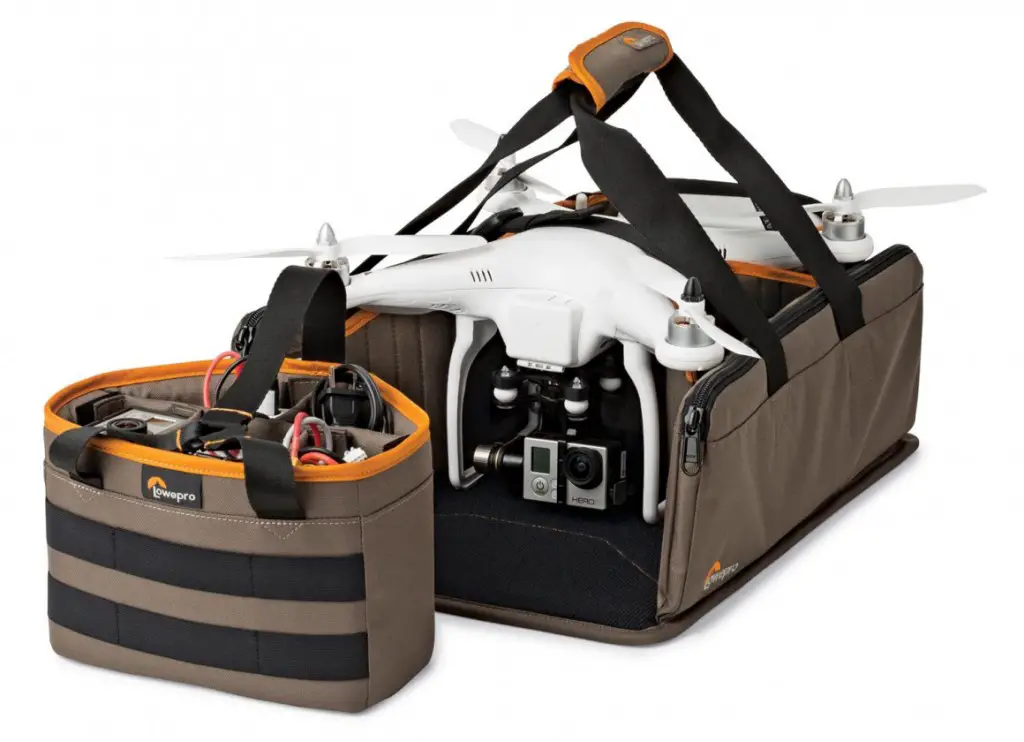 DroneGuard Kit can be carried by itself or in the Hardside 400 for even more protection.The DroneGuard Kit comes with a retail price of $99.99, or can be purchased in a bundle with a hard case for $319.95. For more information head on over to Lowepro's official website.
[via: Resourcemagonline, source: Lowepro]
Claim your copy of DAVINCI RESOLVE 16 - SIMPLIFIED COURSE with 50% off! Get Instant Access!