With the introduction of 3-axis hand-held gimbals and other innovative stabilisers along with the various filmmaking accessories and numerous apps that can turn your smartphone into a fully functional filmmaking tool, the growing demand for more efficient and reliable storing solutions seems to be happening in a very natural way. Imagine a situation where you can save more than 16 hours of Full HD footage captured with your smartphone on a single microSD card. In just one year after introducing its record-breaking 128GB SanDisk Ultra microSDXC card, SanDisk has increased storage capacity by 56% within the same fingernail-sized form factor.
The latest SanDisk Ultra microSDXC UHS-I card has a mind-boggling capacity of 200GB and is capable of fast transfer speed of up to 90MB/s. SanDisk achieved this capacity breakthrough by leveraging the proprietary technology developed last year for the 128GB SanDisk Ultra microSDXC card and creating a new design and production process that allows creating this unprecedented in terms of storage new premium product.
The high capacity microSDXC memory card is also water, temperature, shock, X-ray, and magnet proof to ensure that you can keep data safe even if used in extreme weather conditions. You can also transfer files to and from the card via the included SD adapter. The card is also Class 10 certified which makes it enough reliable and efficient solution for capturing high-quality video at faster data rates.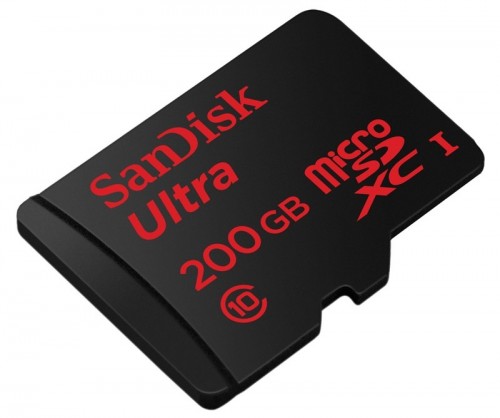 This microSDXC memory card comes with SanDisk Memory Zone designed to free up space on your smartphone. Just download thе app on your Android device and you can back up your footage and other essential files to your memory card. The 200GB SanDisk Ultra microSDXC UHS-I card, Premium Edition, also features a ten-year limited warranty and now can be pre-ordered from B&H.
We shouldn't be surprised by this smart evolution as the mobile devices are an inseparable part of modern life; filmmaking included. Considering the numerous feature films shot exclusively on smartphones and given the fact that we are talking about devices that have been around for less than ten years this is an impressive technological progress to say the least.
[via Redsharknews]
Claim your copy of DAVINCI RESOLVE - SIMPLIFIED COURSE with 50% off! Get Instant Access!