I was a 2nd AC on a low-budget feature film that just wrapped yesterday, and one of the main piece of kit that I was also responsible for was the director's monitor, which was basically our whole video village. The 7-inch monitor was setup in my Wooden Camera Director's Monitor Cage v1 (which I believe they don't sell anymore) rigged with a Teradek Bolt 500 LT receiver and a V-mount plate to power both units.
I've had this cage for a year and some change now, and I've used it on numerous shoots from music videos to shorts films, and now even a feature. It's simple and it has never given up on me. Sure, it has its quirks, but I am used to them. It's light and adjustable, and has decent space for a V-mount plate on the back.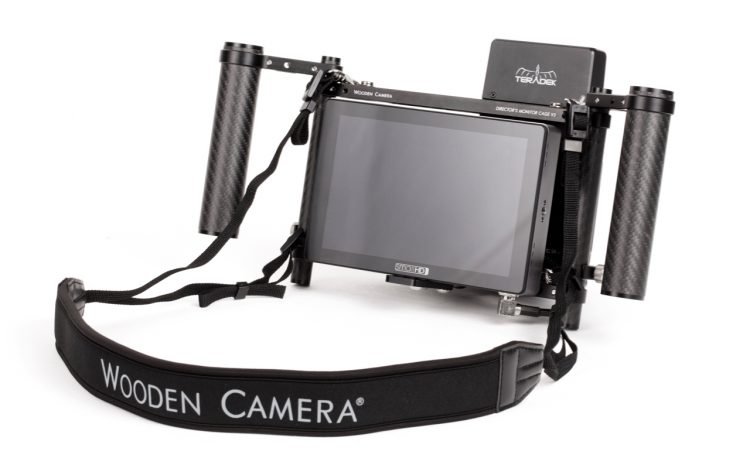 In the meantime, just earlier today and just in time for Cine Gear Expo 2019, Wooden Camera announced the Director's Monitor Cage v3, a major update to the previous design with new user friendly functions and a reduction in weight.
WC made improvements to their design of the v2 of the cage, and now the v3 of their DMC is said to be engineered to be universally compatible with any monitor up to 9 inches (measured diagonally) and attaches via top, bottom, or rear 1/4-20 mounting locations.
The new V3 cage works with just about every pro monitor under the sun. Here's a list of compatible monitors:
SmallHD DP4, DP6, AC7, DP7,
SmallHD 500 Series, 700 Series,
SmallHD Cine 7, 702 Touch, FOCUS 5/7, and UltraBright
TVLogic VFM-056W/WP, VFM-058W, VFM-055A, F-7H, F-5A
Ikan D5, VK7i, VH8, VL5, VX9e, DH5e, DH7, D7C, S7H, S7C, S7P
Convergent Design Odyssey 7, 7Q, 7Q+
Blackmagic Video Assist
Atomos Samurai, Ninja, Shogun, Shinobi
And many more
Wooden Camera also go on to say the new Director's Monitor Cage v3 has had its weight slashed by a whopping 33% compared to the previous v2 model, and now weighs only 1 pound while featuring carbon fibre rods and handles.
The lightweight design provides a dual direction swing away battery bracket for mounting either gold mount or v-mount battery plates and integrated dual wireless receiver mounting brackets.
The new cage comes supplied with an integrated baby pin clamp for easy mounting to C-Stands and a 4-point quick release neck strap for portable viewing. A removable sunshade for increased daylight visibility is also provided, this way your director can easily focus on the action in the scene.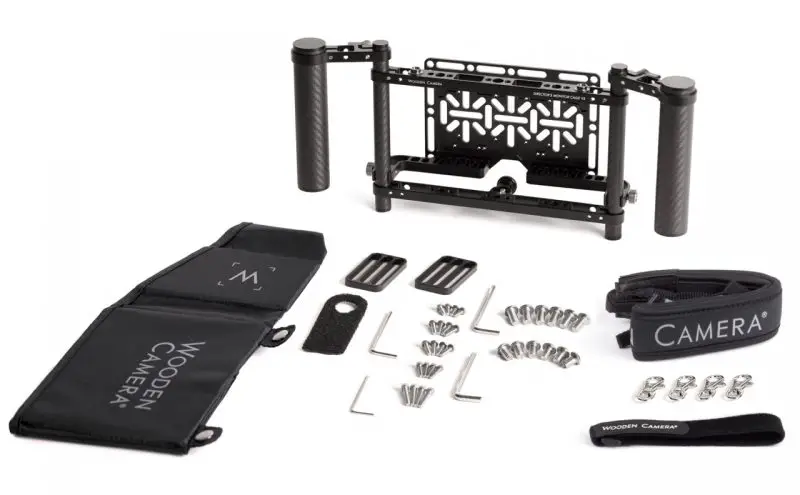 Another cool feature of the new Wooden Camera Director's Monitor Cage v3 is that it ships pre-assembled and ready to use on set.
A Dual Director's Monitor Cage v3 is also available for mounting two monitors side by side.
The WC Director's Monitor Cage v3 is available for pre-order now for $299 directly through the Wooden Camera website and/or through their authorised dealership network and will begin shipping mid June. See more pricing details below.
Wooden Camera Director's Monitor Cage v3 Pricing:
(part #270000) Director's Monitor Cage v3 – $299
(part #271600) Dual Director's Monitor Cage v3 – $599
(part #271700) Dual Director's Monitor Cage v3 (Adapter Set Only) – $65
To learn more about the new Director's monitor cage v3 head over to the Wooden Camera website here, and be sure to check them out at Cine Gear Expo 2019 from May 31st – June 2 at the Paramount lot in Hollywood, CA.
Claim your copy of DAVINCI RESOLVE - SIMPLIFIED COURSE with 50% off! Get Instant Access!