You may remember a while back we did a write-up on a monstrous cine rig for the Sony A7s and C300/C500 cameras from LA gear maker Cinoflex. The Cinoflex type-SA7S is a full camera system solution for the popular mirrorless full frame Sony A7s camera. "More than just a rig" is often mentioned on their Facebook page, and the photos of their custom designed power/wireless/all-in-one professional Cinema Camera solution speaks for itself. The Hollywood gear makers have been making waves again with their custom Cinoflex Sony A7s and POV rig, which was recently used to shoot a POV episode of the popular FX TV sitcom "It's Always Sunny in Philadelphia" for their Season 11.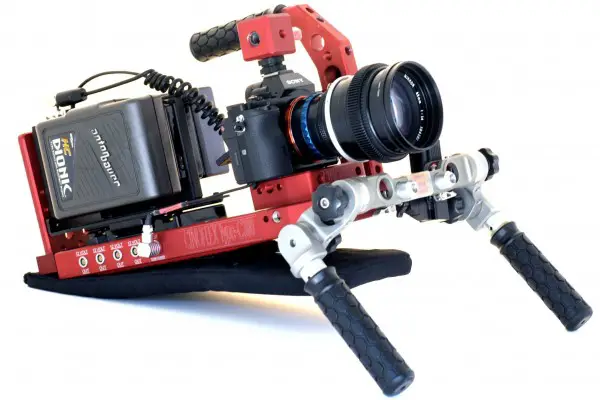 For those not familiar with "It's Always Sunny…" its a hilarious comedy show featuring the exploits of a few selfish and quite arrogant friends (and family) who run a dilapidated Irish pub in South Philadelphia. The show stars Glenn Howerton, Rob McElhenney, Charlie Day, Kaitlin Olson, and Danny DeVito. It airs on FXX in the US, was originally on the parent FX channel up to Season 9. The show is shot in a run n' gun style and very much true to it's low-budget roots. Check out these promos for the last Season 10 below.
I've been a fan of this "It's Always Sunny.." since the first season back in 2005. The show was one of the first to be shot completely digital using the legendary Panasonic DVX-100 in 24p for the first 5 seasons. For the later seasons, they've moved up, and in the latest and upcoming Season 11, the show will feature an episode shot on the Sony A7s + Odyssey7Q+ combo in a custom Cinoflex camera system rig powered by Anton Bauer batteries and also using Teradek wireless transmitters as the show needed a specific POV look. This from Cinoflex:
The show wanted a very specific POV style for shooting an episode in Season 11. The Cinoflex camera systems allowed operators and the camera dept. to use any necessary accessories and tools without limitations.
A Helmet POV rig with the A7s developed by Cinoflex was used on the show as well. Check out the behind the scenes photos below from the set of the show (via Cinoflex Facebook page).
Nikon Ai or Ai-s manual lenses were also used as seen on the photos below. Quite possibly for their compact size and manual control played a part in the decision to use them or just a DP preference, either way, their are fantastic lenses that have been used on many independent films, and now it's great to see them used on a TV show.
To learn more about Cinoflex and their camera systems head over to their newly launched official website Cinoflex.com. Season 11 Episode 2 is the one to look out for, and it is expected to air sometime later in 2015 on FXX.
Claim your copy of DAVINCI RESOLVE - SIMPLIFIED COURSE with 50% off! Get Instant Access!