Surprisingly enough, there are not many 3-axis pistol grip stabilisers such as the Nebula 4000 Lite or the Pilotfly H1 available on the market today that provide a reasonable quality, decent performance and are lightweight enough to be operated with a single hand at the same time. Furthermore, considering the available options for smartphone 3-axis gimbals, in particular, the choice is even narrower.
As more and more video enthusiasts tend to use their smartphones for shooting video on a regular basis, the demand for this type of accessories continues to grow faster. One of the current solutions, the Beholder HSP a pre-tuned and ready to use right out of the box 3-axis stabiliser seems to have a decent performance at a reasonable price.
The following video review of the gimbal produced by After Effects Tutorials w/ Mikey provides some useful insights on the device.
In a nutshell, the Beholder is a compact and lightweight 3-axis brushless system that has a sturdy solid aluminium body and a light plastic carriage weighing only one pound, capable of accommodating various smart phones as large as 5.5 inches, iPhone 4/4S, 5/5S, 6/6Plus, Samsung S3, S4, S5 included.
The pistol grip stabiliser easily fits in your pocket providing more than 90 minutes of operating time powered by three 850mAh rechargeable batteries.
Beholder Smartphone Stabilizer Features:
Pre-tuned
Compact Design, fits in a pocket.
90 Minute battery life.
Travel-friendly.
Weighs only one pound.
Tool-less design.
Battery 18350, 850mAh, 3.7 volts.
Tripod mount, 1/4th(20).
USB Charging Port
Price: $259.95
The Beholder also features a USB port that can recharge your smartphone while shooting which is a great add-on to have. There are also two additional small counter weights for some heavier and larger smartphone models. Balancing you smart device on the gimbal is an easy and straightforward process.
First and foremost, you need to tighten up your phones in the plastic bracket, making sure that it's as balanced as possible while the device is still turned off. Holding your phone levelled press the power button on the handle, the Beholder will turn on keeping your phone neat and steady.
The device is pre-configured so you don't need to worry too much about balancing as the pan, tilt and rolling movements are smooth enough to produce some nice and stable, organically looking footage.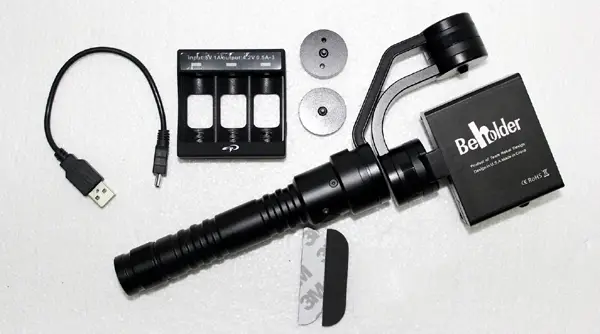 As we can see from the video and the conducted tests the most fluid results are produced by the Beholder even when the operator is running in comparison with the other videos where Mikey used the built-in iPhone stabilisation and the Warp stabiliser of Premiere Pro. Indeed, these are quite impressive results for a pistol grip gimbal that cost less than $300 providing a performance that hardly can be beaten by many of the bigger low-end hand-held stabilisers.
For more information about the Beholder gimbal head on over to OwlDolly.
[via Cinescopophilia, source: OwlDolly]
Disclaimer: As an Amazon Associate partner and participant in B&H and Adorama Affiliate programmes, we earn a small comission from each purchase made through the affiliate links listed above at no additional cost to you.
Claim your copy of DAVINCI RESOLVE - SIMPLIFIED COURSE with 50% off! Get Instant Access!