Earlier today at the Code Conference in California, GoPro's CEO Nick Woodman revealed a prototype of a Virtual Reality Camera rig for spherical shots and also announced that the company is developing a dedicated GoPro quadcopter drone that should be available in the second half of next year. The leap towards a production of its own drone was a natural and logical step for the company as "drones are the ultimate GoPro accessory" according to Woodman.
The idea of creating a spherical setup that could capture and generate content for virtual reality and augmented reality systems is something that GoPro has been working on for some time already. In essence, the array combines 6 x GoPro Hero cameras capable of capturing 360 degree video for VR and AR systems such as Oculus, HoloLens, Cardboard and YouTube 360 videos. If you are eager to see what type of results you can expect from this set-up, simply watch the following video.
Nick Woodman claims that the array is going to be appealing to both "production companies and prosumers" and expects the retail price of the gadget to be in the $1500-$2000 range. In terms of availability, the GoPro Spherical VR camera is going to hit the shelves in the second quarter of this year.
With the recent acquisition of Kolor, the company that builds software for virtual reality and processing of spherical video, GoPro will be able to provide a complete solution for capturing, creating and sharing spherical content, thus securing its leading position in this new market segment.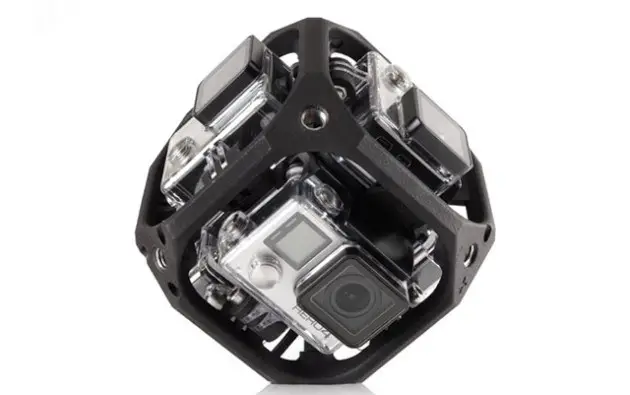 Currently, GoPro has also been developing software that eventually will allow users to auto-sync their GoPro cameras to the cloud, thus enabling access to their footage without the necessity to use SD cards or any other type of media and then manually offload the footage. The software is still in early stages of development, but it's definitely worth mentioning.
Considering the overall success of GoPro in the recent years and the fact that the company managed to shake up the POV camera industry gaining unprecedented popularity with their action camera line-up it's exciting to see what comes next.
Given that there are not many people in the world who managed to grow a $7B company in less than a decade starting from scratch, I'm pretty sure that we still haven't seen the most exciting part of Woodman's wild entrepreneurial journey. I'd definitely put my money on this.
[via: Tech Crunch]
Disclaimer: As an Amazon Associate partner and participant in B&H and Adorama Affiliate programmes, we earn a small comission from each purchase made through the affiliate links listed above at no additional cost to you.
Claim your copy of DAVINCI RESOLVE - SIMPLIFIED COURSE with 50% off! Get Instant Access!