As cameras and just about everything around them get smaller, faster and more powerful, the audio side of things isn't that far off. We don't usually see that much innovation and creativity outside the "usual suspects" in the audio capture world like Sennheiser and Rode Microphones for example, and that's simply because they have the R&D budgets and larger scale production facilities to do so.
However, as with cameras, smart devices, and other tech gadgets, crowdfunding platforms like Kickstarter and Indiegogo have become breeding grounds for some truly innovative tools for filmmakers.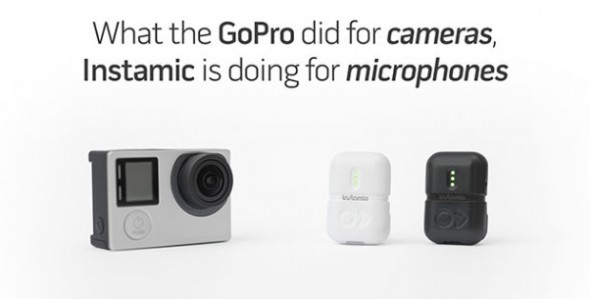 Instamic, is currently set on becoming the "GoPro" of microphones, and needs your help via Indiegogo to get there. Instamic is tiny microphone that can be easily attached to just about any surface and not only that, but it also has the ability to record professional quality audio in 24-bit/48 kHz up to 4 hours without any wires, cables, receivers or external recorders.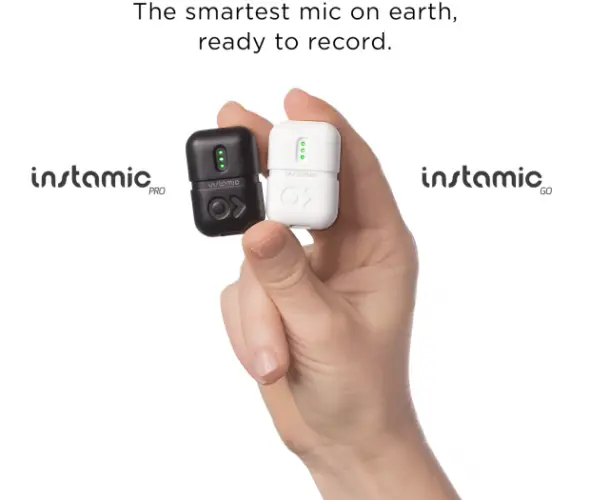 The mic comes in two versions – the Instamic Pro and Instamic Go, the former sporting a water-proof design (up to 5 feet), while the Go has a splash-proof enclosure. The unit can be controlled via the Instamic App to be available for both iOS and Android.
Features
24-bit/48 kHz audio quality
Up to 4  hours recording
Mono/Dual Mono + Stereo (Pro only)
Omni-directional polar pattern
50 to 18,000 Hz frequency response
Multiple mounting options – sticky, magnetic, velcro
Works with Or without the Instamic App
Sync to Bluetooth device
Event and wedding videographers who frequently have to mic up multiple subjects, will love this little device, and so do adventurers and vlogger's as the Instamic doesn't require an external receiver or cabling to capture decent audio.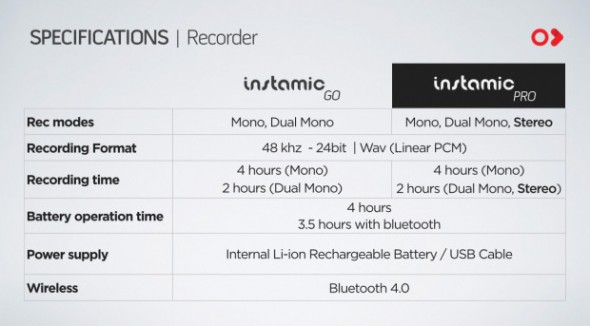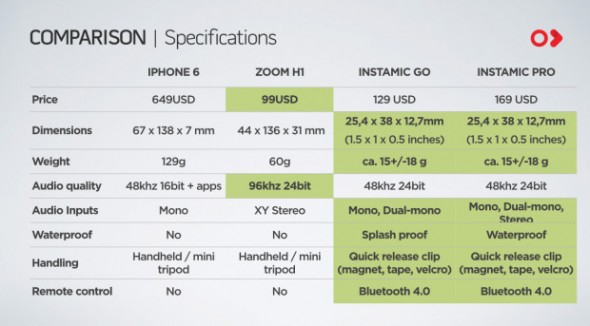 Early bird specials on the Instamic Pro start at $129 (expected to retail for $189) and $99 for the Instamic Go ($50 off $149 retail). Their campaign started officially just a day ago, but given the fact they've already secured 30%+ of their $50,000 funding goal (as of the time of the writing of this article) I'm sure they'd reach their goal pretty quickly so if you want in on the early birds, better get them while you can.
The Instamic is looking to be a very useful audio solution for pro video shooters and enthusiasts alike, and a good alternative and a compliment to something like a Rode Smartlav+ or wireless radio mic kits like the new RodeLink.
To claim yours and support Instamic head over to their Indiegogo campaign here. The Instamic is expected to ship early next year.
Instamic Q&A
1. How do I record with Instamic?
There are two ways.
The fastest one is using the recording button on the bottom part of the Instamic (the Instamic logo) . Once the mic is on, simply tap and hold the button for a second, Instamic will automatically adjust the gain on its own in the first 10 seconds and then it will keep that optimal level. We call it Smart Gain. Tap and hold again for a second and it will stop recording.
If you have a mobile device, pair Instamic with it, and control it through the Instamic App.
2. How can I monitor the input signal?
Instamic has 3 LEDs onboard, showing the input level.
You have a more precise VU meter on the mobile app, with the ability to control the input level while recording (if you set up the Input Mode on Manual)
3. About how long can Instamic record for?
The maximum recording time depends on the recording format you choose. Currently the maximum recording time is up to 4hrs at 48 khz / 24 bits Mono and 2hrs at 48 khz / 24 bits Stereo (Instamic Pro) uncompressed audio (LPCM WAV format) .
4. How long will the batteries last?
You will get 4 hours of recording time. Duration can vary depending on charging time, temperature and storage conditions.
5. How do I charge my Instamic?
Plug it into an available USB port using the USB cable provided. The LEDs will start flashing, showing the current battery level. When all the 3 LEDs are lighten up, the battery is fully charged.
6. Does Instamic have built-in memory?
Yes, there is 2GB internal memory.
7. How do I use the quick release clip?
Instamic has a quick release clip that gives you the versatility to take it on and off in seconds. With each Instamic you will get 3 release clips with 3 different mounting options: Magnet, Velcro and Tape. All 3 of them have a hole to attach your own lanyard.
8. Which are the main functions of the mobile app?
Once you pair Instamic with your mobile device, press record and start capturing immediately, Instamic will automatically adjust the gain on its own in the first 10 secs and then it keeps that level. You can also control the input level manually from the app. Before recording you can access Instamic's settings and customize them to your needs (Input level – Manual / Smart Gain, Rec Mode – Mono, Dual Mono, Stereo, EQ Presets)
9. How do I transfer the audio files to my computer
Instamic has a splash proof (Instamic GO) and waterproof (Instamic PRO) USB 2.0 connector. Connect it using a USB cable into an available USB port. This will bring up a window showing the Instamic as an external device drive on your computer. There you will find each take as a single .wav file.
10. Instamic Pro is waterproof. What is the maximum depth?
You can take Instamic up to 5 feet for maximum 3 hours, according with IP68.
Claim your copy of DAVINCI RESOLVE - SIMPLIFIED COURSE with 50% off! Get Instant Access!