Unmanned aerial vehicles, or UAV for short, have been around for some time now, but it wasn't until innovative companies like DJI who put affordable and easy to operate quadcopters like their Phantom series into the hands of filmmakers and enthusiasts alike, that this technology really took off into the mainstream. Their DJI Inspire 1 gave us a radical new design and 4K capture from the skies (check out our write up here) and the more recent DJI Phantom 3 expanded their footprint into 4K from a bird's eye view. Recent innovations into the field like the 3DR Solo smart drone (which despite requiring a pilot, features some amazing automated features and makes flying it by inexperienced operators a breeze) have made a lot of folks wonder what the logical next step is – can you fly a camera UAV without a pilot? Well, Squadrone Systems – the makers of HEXO+, the world's first fully autonomous drone (meaning it does not require a pilot with a remote control on the ground) may have the answer.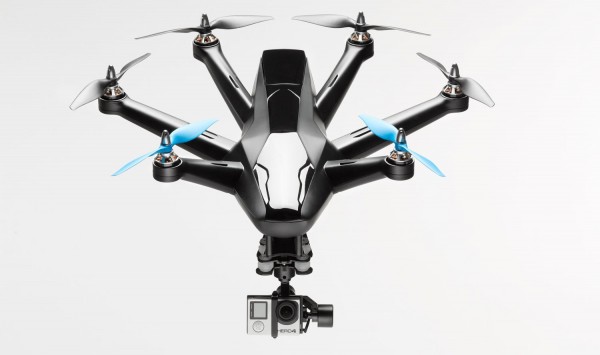 Autonomous flying cameras have the potential to change the face of all kinds of aerial filming, with the intent on making it extremely simple and unencumbered by additional devices – all you need is yourself and your smart phone. The team behind the HEXO+ envisioned a minimalistic and simple solution for aerial filming for extreme sports enthusiasts and professionals for difficult terrains such as snowy mountain tops where synchronising the snowboarder or skier with the drone operator can be quite tricky.
The HEXO+ simply tracks your movement from anywhere you choose – front, back, side, above and just about anywhere you tell it to via the smart phone app, which features easy to use interface with a 3D camera POV, which lets you set the camera drone's path via intuitive gestures.
Earlier last week announced they have secured an investment of $3M, bringing its total investment amount to date to $5 million (following their incredibly successful Kickstarter campaign last year, which raised over $1.3M).
The funding is said to allow the company to finance the industrial development of the HEXO+ product and execute on its roadmap, build out teams across Europe and the US, and roll out a comprehensive product marketing strategy that will extend the product line to a broader spectrum of consumers, making aerial filming and capturing life's moments from above accessible to anyone.
Features
Completely autonomous flight
Intuitive camera movement control via your smartphone (iOS and Android)
3D gimbal for maximum image stabilization
Removable feet, propellers and gimbal for easy transport
Flight speed up to 45 mph / 70 km/h
Compatible with GoPro Hero4 Silver/Black or 360Cam
HEXO+ Specifications
General
Dimensions: 62 x 52 x 12 cm – 24 x 20 x 5 inches
Total weight: 980 g – 2.2 lbs
Drone
Hexacopter design with 30° tilt propellers
Speed range: up to 70 kmh – 45mph
Flight time: 15 min with 3S battery, gimbal and GoPro attached
Flight controller
Filming distance range:  Technically, the drone can be as far from the GPS as 2 kilometers, but we advise you to research and respect your local regulations.
Auto take-off and auto landing
Trajectory anticipation
Video target locking*
GPS + onboard sensor position tracking
Processor with MAVLINK protocol
Gimbal
High performance 3-axis brushless gimbal
Easy attach/detach from drone body for transportation
GoPro mount
Camera
GoPro Hero3+ Black Edition/Hero4 Black or Hero3 White Edition available
App
iOS and Android versions
Intuitive 3D framing or intuitive live view framing*
Favorite framing presets
Subject framing lock
Emergency landing
Much like the 3DR Solo smart drone, which is fully integrated with the latest GoPro Hero4, the HEXO+ takes the autonomous drone camera concept even further, this time fully eliminating the need for a pilot and offering support for the latest GoPro cameras, which are the most desirable for filmmakers as the offer the latest sensor performance and 4K video capture – important for post-production stabilisation work where necessary.
Fully autonomous flight may be desirable for certain situations as in extreme sports, but in the world of professional filmmaking where control of the camera on the gimbal is often required and preferred, this advanced feature may pose some challenges. Nevertheless, it is quite impressive how far this technology has come and given that it's only in its infancy, it's a bit scary to think where it will go in the next few years.
The HEXO+ autonomous flying camera is currently available for pre-order at a discounted (10%) price of $1,349 (until June 30th).
For more information visit: www.hexoplus.com
Claim your copy of DAVINCI RESOLVE - SIMPLIFIED COURSE with 50% off! Get Instant Access!