Similar to Instamic, which we covered last month, there is a new smart audio device seeking crowd-funding support – it's called Mikme, and it is taking IndieGoGo by storm reaching its initial goal of $25,000 in less than 8 hours, and bringing in close to $200,000 in just under two weeks since the campaign was launched. Mikme is a dead simple and useful audio recording solution featuring one-button recording and no wires.
Mikme can be used by just about any content creator, including, but definitely not limited to vloggers, musicians, podcasters, and/or filmmakers for any situation where good quality audio is not only critical, but needs to be easy and convenient.
Priding itself as world's first fully wireless recording microphone that captures your audio at the push of a button, Mikme is equipped with a gold-plated condenser capsule, you'll get nothing short of studio-grade 24bit/96kHz recording.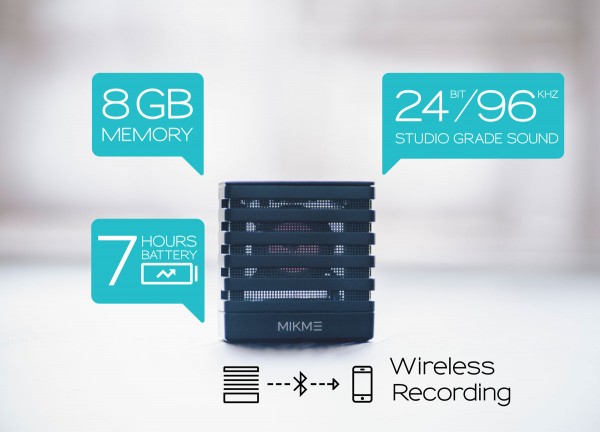 Mikme features a built-in audio recorder, and thanks to Bluetooth and the Mikme mobile app, which can be used for editing, tweaking, adjusting and sharing of your recording, you won't even have to physically connect the device to a computer in order to transfer your recordings. The team behind the wireless microphone/recorder gadget also claim a 7 hour battery life, which is fantastic as its long enough to get you for the most part through a whole day of shooting if need be.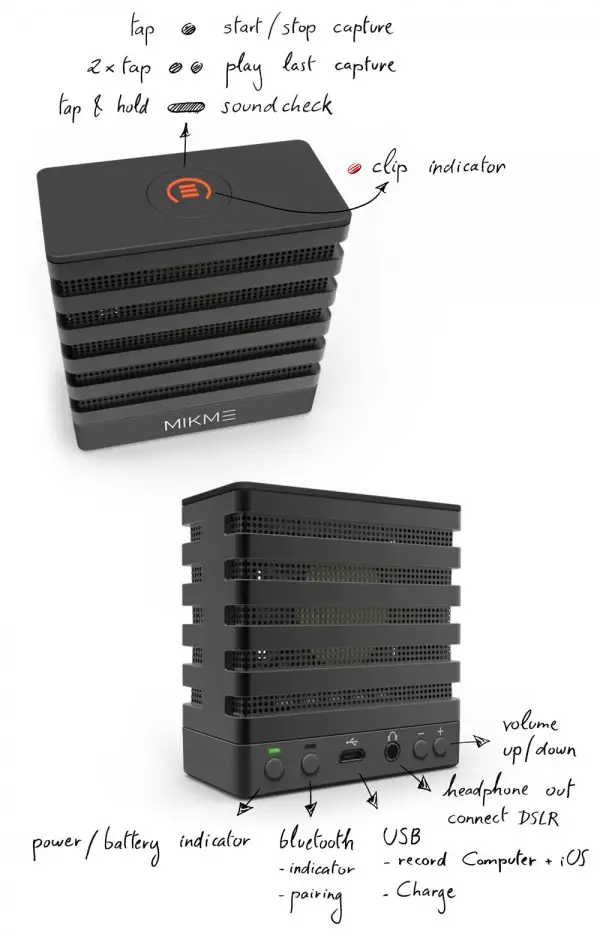 Features & Specs
Audio
Capsule – 1 inch, gold plated, true condenser
Polar pattern – Cardiod
Audio frequency bandwidth – 20 to 20,000 Hz
Sensitivity – 18 mV/Pa
Signal to noise – 78 dB-A
Maximum Sound Pressure Level – 145dB
Pre-attenuation pad – 0 to -30 dB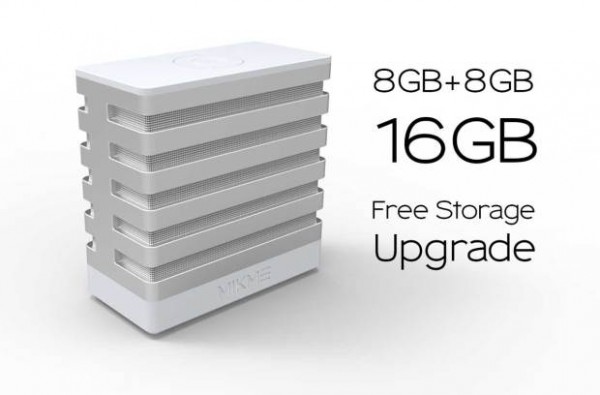 Internal Audio Recorder
Internal memory – 16 GB (stretch goal met)
Recording time –  360 hours MP4, 32 hours WAV
Bit depth – 24
Sampling frequencies – 44.1 kHz, 48 kHz, 96 kHz
Processor – 168 MHz Cortex M4
Rechargeable Li-IO battery – 1000 mAh
Battery-powered operation time standalone recording – 7 hours
Bluetooth
Bluetooth 2.1
Battery-powered operation time with bluetooth recording – 5 hours
Wireless – Bluetooth Mikme Lost & Found Protocol
Immediate Secure Audio Transmission with patent pending Packet Loss and Sync Detection = Quality of Service Audio Streaming
Compatible with
Devices with iOS 8 and newer (with installed MIKME app)
Devices with Android 5.0 (Lollipop) and newer (with installed MIKME app) – Fall 2015 available
Wireless – Bluetooth Standard
Standard Audio Transmission via HFP and A2DP
Compatible with
All devices compatible with Bluetooth 2.1 (iOS, Android, Windows, Mac OS X…)
Wired – Micro USB Connector
Works with
Windows XP and higher with USB 2.0
Mac OS 10.8 and higher with USB 2.0
iOS 8 and newer
Android 5.0 (Lollipop) and newer
Audio Out 3.5mm Mini Jack
Low latency monitoring of
– Microphone capsule audio signal
– Playback audio signal from Mikme App
– Mix balance adjustable via Mikme App
Used for
– Headphones Monitoring
– Stereo audio out to DSLR or mixer
Mounting
3/8' thread for microphone stands
1/4' thread for DSLR tripods and mic stands
Dimensions and Weight
70 mm (2,75") x 70 mm (2,75") x 35 mm (1,4")
200 g (0.4 lbs) Weight
I really dig the concept of Mikme, and with a headphone output for DSLR/mirrorless shooters, this can be a really useful tool in your bag. If you want to claim yours, you might want to hurry up as the early bird perks are almost gone, but you can still save $50 off retail and claim your Mikme for $249 US. First units are expected to ship in November 2015.
What do you guys think? Is this nifty mic something you can use in your productions? Let us know in the comments below.
Claim your copy of DAVINCI RESOLVE - SIMPLIFIED COURSE with 50% off! Get Instant Access!