Back when they announced it at NAB 2015, Panasonic said their new 4K AG-DVX200 4/3 chip fixed lens camcorder will cost below $5,000 and they made good on their promise. The 4K camera is a first to feature a large(r) sensor like 4/3 type CMOS, a fixed 13x Leica Dicomar zoom lens and all the ergonomics of a professional camcorder we've been used to such as XLR inputs, built-in ND filters, dedicated buttons, three lens rings for manual control over iris, zoom and focus, plus new improvements such as V-Log L flat picture profile for an impressive 12 stop dynamic range and 5-axis hybrid image stabilisation. The DVX200 is priced at $4,195 in the US and is expected to ship in October. Up until recently US pricing wasn't finalised, despite European and UK resellers selling the camera at the official UK price of £3,420 + VAT for months (which translates into EU 4,699).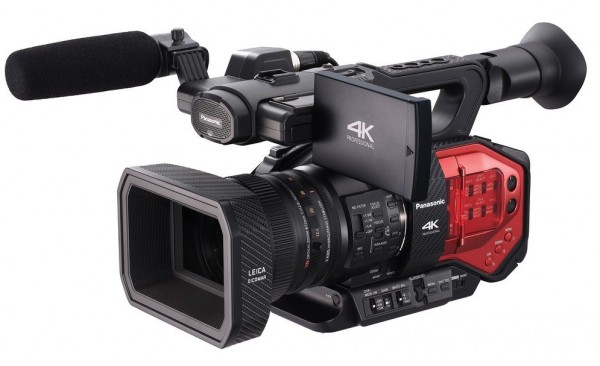 Panasonic have high hopes for their DVX100 successor as they unveiled the camera to much fanfare back at NAB 2015 in April. We're told they've been working on finalising the camera ever since. On board 4K at up to 30p and UltraHD up to 50/60p recording at 100Mb/s and 150Mb/s respectively is available, as well as the much awaited V-Log L gamma, which should enable the camera to capture more cinematic imagery with a flat contrast thus enabling shooters to colour grade their images in post to their desires with the help of LUTs or otherwise.
The details of when we'll finally see V-Log L in some form (free or not) ported over to the Panasonic GH4 is yet to be confirmed, but we've seen tweets from official Panasonic accounts alluding to a September 1st date for that announcement.
The DVX200 has been the topic of a heated discussion on forums (the DVXuser thread is over 120 pages for this camera) and early footage from the camera has been popping up all over the place. As a reminder you can see the first officially released footage from the camera here courtesy of Sebastian Weigartner captured during the #DVX4KTour in Japan.
Here's some more DVX200 footage below:
DVX200, V-log L graded shots UHD upload (make sure to watch in 2160p)

DVX200 4K Shooting Tour Japan

DVX200 4K Shooting Tour Japan from Mari Yamamura on Vimeo.
Panasonic AG-DVX200 Highlights
Single 4/3 MOS Sensor with 12 Stops DR
DCI 4K 24P, UHD 4K Up to 60p
Variable Frame Rate Up to 120 FPS in FHD
MP4 / MOV Recording in 4K
Integrated Leica 13x f/2.8 – f/4.5 Lens
3 x Individual Lens Control Rings
2 x SD Cards Slots (U3 Compatible)
HDMI 2.0, 3G-SDI Output
Some, including myself, have been quick to judge the camera by purely seeing specs on paper, but there's so much more than that, and until I get a feel for it while using it, I am not jumping to conclusions here.
Sure, as some have pointed out already, the lens leaves a lot to be desired (it's not parfocal) and with the f4.5 aperture at the long end combined with the inherent limitations of the 4/3 chip in low-light, this is probably not going to be a low-light killer. And to be honest, I don't think it was ever supposed to be.
I think documentary filmmakers and event shooters will love this camera – it's an out of the box, grab-n-go type of deal and to keep the cost reasonable, Panasonic have had to cut corners. Sure we all would have loved a 20x parfocal zoom at f/1.8, but it would have cost the Earth and then some. With more and more manufacturers jumping into development of innovative camcorders with larger sensor and a formal hand held camcorder ergonomics at reasonable prices, this can only be good for those who are in this field of work.
I can't wait until IBC to get my hands on this camera and chat with Panasonic about it and their future plans. Stay tuned for our IBC coverage and drop us a line on Facebook or Twitter with anything you'd want us to check out at IBC.
B&H Links
AG-DVX200 4K Handheld Camcorder – $4,195
Adorama Links:
Panasonic AG-DVX200 4K Handheld Camcorder – $4,195
Claim your copy of DAVINCI RESOLVE - SIMPLIFIED COURSE with 50% off! Get Instant Access!