Panasonic are making a big push for the DVX200 and for understandable reasons. It's a pretty unique camera, marrying the world of large sensor filmmaking from the DSLR world, 4K/UHD recording and proper camcorder ergonomics and I/O. Announced to much fanfare at this year's NAB Show in Las Vegas in April, the DVX200 was and still is quite a hot topic of discussion. Some, including myself, were a bit disappointed and quite skeptical at first, but as time moved on, and the dust settled, the idea of a fixed lens camera with a sensor big enough for achieving pleasant cinematic results and ergo arguably good in low-light, started to seem less and less alien. Is the world ready for a large sensor fixed lens 4K camcorder? Well, that is still to be seen as the camera has not started shipping yet, that will supposedly happen in October.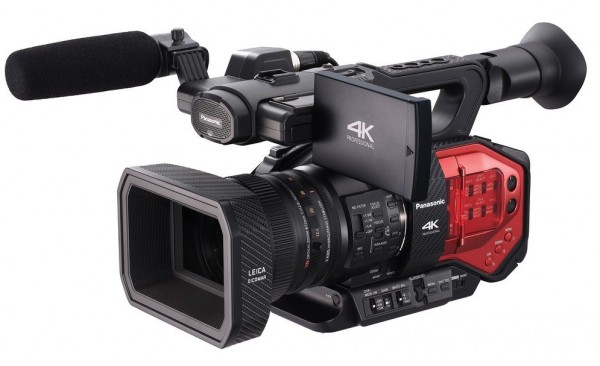 However, up until recently there was nothing new around the camera apart from some updated specs and a first look video from Holdan, UK (which was of a pre-production model and didn't include any footage from the camera, but was useful in its own right). However, today we have it.
Here's the first publicly available footage from the Panasonic DVX200, shot by Sebastian Weigartner during the #DVX4KTour in Japan:
Director of Photography:
Sebastian Wiegärtner

Finally online! The worldwide first footage of the brand new Panasonic AG-DVX200!

Shot on a pre production model in UHD resolution and 50p. Sadly the compression of Vimeo and YouTube is so high, you just really can't judge the image. All I can say: This is the perfect camera for Documentaries and fast TV work stuff, where you have to be fast and where you still want to achieve a cinematic image. Due to the M4/3 sensor it's way easier to focus than with a Super 35 or Full Frame sensor. Almost everything shot full wide open. Native ISO of this camera is 500.

I used the flat V-Log profile, applied VariCam 35 Rec 709 and graded everything very hard + added some grain to the footage. This was shot during the Panasonic #DVX4Ktour. Shot on Location in Kyoto, Japan.

Music:
Christofer Wong – Driftin in the Rain

wiegaertnerfilms.com
facebook.com/wiegaertnerfilms
twitter.com/wiegaertner
instagram.com/wiegaertner
I like the footage, although it would have been nice to get an ungraded sample or a V-log to Rec.709 without additional grading, but maybe I am asking too much here. I am starting to believe more and more in this camera. I am sure it will find its place among many docu shooters and event videographers, but the fact that its release is inhibiting the V-log L release for the GH4 is somehow making me grind my teeth in anger. Surely, V-log L is ready to go on the GH4, but Panasonic will keep it under lock and key for three more months until the DVX200 sees the light of day…
Corporate politics never work in our favour. No matter what they tell you, at the end of the day, it's all about the mighty dollar. And although I am sure that an immediate release of V-log L for the GH4 as a free firmware update, not only will increase sales of the GH4, but also make the DVX200 even more appealing for people who already own a GH4 as they can have an A-cam and a B-cam with a LOG profile from the same family. But that's not how things work in the real world. They will keep V-Log L out of the GH4 until the DVX200 comes out, and it's not even guaranteed that the GH4 will even get it after that…
Panasonic AG-DVX200 Highlights
Single 4/3 MOS Sensor with 12 Stops DR
DCI 4K 24P, UHD 4K Up to 60p
Variable Frame Rate Up to 120 FPS in FHD
MP4 / MOV Recording in 4K
Integrated Leica 13x f/2.8 – f/4.5 Lens
3 x Individual Lens Control Rings
2 x SD Cards Slots (U3 Compatible)
HDMI 2.0, 3G-SDI Output
The DVX200 is going to cost you around $5K USD or £3,400 + VAT pound sterling.
[via Erik Naso]
Claim your copy of DAVINCI RESOLVE - SIMPLIFIED COURSE with 50% off! Get Instant Access!