Here's an announcement you might have missed from earlier today at IBC 2015. With two new Sony cameras coming in the next few months – namely the highly rumoured PXW-FS5 "Mini FS7" and the unexpected unveiling of the mighty A7s II, this time with 4K internal recording, lens options are plentiful. Schneider, no stranger to high-end cine glass, has made their popular XENON based full-frame lenses now available in Sony E-mount for the first time ever. These include 25mm, 35mm, 50mm, 75mm and 100mm all rated at T2.1. These lenses have previously been made (and still are) in Canon, Nikon and PL mounts ($4,000 to $5,750).
While certainly not cheap, the Schneider lenses are high end lenses that for most of us are a rental kit only. At least for now.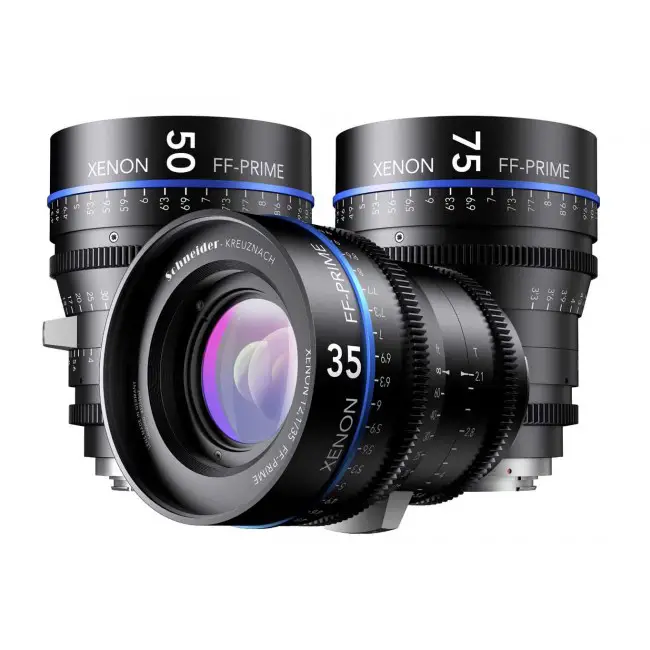 FF-PRIME LENSES BY SCHNEIDER-KREUZNACH NOW ALSO WITH SONY E-MOUNT
Bad Kreuznach, 08.09.2015
Schneider-Kreuznach will present an FF-Prime lens with Sony E-Mount for the first time at the International Broadcast Conference (IBC) in Amsterdam.
The E-Mount allows users to mount the full frame lenses to cameras like the new Sony Alpha 7RII. Up to now, the lenses, which have been on the market since 2014, could be used in combination with Nikon's F or Canon's EOS mount bayonets as well as PL mounts. "With the FF-Prime lenses we want to provide a genuine optical alternative to professional filmmakers and cinematographers. We are delighted that we can meet the considerable demand for a combination with a Sony E-Mount and thus expand the scope for application", says Harald Barth, Head of Film and Photo at Jos. Schneider Optische Werke GmbH. With a 4K resolution (4096 x 2304 pixels), the lenses were designed specifically for DSLR cameras with full frame sensors and for professional cine cameras.
The homogeneous set comprises T2.1/25mm, T2.1/35mm, T2.1/50mm, T2.1/75mm and T2.1/100mm focal lengths. The lenses are characterized in particular by their easy handling and an organic overall impression. This sets them apart from the crowd and makes them the lens of choice for filming ads, feature films, documentaries, TV series and corporate videos. The FF Prime lenses with Sony E-Mount will become available during the course of 2015 and will cost between 2,998 and 4,320 euros depending on focal length.
In addition, Schneider-Kreuznach will present its MPTV filters and Cine-Xenar lenses in Amsterdam. Among the MPTV filter range are the new Confetti filters that create mini-streaks on the image looking like fireworks. During talks on 11, 12 and 13 September, MPTV filter expert Ira Tiffen will provide some insight into the filters' principles of operation and explain how to achieve the best possible filter effects. Dutch filmmaker Remco Hekker will present the FF Prime and Cine-Xenar lenses.
Schneider-Kreuznach will be at the IBC in Amsterdam from 11 to 15 September 2015: hall 11, stand A41.
Xenon Full Frame Primes
For digital cinematography, Schneider-Kreuznach offers the FF-Prime lens range for demanding film and TV productions. This series of 4K lenses was designed for cameras with full frame sensors (36mm x 24mm). This means that the full image circle with a diameter of 43.3mm can be utilized for cameras like the Canon 5D Mark III or the Nikon D800. In addition, the interchangeable bayonet mount enables the lenses to be used on cameras with S35 sensors including the RED Dragon, the Canon C100/C300/C500, the Arri Alexa, the Blackmagic Cinema Camera or the Sony F5/F55. The current range of focal lengths will be joined by 18mm and 135mm lenses. The 14-blade iris creates a harmonious bokeh and breathing is reduced to a minimum. Color matching ensures homogeneous color characteristics, thus reducing time-consuming corrections during postproduction.
MPTV range of filters for professional film and TV productions
The sheet filters in Schneider-Kreuznach's MPTV filter range are suitable for use with matte boxes measuring 4" x 4", 4" x 4.65" and 6" x 6". During the production process that has been developed especially for this purpose, the high-quality, homogeneous foil material is vacuum laminated between two layers of crystal clear, optically pure glass.
The glass is ground and finely polished on both sides to ensure exact flatness of the glass surface and plane parallelism. To guarantee consistently high quality in all products, the density of the filters is checked with a densitometer and the specified light transmission is analyzed with a spectrophotometer. Schneider-Kreuznach MPTV filters offer uncompromising optical performance for optimal results.
Cine-Xenar III range
In addition to the FF-Prime lens range, Schneider-Kreuznach offers another professional cine lens family – the MPTV "Cine-Xenar III" range. It was developed for cameras with Super 35 sensors (18.6 x 24.8mm). The 6K lenses feature outstanding optical quality, very low distortion, virtually no breathing and an excellent bokeh.
As a result, all focal lengths in the range produce films with a consistent look. The Cine-Xenar range comprises seven fixed focal lengths: T2.2/14mm, T2.2/18mm, T2.2/25mm, T2.1/35mm, T2.0/50mm, T2.0/75mm and T2.0/95mm. Thanks to their modular design, the lenses are particularly easy to service. The PL bayonet can be exchanged with a Canon bayonet.
[via Sony Alpha Rumours / Photography Blog]
Claim your copy of DAVINCI RESOLVE - SIMPLIFIED COURSE with 50% off! Get Instant Access!