Rode Microphones announced two new microphone solutions particularly targeted towards small compact camera and smart phone video shooters like vloggers and other video content creators who need lightweight and highly portable but good quality audio gear to amp the quality of their video productions. As a long-time Rode user (NTG2, now NTG4, and also my longest serving Rode mic – the VideoMic Pro), I am fond of affordable gear that last and also producing nice results all the time. Rode mics are a great entry point for professional audio for anyone shooting video for pay or enthusiasts who want to up their game and have great sound in their videos. The price points of just about all the video-centric mics from Rode is between $100 to $370-$400, which fits just about any budget. And as the world moves to more and more video produced by smart phones and tables, Rode has you covered once again.
The first new mic is the VideoMicro – a compact microphone designed with a high-quality cardioid condenser microphone capsule for great quality audio recordings when used with a wide range of cameras. A directional microphone, the VideoMicro reduces distracting peripheral sounds and focusses on the audio in front of the camera. Its pickup is more forgiving than RØDE's other on-camera microphones providing a more natural sound when recording indoors. According to Rode, this little mic is ideal for capturing incredible audio to accompany inspiring vision.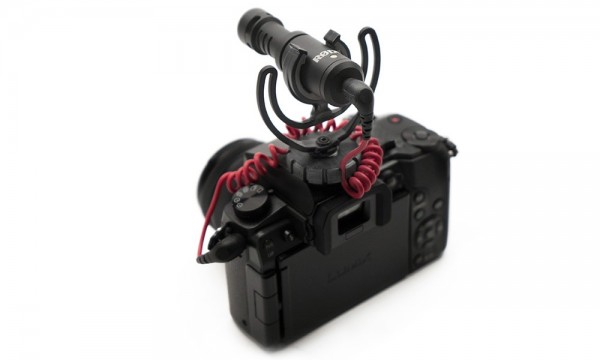 The microphone body is made from aluminium, giving it a high level of RF rejection, and is finished in RØDE's high-grade ceramic anti-glare black coating. Included with the VideoMicro is a camera shoe mount featuring a Rycote Lyre shock mount.
Featuring a suspension structure composed of a hard-wearing thermoplastic, it is far more effective at minimising unwanted vibrations, handling and cable-borne noise than traditional elastic suspensions. Virtually indestructible, the Rycote Lyre will never sag, snap, wear out or require rethreading to maintain its effectiveness.
Also included is the WS9 synthetic furry wind shield with foam inner cell, designed for use in outdoor scenarios where wind and environmental noise can inhibit recordings. Optionally available is the RØDE SC7, a TRS to TRRS cable that allows the VideoMicro to be used with smartphones, to capture crystal clear, directional sound for video and video applications such as Periscope.
VideoMicro Features
Compact size and lightweight – only 80mm (3') long and 42gm (1.5oz)
All-metal microphone body
No battery required (powered by camera plug-in power – min 3V)
Rycote® Lyre® shock mount included
Deluxe furry windshield included
Designed and manufactured in Australia
The VideoMic Me is a high-quality directional microphone designed for Apple iPhone® and iPad®. Featuring a TRRS connector and adjustable mount it is compatible with a range of Apple devices and can even accommodate some cases. It features a headphone jack conveniently located at the rear, to allow for monitoring and playback without removing the microphone.
For more info head over to Rode Microphones.
Claim your copy of DAVINCI RESOLVE - SIMPLIFIED COURSE with 50% off! Get Instant Access!