Generally, image stabilization has always been a major consideration when it comes to capturing professional looking high-quality footage. Whether you are going to utilize an external device to achieve this effect or you prefer to use the most advanced 5-axis image stabilisation of your latest Sony's mirrorless compact camera instead, the final goal is always the same – silky smooth and fluid shots free of any unwanted jitter artifacts.
Probably, the combination of both approaches would be the best choice for the moment, yet the French innovative company SteadXP promises to stabilize your video no matter which camera you're using eliminating the bulk or hassle of a steady cam or gimbal.
In essence, SteadXP is a hardware device that brings three-axis video stabilization to virtually any camera, whether it's an action cam, a DSLR or a high-end cinema camera. While many of these tools already provide some kind of stabilization, SteadXP uses motion tracking in combination with a sophisticated software analysis to deliver this kind of highly demanded movie-like stabilization that would normally require some kind of a 3-axis gimbal or the good old and well-trusted Steadicam.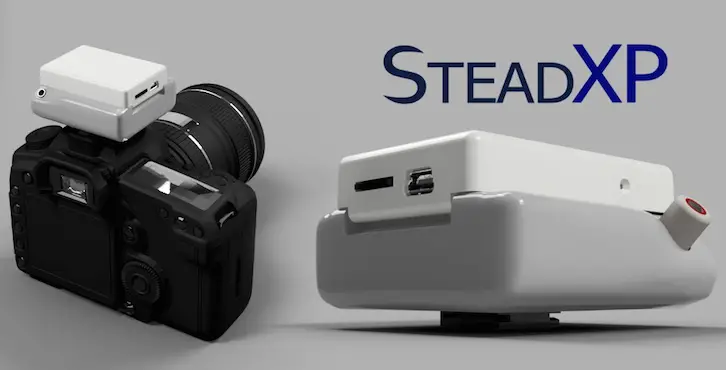 To utilize the SteadXP, you simply need to attach and connect the device to your camera. The built-in accelerometer and gyroscope of the device record the camera's movements accurately as you shoot. A video signal is fed from the camera into the SteadXP and used to sync both devices. In case an RCA connection is absent you need to use an additional converter box that takes your HDMI or SDI signal and converts it, before feeding into the SteadXP.
Information is then encoded and sent out of the SteadXP via the mini-jack to be recorded on the camera's audio tracks. After recording you need to connect SteadXP to your computer and leave the dedicated software to stabilize the footage and remove the unwanted artifacts. SteadXP algorithms automatically build a new camera trajectory freed from geometrical distortions, vibrations, and even the worst rolling shutter deformations. Yet, the main downside is that you need to shoot at the highest possible resolution due to the cropping applied later in post.
SteadXP a game changer tool for video stabilization and hyperlapse for any cameras from Emmanuel Pampuri on Vimeo.
Furthermore, the device comes in two versions. SteadXP is made specifically for GoPro cameras, and SteadXP+ is designed to fit almost any other video camera. To make no compromise on stabilization quality, both SteadXP models share the same key components:
Powerfull 32 bit ARM processor
3 axis gyroscope
3 axis accelerometer
microSD card slot (FAT16 / FAT32 class 4 min: 32 GB max)
USB connectivity (Mass Storage Device)
If you are interested to read more about SteadXP, its price, and availability, or you simply want to support the product visit its official Kickstarter page. The campaign already generated more than 250,000 euros and ends up on October 10th.
[source: Kickstarter]
Disclaimer: As an Amazon Associate partner and participant in B&H and Adorama Affiliate programmes, we earn a small comission from each purchase made through the affiliate links listed above at no additional cost to you.
Claim your copy of DAVINCI RESOLVE - SIMPLIFIED COURSE with 50% off! Get Instant Access!