Back in April at NAB, Video Devices announced a brand new line of 4K ProRes recorders called the PIX-E5 and E7, you can check out our write up here, and have been working hard since then to get the PIX-E line of 4K portable recorders out to market. Since then the PIX-E5 (with SDI/HDMI) has been shipping and more recently the lower cost HDMI only PIX-E5H has also been getting into the hands of filmmakers and video content producers.
The PIX-E line of 4K recorders consists of the PIX-E5H (HDMI only), the PIX-E5 ($1,395 / 3G-SDI) and the 7-inch PIX-E7 ($1,595) flagship 4K recorder/monitor. The PIX-E line of 4K recorders enable 4K ProRes recording in various flavours from 10-bit ProRes 422 on the PIX-E5H and ProRes 4444 XQ 12-bit on the PIX-E5 & PIX-E7.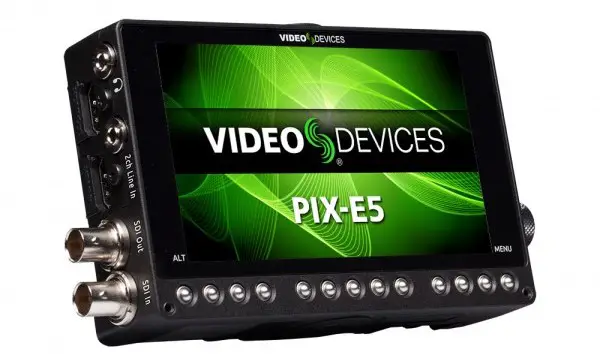 The innovative manufacture, has just announced the release of the latest firmware update version 1.05 for their PIX-E5 (pictured above), and the HDMI based PIX-E5H 4K recorder ($1,195), which adds 3D LUT support including built-in monitoring LUTs for Sony, Canon and Panasonic cameras. In addition, users will be able to load their own 3D LUTs in the .cube format. Support for HDMI Panasonic record triggers, including the Panasonic GH4, is also included.
The new firmware is great news for those considering the PIX-E5 series, which are very solid built units and quite compact. I recently had a bit of play with a PIX-E5 at a local rental house. Having 3D LUT support will make the PIX-E5 series more competitive with the recently announced Atomos Ninja Assassin, which is more of a direct competitor to the PIX-E5H, with both units being similarly priced (with the Ninja Assassin just $100 more) and HDMI only. However, the screen on the Assassin is a bit bigger at 7.1 inches, while the PIX-E5H settles for a 5-inch display.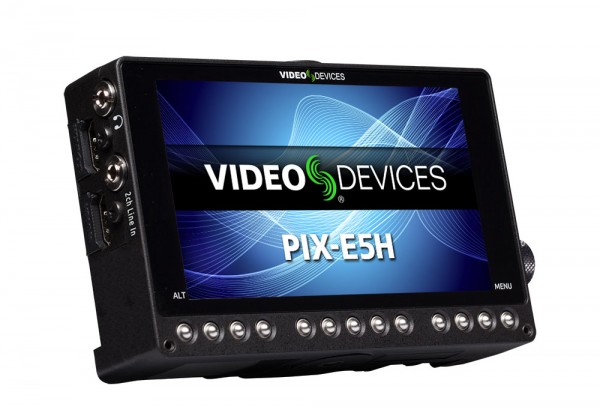 Firmware Version 1.05 Release Notes
Last update – (v1.05) September 18, 2015
Video Devices PIX-E5 firmware – (v1.05) provides a firmware update for previously released versions.
New
3D LUT support added, including built-in monitoring LUTs for Sony, Canon, and Panasonic.
Added ability to import and view custom LUTs in .cube format.
Added LUT softkey menu to quickly compare up to four LUT "looks" with one-touch selection.
Added support for HDMI Panasonic record triggers, including the Panasonic Lumix GH4.
Change
Options for MENU > Recorder & Drives > Rec Trigger was re-ordered for a more logical layout.
Fixed
Some HDMI 4:2:2 10-bit input signals were incorrectly being detected as 8-bit.
Various audio issues with the HDMI output signal during playback.
Recording is now not permitted until the PIX-E5 or PIX-E5H has completely locked to the incoming video signal.
AV offset with PsF recordings now eliminated.
Note: Enhancements made and issues resolved in previous updates still apply.
To update firmware:
Download the PIX firmware file PIX-E5_1.05.zip to a computer.
Connect an SD card or SpeedDrive to the computer.
Copy the PIX-E5_1.05.prg file to the SD card or SpeedDrive.
Remove the SD card or SpeedDrive from the computer and connect it to the monitor.
Power up the monitor.
Caution: Ensure that the monitor is powered via the supplied PIX-E PSU and fully-charged batteries. Power loss during a firmware update can result in the monitor becoming inoperable.
Press the MENU button.
Select System > Update Firmware.
The monitor will search connected drives for a .prg file. When the .prg file is found, follow the on-screen instructions to perform the firmware update.
Note: Firmware updates will take several minutes to complete, and the unit will reboot multiple times during the process. Various functions and ports will become inactive while firmware is updating. The monitor is ready to use when it returns to the main display.
(Optional) Verify the firmware version by pressing the MENU button and selecting System > Version Info.
B&H Links:
PIX-E5 5″ 4K Recording Video Monitor – $1,395
PIX-E5H 5″ 4K Recording Video Monitor (HDMI) – $1,195
PIX-E7 7″ 4K Recording Video Monitor – $1,595
Adorama Links:
PIX-E5 SDI 4K Recorder/Monitor – $1,395
PIX-E7 – 7-Inch 4K Recorder/Monitor – $1,595
Claim your copy of DAVINCI RESOLVE - SIMPLIFIED COURSE with 50% off! Get Instant Access!