You may remember, exactly one year ago, we wrote about Movidiam – the new creative platform, which allows brands, agencies and filmmakers across the globe to connect, collaborate, and create remarkable films, which has been in a beta/invite stage only for some time, and today the platform is officially launching and open to everyone. Set to transform the international filmmaking industry, Movidiam was unveiled at Amazon Web Services' Re:-Invent, following an introduction and Q&A session with Amazon's Chief Technical Officer, Dr Werner Vogels.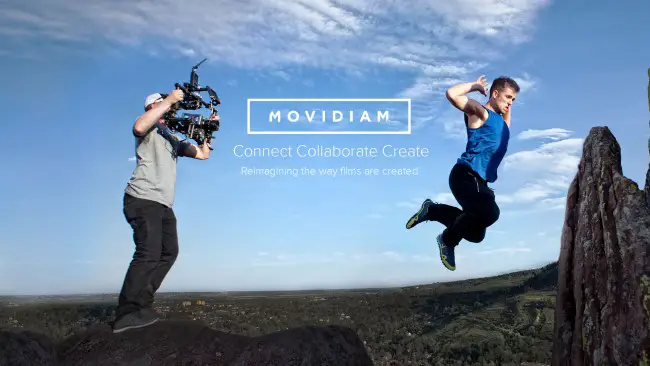 Movidiam: The Promo from Movidiam on Vimeo.
Here's what Movidiam can offer filmmakers:
Connect globally with brands, agencies and filmmakers
Profile work and create amazing portfolios
Manage all your projects and organise teams in one place
Pay and get paid using our secure payment system
Keep track of feedback, revisions and project communications
Become part of the global creative filmmaking community
George Olver and Alex Vero were hand picked to be one of the four startups chosen to present at the fourth Annual Startup Launches in Las Vegas. Combining purpose-built proprietary, intuitive software with the latest technology, Movidiam allows filmmakers across the world to showcase their work and skills, encouraging direct employment from brands and agencies looking to make any film content ranging from a corporate video to a television advert.
The platform, which has its headquarters in London, simplifies the way film projects are briefed, managed, executed and billed while also safeguarding the quality as every filmmaker joining the network has been carefully screened by an expert member of the Movidiam team. As of today's official launch, Movidiam already has over 14,000 registrations across almost 200 countries, including Oscar and BAFTA winning filmmakers.
With more than twenty years in the film industry, the co-founders, who are also partners at film agency Pendragon Productions have worked with brands including Google, Adidas, Samsung, Coca Cola and Virgin.
George Olver, Co-founder of Movidiam, comments:
"The global online video production industry is estimated to be worth $32 billion per year with the biggest segment of growth lying within the online corporate video and commercials market. Movidiam provides a platform to maximise the industry's economic potential. This has been made possible through the advances in technology in recent years and we are thrilled to have been recognised and supported by Amazon Web Services as we launch Movidiam to the market."
Alex Vero, Co-founder of Movidiam, adds:
"By creating this transparent network of high quality filmmakers around the world, brands and agencies can connect with them directly to create the films they need without the traditional cumbersome process inherent with the current business model. This not only creates jobs for filmmakers but also saves time and money for brands and agencies."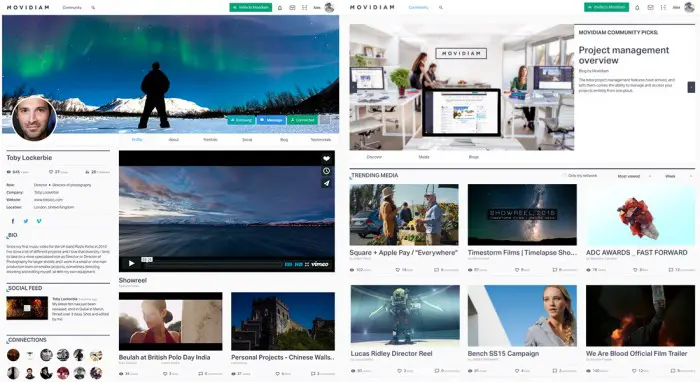 Alex and George were kind enough to let me in on a demo of some of the new features – which are awesome (also thanks to Raghad for walking me through everything new in Movidiam). For example, now you can use Location based searches – let's say you need a DP in the LA area, you can specify that. Dropbox integration is also a huge benefit, and so is the social media sharing options. Filmmakers can create their own profiles and upload their work – this way getting themselves out there and finding collaborators and projects to work on. Best part is setting up you profile and working on other projects is free.
Here is a summary of the new features added recently:
Create a business profile: creating a professional company account where team members can be added to profiles
Location-specific search: along with being able to search by role or name, users can now find others based just on location
Dropbox integration: file storage integration with Dropbox – can carry all your files over onto the platform for use in your projects or otherwise
Open to public for viewing and sign up – no longer an invite-only basis. Everybody can sign up, invite their network and be a part of the Movidiam community
Share to Facebook and Twitter: users can now share media, links and posts straight from Movidiam onto their personal Facebook and Twitter accounts
SoundCloud integration – users can embed their sound design/music work into their portfolios
Mobile accessible features
You can listen to the interview with George Olver, CEO and Co-founder of Movidiam, who was a guest on our Podcast Episode 17, here.
We can certainly see the benefits of using Movidiam to speed-up the the logistics of productions, which can often time be very time and resource consuming. Having a platform, which connects the different participants in a project such a corporate shoot, an advert, or any other video production can alleviate a lot of the hassles associated with scheduling, call sheets, and crewing.
The platform is free to register a profile, upload your work and get invited to work on projects and offers a $25 monthly subscription to manage projects through the
system. A 10% service fee is charged on all transactions through the secure payment engine split between the commissioner and service provider.
Use PROMO CODE 4KShooters when signing up to get 2 Months Free Access to the core features of Project Pro! Head over to Movidiam to get started.
Claim your copy of DAVINCI RESOLVE 16 - SIMPLIFIED COURSE with 50% off! Get Instant Access!