The US-based company JMR Electronics mainly known for building some advanced data storage and server solutions recently announced a portable bus-powered Thunderbolt SSD capable of read speed up to 1400 MB/sec and write speed up to 1200 MB/sec respectively through a Thunderbolt 2 interface.
Using the latest M.2 SSD technology, the LTNG-XTD comes with 256GB storage capacity along with 512GB and 1TB versions waiting to be unveiled just around the corner. In other words, this device provides extremely fast data transfers at four times the speed of USB 3.0 interface enabling it to easily outperform 6Gb/s SATA SSDs and 5Gb/s USB 3.0 flash drives. If you're wondering what is this strange coating that the drive has, it's an integrated anodized aluminum finned heatsink that covers the entire surface area of the device for seamlessly continued operation protecting the SSD from overheating.
This heatsink absorbs heat and keeps the ultra-compact solid state drive cool while remaining completely silent in operation. The flash drive is compatible and certified for use with OS X (including Yosemite) and Windows® 7+ OS, which makes it the perfect fit for your Mac PRO or Intel Z-Series workstations equipped with Thunderbolt 2 interface.
All in all, the LTNG-XTD is one of the industry's first bus-powered Thunderbolt 2 PCIe SSD storage devices available on the market today and even it's a bit pricey (with a retail price of $629 for the 256GB version) at the moment I'm sure that the price won't be that steep a couple of months from now.
LTNG-XTD 256GB Specifications:
Read speeds: ~1400 MB/s
Write speeds: ~1200 MB/s
Dimensions: 5.25"L x 2.625"W x 1.75"H (133.4mm x 66.7mm x 44.5mm)
Attached Thunderbolt cable: 18" long (457mm)
Weight: 1.30 lbs (590g)
Power dissipation: 9.2W (provided by Thunderbolt connection – no external power source required)
Capacity: 256GB
Price: $649
The screenshot below will give you some rough idea what type of performance you might expect from the LTNG-XTD SSD.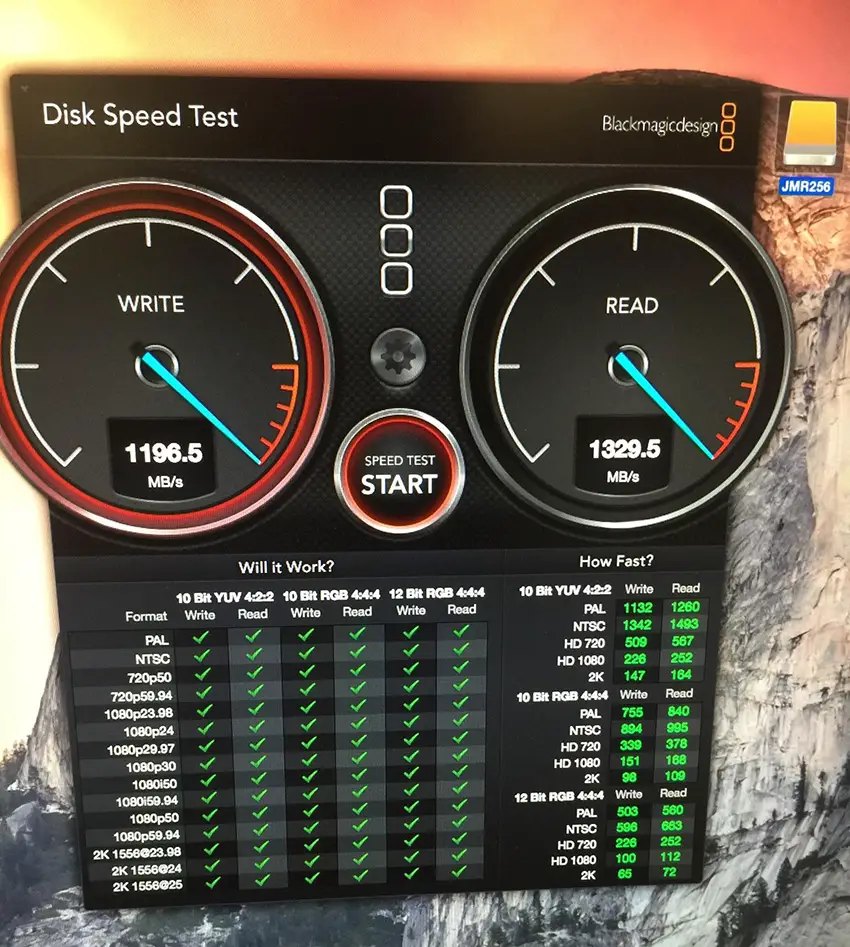 The new LTNG-XTD portable Thunderbolt SSD is part of the new Lightning family of Thunderbolt certified storage products from JMR Electronics that is the ideal, portable and ultra light-weight storage solution for creative professionals needing an extremely high performance and reliable portable drive for studio workflows or out in the field.
Currently, the 256GB version of  LTNG-XTD SSD can be ordered for a retail price of $649 at B&H and other authorized retailers.
B&H Order Link:
JMR Electronics 256GB LTNG-XTD Portable Thunderbolt SSD
[via: Redshark News, source: JMR Electronics]
Claim your copy of DAVINCI RESOLVE - SIMPLIFIED COURSE with 50% off! Get Instant Access!