New DJI OSMO Competitor – Yuneec ActionCam 4K Handheld Gimbal Camera
Just a few days ago, drone maker Yuneec International expanded their Typhoon family of UAV's, which include the now 4K Q500 quadcopter, with a new addition – a single grip handheld stabilised 4K gimbal camera called the ActionCam. The announcement of this new 4K stabilisation device comes in just a few weeks after the release of the DJI OSMO and announcement of the uber cheap ROXOR hand held gimbal camera from FilmPower, which we featured on our blog here.  The ActionCam from Yuneec is attached to the SteadyGrip CG03 system to forma single unit – a single hand pistol-grip style handheld gimbal with 3-axis stabilisation and a 4K camera built to produce professional quality video content for all of life's spontaneous moments. Whether you are at the beach, riding a skateboard, or filming your kids opening presents, the ActionCam ensures ground shots are as smooth as the ones taken from the air.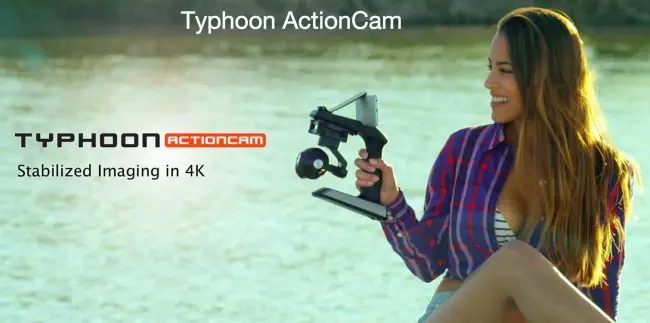 The ActionCam combines a 3-axis precision gimbal with Yuneec's 12MP 1/2.3-inch sensor capable of 4K Ultra High Definition (3840 x 2160) recording up to 30p while allowing you to capture amazing and stable video footage. Super-slow motion at 1080p/120 is also possible.  The camera pitch controller allows precise camera angle control while on-the-go, using a mobile device, with up to a 6.4-inch display.
Monitoring is via a smart device up to 6.4 inches located at the back of the unit. Right off the bat, the design of the ActionCam from Yuneec is rather, ahem – unique. The standing base is something often overlooked with most hand held stabiliser gimbal systems and it should be quite a relief in the field for operators as it can be set to the side and let sit on basically any flat surface. Users can control camera angle via the thumb control, which sits on the handle, with two basic modes – Pitch Follow Mode and Angle Mode.
Pitch Follow Mode – Locks camera in a forward facing position.
Angle Mode – allows for camera movement from side to side when tracking – as you would in other gimbal systems.
The Yuneec ActionCam features a rechargeable battery with an approximately 90 minute runtime and also comes with it's own custom hard case. The ActionCam is available from B&H for $550.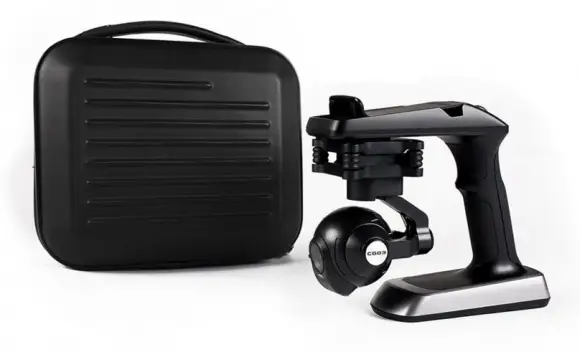 PRESS RELEASE
ONTARIO, CA (November 10, 2015)– Yuneec International, the world leader in electric aviation, today announced the release of the Typhoon ActionCam, a handheld camera stabilization platform that ensures ground shots are as smooth as the ones taken from the air.
The Typhoon ActionCam combines the impressive CGO3 camera gimbal with a handle for stable ground footage, allowing consumers to record videos and take photos like never before. When using the Typhoon ActionCam, the camera stays level regardless of shaky hands or wobbling and is an ideal tool for capturing life's moments with unparalleled detail.
The included CGO3 camera boasts impressive 4K resolution, four times higher than HD, 12 megapixel still images and slow motion 1080p/120fps video. The 115-degree field of vision and no-distortion lens are additional features allowing for professional grade content capturing. The Typhoon ActionCam features a run time of up to 90 minutes and is compatible with previous Typhoon camera gimbals.
"The Typhoon ActionCam is designed to extend Yuneec's advanced camera technology from the sky to the ground. The ergonomic design allows you to take part in the action while capturing ultra-stable footage, rather than recording the action from afar with a tripod," said Shan Phillips, CEO of Yuneec USA.
The camera pitch controller enables precise camera angle control and is conveniently placed where the thumb naturally sits on the handle. Additionally, the Typhoon ActionCam displays real-time footage from a mobile device of up to 6.4 inches, and is controlled by the easy-to-use CGO3 smartphone app. The CGO3 app allows users to record video, take still shots and operate camera settings conveniently.
The Typhoon ActionCam includes a CGO3 camera, 1400mAh LiPo battery and smart charger. The device will be available on November 10, 2015 for the suggested retail price of $549.99 USD.
For more information, visit www.yuneec.com.
Claim your copy of DAVINCI RESOLVE 16 - SIMPLIFIED COURSE with 50% off! Get Instant Access!