Video Devices is about to make a lot of shooters very happy by announcing earlier today that their flagship 4K recorder/monitor – the 7-inch PIX-E7 is now shipping worldwide. The Video Devices PIX-E7 is the largest model in the PIX-E Series, joining the 5-inch PIX-E5 (SDI and HDMI) and the more affordable PIX-E5H (HDMI Only). The PIX-E7 boasts the ability to capture both 4K DCI and UHD up to record in an industry standard Apple ProRes codecs up to 4444 XQ 12-bit, a full suite of precision-monitoring tools, SDI and HDMI I/O all via a beautiful 7-inch 1920 x 1200 Touchscreen Display (in comparison the PIX-E5 and PIX-E5H have a 1920 x 1080 displays).
The 7-inch 4K recorder/monitor marketplace is currently occupied by recorders from Convergent Design with their Odyssey7Q+ ($2,295 at B&H) and Atomos, like their more budget friendly Ninja Assassin, the Atomos Shogun, which does have SDI as well as the ability to recorder Raw to ProRes from compatible cameras like Sony FS7 and NEX-FS700, but is more expensive at $1,995. Adding another alternative like the PIX-E7, priced in between the other established players is a welcomed addition and a very viable option for shooters who don't necessarily need to record 4K Raw from their cameras.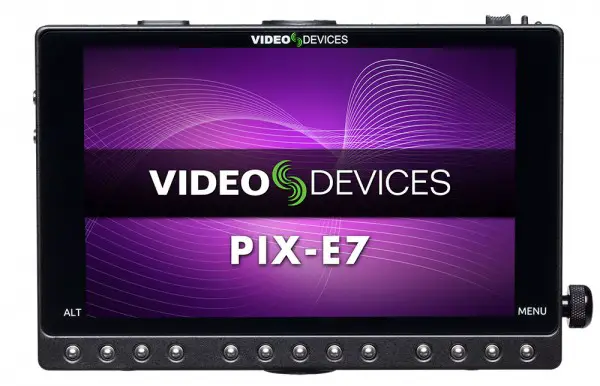 Similar to the PIX-E5 ($1,395 at B&H) and PIX-E5H ($1,195 at B&H), is compatible with the innovative, super-fast USB-based SpeedDrive – a custom-made enclosure that holds an industry standard mSATA solid-state drive.
SpeedDrive is a unique and groundbreaking accessory that was designed for the PIX-E Series. When connected to the rear of the monitor, the SpeedDrive's USB 3.0 interface automatically switches to a SATA interface, essential for recording continuous, high-data-rate 4K video. Users can then simply unplug it from the back of PIX-E7 and plug it into any USB computer port to transfer data at very fast USB 3.0 rates; no special card reader or docking station is needed.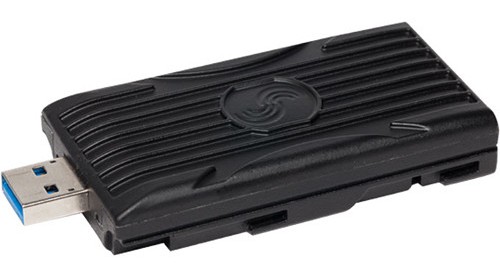 Two SpeedDrive options are available: a 240 GB SpeedDrive (mSATA drive in the sleek enclosure) or an enclosure-only version that allows the user to choose any approved, third-party 128 GB to 1 TB mSATA drive.
The monitor incorporates a "best-of-both-worlds" user interface that combines easy-to-access dedicated tactile buttons with an intuitive touch screen. The PIX-E7 ($1,595 at B&H) also accepts external timecode via a BNC linear input connection, and features a second SDI In, and a general purpose input/output port for tally light and remote control workflows.
Video Devices PIX-E7 Features
7″ 1920 x 1200 Touchscreen Display
Records 4K (4,096 x 2,160) up to 24 fps
Records 1080p up to 60 fps
ProRes 4:2:2 and 4:4:4 Encoding
Uses mSATA SpeedDrive Media
4K-Capable HDMI Input with Loop-Through
2x SDI Inputs, 1x Loop Output
Analog Audio Input
Physical Button and Jog-Dial Controls
The PIX-E7 joins the rest of the PIX-E Series, in providing an impressive suite of monitoring tools, such as TapZoom™ for unrivalled focusing speed; false colours and zebras to help set exposure; guide markers for framing; and a range of scopes including waveform, histogram, and vectorscope. The PIX-E family also features several manufacturer-specific, standard lookup tables (LUTs), but custom LUTs may also be used via SD card or SpeedDrive.
With the latest Firmware Version 1.20, the PIX-E7 and PIX-E5 offer 1080i over SDI out, and 6G-SDI to support 4K over a single SDI cable for cameras like the Blackmagic URSA.
All three PIX-E models offer higher frame rate recording of 1080p 120fps via HDMI – ideal for capturing slow motion footage via HDMI, enhanced playback capabilities such as jog, shuttle, and FF/REW, 4:3 anamorphic desqueeze, 3:2 pulldown, external timecode, and the ability to enable or disable a LUT on an SDI output.
Order Links:
Video Devices PIX-E7 7-inch 4K recorder/monitor – $1,595 (B&H / Adorama)
Claim your copy of DAVINCI RESOLVE - SIMPLIFIED COURSE with 50% off! Get Instant Access!