If you've been thinking about upgrading your Sony FS7, or turning your FS700 into a 4K beast or even future-proofing your Sony FS5 for its upcoming future Raw upgrade, or you just wanted to get an awesome 4K Raw recorder, then now may be the best time go buy an Odyssey7Q+!
Just earlier today, Colorado-based Convergent Design slashed a whopping $500 off the $2,295 regular price on their flagship 4K recorder, effectively pricing the Odyssey7Q+ at $1,795, the lowest price it has ever been at. They are also throwing in a free 256GB SSD in to sweeten the deal.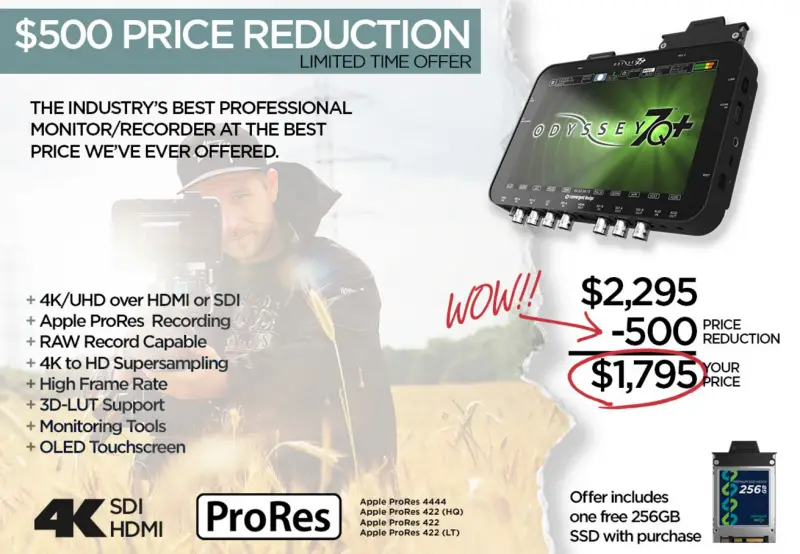 For those who are unfamiliar with the Odyssey7Q+ from Convergent Design, it is a beast of a 4K raw recorder, capable of recording various resolutions and codecs up to an including HD/2K/UHD/4K in Apple ProRes 422 and 4444 codecs, in RAW (requires Raw Bundle option) or in DPX. The 7.7" OLED touchscreen offers an unparalleled image analysis and advanced monitoring Tools, a 3D-LUT routing system and more.
For example the Sony FS7 can do 2K/240fps in Raw with the Odyssey7Q+, and the Sony FS5 will be able to record some form of 4K Raw and possibly Super Slow-motion in lower frame rates in Raw in a future paid firmware upgrade.
Note: The Raw functionality requires the purchase of the Odyssey Raw Bundle available for $995 (outright purchase of all raw supported formats including ARRI Alexa Classic, Canon, Sony and others) or a daily rental option of $99.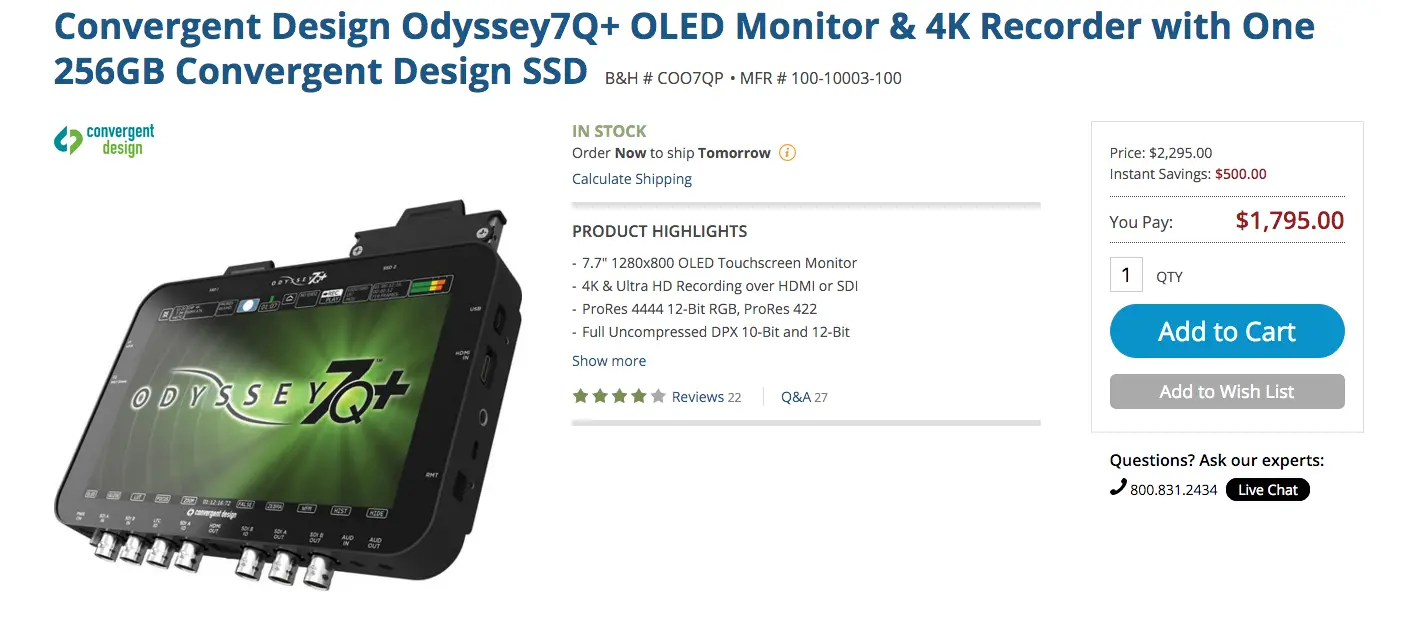 Now, there has been some speculation as to whether Convergent Design have another product release up their sleeve for NAB 2016 (coming up in mid April), which is entirely possible, albeit nothing but a rumour at this stage. Regardless of what has prompted the $500 off promo, one thing is for sure – those who buy it now win.
This is a limited time offer, so if you're on the fence and have been on it for some time, I wouldn't hesitate to pull the trigger on the Odyssey7Q+ now, as I doubt we'd see another promo like this. At this price, it is a steal.
Odyssey7Q+ Features
7.7″ 1280×800 OLED Touchscreen Monitor
4K & Ultra HD Recording over HDMI or SDI
ProRes 4444 12-Bit RGB, ProRes 422
Full Uncompressed DPX 10-Bit and 12-Bit
Raw Format Support
3G-SDI Inputs/Outputs
Image Analysis Tools
Built-in LUTs & Custom 3D LUT Support
Records to Convergent Design SSDs
Compatible with Select Samsung SSDs
Order Links:
Odyssey7Q+ 4K Recorder with 1 x 256GB SSD – $1,795 (B&H)
Odyssey7Q+ with Free SSD 256GB – $1,795 (Adorama)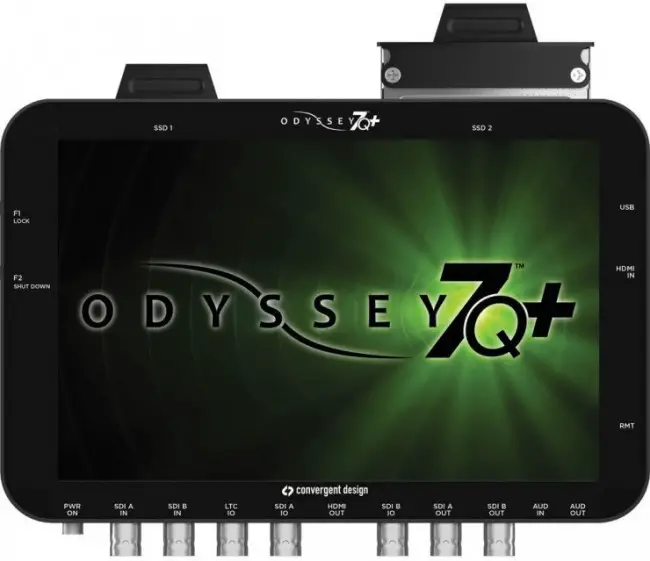 PRESS RELEASE
(Colorado Springs, CO – 1/19/2016) Starting Tuesday, January 19, 2016, the Industry's best professional monitor/recorder is now on sale for a limited time. We've reduced the price from $2295USD to $1795USD, a $500 savings!
Included with the Odyssey7Q+ are a 256GB SSD, high-quality HDMI and SDI cables, a 5-pack of SSD handles (for use with certain third-party SSDs) and a universal AC power supply. This reduced price represents and incredible value for this powerful and versatile recorder/monitor.
The Odyssey7Q+ is the industry's most advanced and versatile monitor/recorder. It records HD/2K/UHD/4K, in Apple ProRes 422 and 4444 codecs, in RAW or in DPX. The 7.7" OLED touchscreen offers an unparalleled image analysis and advanced monitoring Tools, a 3D-LUT routing system and more.
As always, Convergent Design provides excellent 24/7 customer support for all of our products. New features and capabilities are provided through free firmware upgrades including 4K60 Apple ProRes recording in an upcoming release.
Odyssey7Q+ RAW Recording and Multicamera Upgrades
The Odyssey7Q+ can be upgraded to support multicamera and RAW recording capabilities through our website at any time.
The Odyssey RAW Bundle (available for purchase throught the Convergent Design website) allows recording RAW data from the ARRI ALEXA Classic, Canon C300-II & C500, Sony FS7 & FS700, the IO Industries 2KSDI and the Indiecam GS2K, with additonal features and camera support to be added in the future at no additional cost.
The Odyssey Apollo Option allows recording of up to four HD video inputs along with a fifth recording of a Quad-Split view or a Live-Switch between the four inputs. Free updates will add Dual-4K recording to this upgrade option.
Terms & Conditions
Offer valid only for new Odyssey7Q+ purchases. Sale price of $1795USD is in effect as of January 19, 2016 for a limited time only. Units purchased prior to January 19, 2016 are not eligible for this offer.
Download a PDF of the Promo Flyer here
Claim your copy of DAVINCI RESOLVE 16 - SIMPLIFIED COURSE with 50% off! Get Instant Access!