Just days after announcing that their Odyssey7Q+ crown jewel of a 4K Raw recorder/monitor was getting a whopping $500 discount (plus a free 256GB SSD) for a limited time, now Convergent Design just released firmware v2016.01, which adds some more awesome features to the Odyssey7Q/7Q+ and the company's latest Apollo monitor/switcher. New features include 4K/60p, Dual-4K recording, Quad 1080p/60 monitoring & recording, and 6G-SDI support for Blackmagic cameras, allowing DP's and filmmakers get more out of their camera workflow. What's unique about this firmware update is that according to Convergent Design most of the new features (Dual-4K, Quad 1080p/60) are not available on any other external recorder on the planet at the moment.

New Features Firmware Update v2016.01
This unique feature allows users to record of 2 x True 4K (4096 x 2160) or UltraHD (3840 x 2160) signals simultaneously at either 23.98p, 24p, 25p, 29.97p, or 30p. This is going to solve a lot of headaches for those regularly shooting multi-cam, plus you get the benefit of a slick, portable monitor/recorder device capable of recording onto industry standard workhorse codec like Apple ProRes (HQ/422/LT).
Dual-4K recording can be useful in interviews, virtual reality and other productions. This feature is available on Apollo as well as Odyssey7Q/7Q+ installed with Apollo Option.
Quad 1080p/60 Recording/Monitoring
This option allows for simultaneous monitoring and recording of 4 x 1080p video streams at progressive frame rates of 50p, 59.94p and 60p. Higher frame rate recording is often a requirement of virtual reality production. Many small cameras only output 1080 progressive signals at higher frame rates.
Only a few portable recorders capture 1080p up to 60fps, and no other device can record Quad-HD 1080p60. Available on Apollo & Odyssey7Q/7Q+ with Apollo Option
Apollo, Odyssey7Q+, Odyssey7Q can now Monitor and record DCI 4K and UHD video signals at up to 60fps in Apple ProRes (HQ/422/LT). High frame rate 4K video signals are available from cameras such as the Sony F55, Panasonic VariCam35, and the I/O Industries 4KSDI.
4K60p is a requirement of certain major distribution networks as well as valued in virtual reality and other production formats. This is also a feature unique to the O7Q+.
6G-SDI support for Blackmagic Design Cameras
Allows monitoring and recording of 6G-SDI video signals from Blackmagic Design cameras via a single SDI cable – meaning it can carry up to 4K/30p video from cameras such as the Blackmagic Design URSA, URSA Mini and Micro Studio Camera 4K.
The Blackmagic Design 4K HDMI to SDI converter is also supported, so in conjunction with Apollo's Dual-4K, two 4K HDMI cameras such as the Sony A7s II or Panasonic GH4 can be recorded in Apple ProRes (HQ/422/LT) on a single device. There are two 6G-SDI inputs so two Blackmagic Design devices can be supported simultaneously. No other portable recorder has dual support for 6G-SDI.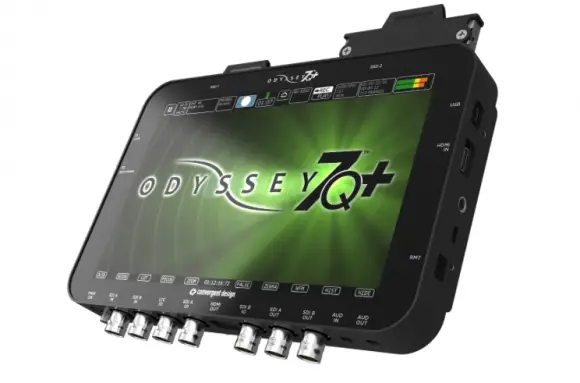 Firmware v2016.01 is available for download directly from CD here.
Order Links:
Claim your copy of DAVINCI RESOLVE - SIMPLIFIED COURSE with 50% off! Get Instant Access!