In less than two months before NAB 2016 kick-off, our friends from The Dreamers shared some more URSA Mini 4.6K footage with us, this time focusing in particular on a variety of skin tones, which you can check out below. To check out some of their earlier URSA Mini 4.6K footage head over to this post here. It goes without saying that the URSA Mini 4.6K is probably not only the most awaiting Blackmagic Design camera to date, but possibly the hottest camera of 2016. Our hopes of seeing a production model ship to the masses before 2015 came to end vanished, but at least it shouldn't be too long now before it officially ships as the camera is now in final stage of testing with beta testers all over world, or at least that's what we are told by a variety of sources from DP's on the ground to authorised resellers in the UK we've reached out to.
One Million Selfies (Ursa Mini 4.6K) from The Dreamers on Vimeo.
We took our Blackmagic Ursa Mini 4.6K out to the Vondelpark and Museumsquare in Amsterdam for some more testing yesterday.

What surprised me was how easy the footage was to grade. Literally all I did for most shots was to create an S-curve. Nothing else. Another beast entirely. There is no clipping, no crushed black, nothing.

All shot on the Blackmagic Ursa Mini 4.6K in ProRes 442 HQ 3820 x 2160 (UHD). Most shots with the Canon 100mm 2.8 L and the Sigma 18-35 1.8 from a monopod.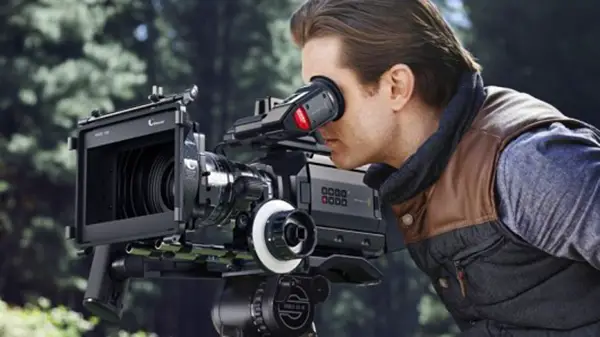 Blackmagic URSA Mini 4.6K Features
Super 35mm CMOS Sensor
4,608 x 2,592 Video up to 60p
Compressed Raw Recording
Anamorphic Recording
Resolution Options

4608 x 2592
4096 x 2304 (4K 16:9)
4608 x 1920 (4K 2.4:1)
3840 x 2160 (Ultra HD)
3072 x 2560 (3K Anamorphic)
2048 x 1152 (2K 16:9)
1920 x 1080

ProRes 444 + 422 codec options
Dual CFast 2.0 Memory Card Slots
12G-SDI Output, Timecode and REF Input
1080p Flip-Out Screen
Touchscreen Interface
2x XLR Audio Inputs with Phantom Power
Magnesium Alloy Body
Optional OLED EVF (separate purchase)
Optional Shoulder Mount and top handle
Order Links:
In other recent news, the Sony F5/F55 cameras will soon have the ability to Cache Record in Raw up to 30 seconds in 24p via an optional accessory that is to be announced at some point soon, hopefully before NAB 2016. This was revealed in a post by Sony Marketing Manager Peter Crithary on the Sony Pro Forum.

This is the latest announcement of an imminent series of updates coming to the esteemed Sony CineAlta range including the Sony F5 and F55, the latter of which will also get 4K Raw up to 120fps with this additional, yet unannounced accessory. Many speculate that the F5/F55 may get some sort of replacements at NAB 2016, but the only thing known for sure is that there will be a new accessory that will allow the above upgrades.
No mention of cost or time frame has been mentioned yet, but guessing by the timing of such teasers, one could safely assume that there will be a some sort of NAB announcement or even pre-NAB one regarding the mysterious new accessory.
Claim your copy of DAVINCI RESOLVE - SIMPLIFIED COURSE with 50% off! Get Instant Access!