So much new URSA MINI 4.6K footage has been trickling through the woodwork lately that it gets tough to keep up. Or is it a sure thing that we'll start seeing the 4.6K URSA Mini finally ship soon? Earlier in the week we blogged about the latest 4.6K footage here, and just earlier today Hugo Van Dijke from Dutch outfit "The Dreamers" sent us their latest video they shot on the 4.6K URSA Mini, which I want to share with you guys today. Back in September last year at the start of IBC 2015 in Amsterdam, you may remember we covered their first footage with the URSA Mini 4K, which you can check out here in case you missed it. It's awesome!
A Styled Shoot with the Ursa Mini 4.6K from The Dreamers on Vimeo.
By chance, we had a styled shoot planned the day after we've received our Blackmagic URSA Mini 4.6K – lucky us.

The dynamic range is pretty impressive – definitely feels like an improved version of the 2.5.

Shot in Prores HQ (1920 x 1080). Mostly shot handheld (!) with the Canon 17-55 2.8 IS. Other shots with the Sigma 18-35 1.8 and the Canon 50 1.2 L. Quick grade using the new LOG to Rec. 709 LUT as a basis. The flicker you're seeing (00:06 – 00:09 and 01:26 –01:27) is from a tungsten bulb in the back. I didn't catch it flickering during the shoot or I would have changed my shutter speed.

I've posted some stills to our Facebook-page: facebook.com/thedreamersnl

Theme: Delicate Nature
Styling & flowers: Ohlala Weddings
photography: Bemind Fotografie
Videographer: The Dreamers NL
Sweet table: Sweet Appetite
Make-up & hair: Janneke Visagie
Dress: Arnhems Meisje – Assepoester Bruidsmode
Location: Restaurant De Woeste Hoeve
Talent: Antonie & Margeta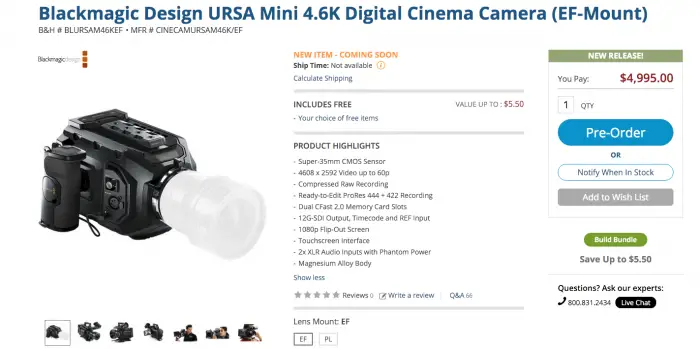 Blackmagic URSA Mini 4.6K EF ($4,995 at B&H)
Super 35mm CMOS Sensor
4,608 x 2,592 Video up to 60p
Compressed Raw Recording
Ready-to-Edit ProRes 444 + 422 Recording
Dual CFast 2.0 Memory Card Slots
12G-SDI Output, Timecode and REF Input
1080p Flip-Out Screen
Touchscreen Interface
2x XLR Audio Inputs with Phantom Power
Magnesium Alloy Body
Now, I don't know about you guys, but in my opinion this is some of the best 4.6K footage from the URSA Mini I've seen so far! It's so clean, with very pleasing highlight roll-off and for a long time really pleasing skin tones and an overall deep organic feeling from this footage.
Again, this all has to do with the fact that The Dreamers are really good at what they do, that's a given, but if you until now had doubts as to the ability of the URSA Mini 4.6K to deliver impressive DR and skin tones, I think this may very well be the proof that some of us have been waiting for.
Order Links:
[via The Dreamers]
Claim your copy of DAVINCI RESOLVE - SIMPLIFIED COURSE with 50% off! Get Instant Access!