Well, 2015 may have come and gone, and so did January, but the good news is that we get to see more and more footage from the Blackmagic URSA Mini 4.6K. A camera certainly worth of the "most anticipated camera of 2015 and maybe 2016" moniker has been put through its paces via numerous beta testers over the past few months and we've been seeing footage trickling down through the Web. We have featured new footage from the 4.6K version here and here in the past, so in case you missed those, I highly recommend you check out these posts. Blackmagic Design assured us that their engineers are working hard on finalising the colour science and tweaking the overall performance of the URSA Mini by taking into account feedback from the various beta testers around the Globe.
We were hoping to see the camera actually ship in January, but so far this has not happened. The new 4.6K sensor sure does show a lot of promise to deliver exceptional dynamic range, colour rendition and skin tones, today we have some new footage shot by various beta testers that has been released in the last few days.
Empara Directors cut / Test Ursa Mini 4.6K from Pascal Délé / Lifestyle-Prod on Vimeo.
URSA MINI 4,6K (3840 x 2160 Ultra HD / Apple ProRes 422 HQ ) in 4K UHD 60 fps
Filters : Nisi
Lenses: Sigma 18-35mm F1,8 EF, Sigma 50 mm F1,4
Stabiliser: DJI Ronin
And here's more 4.6K URSA Mini footage by Daniel Peters, some of which you might have already seen as it was posted a few weeks back, but certainly worth checking out for those, who are considering the URSA Mini 4.6K as their new camera.
Blackmagic Ursa Mini 4.6K from Daniel Peters on Vimeo.
Here's an excerpt of the video description by Daniel Peters:
This time I shot more generic scenes to showcase the image and dynamic range. Did a light grade so it wasn't too flat but enough to still see how much dynamic range it kicks out.

Did a Little bit of 120fps window crop and UHD 60fps…all frames shot in Prores.

Now and then, there is a slight magenta shift in the top right, this was me being a bit heavy on ND with the Tiffen vari-ND
Love the image out of this camera… it may be hard for people to make a choice between the 4K mini and 4.6K mini, especially when footage online with both cameras are shot well;

But having used both cameras, the range from the 4.6K is a BIG step up, lowlight tests so far are also coming out very clean at 1600 ISO
46 Birds from Daniel Peters on Vimeo.
A Low Light Test by Daniel Peters:
4.6k Lowlight Test from Daniel Peters on Vimeo.
Quick little test seeing how the Blackmagic Ursa Mini 4.6K lowlight looks, only light source is from one candle throughout the video.

Shot at 800 ISO with Sigma 50mm Art 1.4, lightly graded

800 is super clean

Due to it being online and being a dark video…sometimes web compression & artefacts, don't do it justice.
So for a short time I'll try and leave download link below, just 1080p as my dropbox and internet sucks haha

Download link:
dropbox.com/s/mu5syzg3dx4r5k9/lowlight.mp4.zip?dl=0

Once again, thanks to my betty for putting up with my tests
Daniel also shot a short film using the URSA Mini 4.6K EF, which you can check out below:
Just my Luck from Daniel Peters on Vimeo.
Blackmagic URSA Mini 4.6K EF ($4,995 at B&H)
Super 35mm CMOS Sensor
4,608 x 2,592 Video up to 60p
Compressed Raw Recording
Ready-to-Edit ProRes 444 + 422 Recording
Dual CFast 2.0 Memory Card Slots
12G-SDI Output, Timecode and REF Input
1080p Flip-Out Screen
Touchscreen Interface
2x XLR Audio Inputs with Phantom Power
Magnesium Alloy Body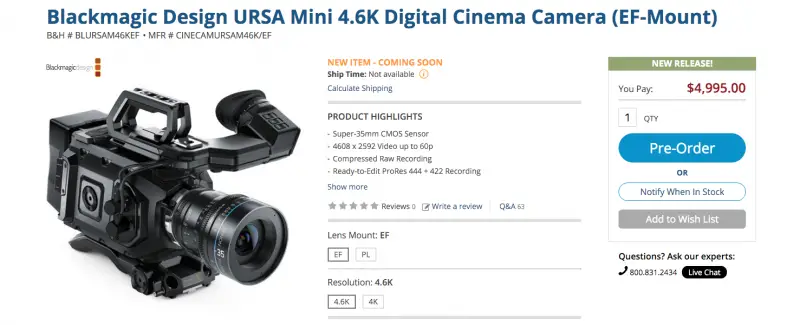 Basic Kit – with accessories to get the camera running and production ready.
URSA Mini 4.6K EF Camera Body – $4,995
Transcend CFast 2.0 128GB Cards – $299.95
Lexar Professional CFast 2.0 USB 3.0 Reader – $19.99
IDX V-mount Plate – $185
Switronix PB70C PowerBase Charger – $44.95
BMD URSA Viewfinder – $1,495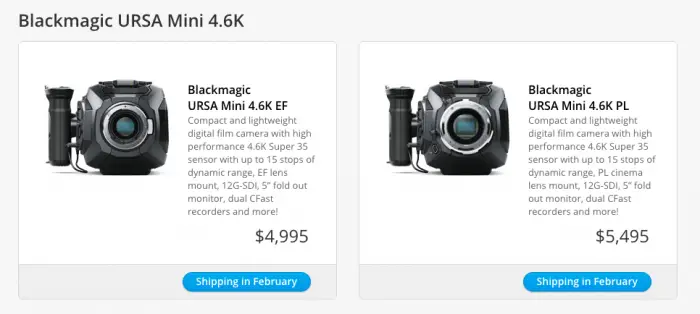 As you can see from the screenshot above taken earlier today, BMD has updated their website to reflect a possible shipping date for the URSA Mini 4.6K in February, and I certainly hope this time it actually happens.
From the looks of the above test videos, I can't really identify any issues that jump out, with the exception of some of the highlights rolloff in the first few seconds (where the photographer is walking) in the Emara Director's Cut footage from Pascal Dele, but I can't say if this is because of Vimeo compression or an artistic choice. .
Web compression really hinders the true potential of most if not all cameras, so until I get a chance to shoot with one and see the footage on a 4K monitor, I am refraining from judgement here.
Claim your copy of DAVINCI RESOLVE - SIMPLIFIED COURSE with 50% off! Get Instant Access!