Today is an amazing time to make a living out of telling stories via moving pictures and sound. And now that the image acquisition and pro audio side of things has been democratized to such a degree that it doesn't require huge sums of money to deliver a professional looking video, what remains a challenge is getting the image from the camera out to a monitor without being tethered to a BNC cable. This is where Teradek have been at it for some time creating wireless video transmission solutions for professional video productions.
Teradek are well known for their high-end pro wireless video transmitters. The company recently added a few new "zero delay"wireless HD video transmitters in their Bolt Pro range – the Bolt 1000 and Bolt 3000, and now their are announcing the new and compact Bolt 500 – with a longer range, is more reliable, and is smaller than ever before.
The new Teradek Bolt 500 supports resolutions up to 1080p/60 and features a highly refined software, new wireless radios and a redesigned more compact chassis. According to Teradek, the Bolt 500 are the most reliable and capable monitoring solutions they have ever built.
The new Bolt 500 includes Metadata and timecode support, 3D LUTs, dual inputs/outputs, multicast capable, manual frequency selection and USB 3.0 GRAB Engine similar to other Bolt models.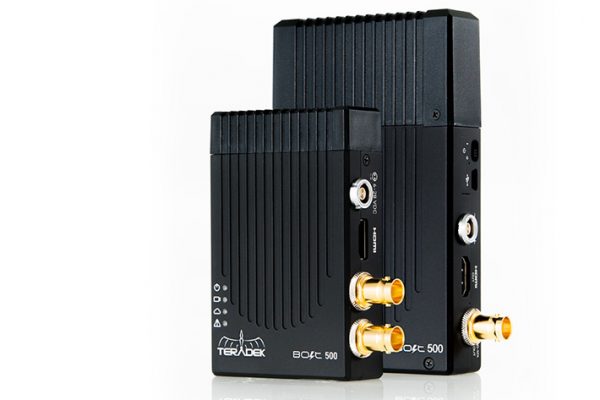 Teradek Bolt 500 Features
Longer Range – Transmit visually lossless video up to 500ft (152 m) with no delay.
Individual Identity – Easily identify which Bolt TX and RX work together with removable coloured top plates.
Built-In HDMI to SDI Converter – Perfect for use with MoVI and other gimbals, Bolt's TX has a built-in HDMI to SDI converter, allowing you to connect both your on-camera monitor and video source via the same device.
20 MHz Channels – Use more than twice as many Bolts in one location or avoid interference like never before.
20% Smaller Chassis – Not just smaller, but lighter too, allowing these models to integrate into any rig unnoticed.
Rapid Reconnection – Reconnect times during a dropped link are now instantaneous once you move back into range.
More Robust Than Ever Before – Reach your Bolt's full range and potential right out of the box with new software that provides the most robust wireless link we've ever created.
The more compact form factor and 500 feet range makes this model more suited towards lower budget productions where a huge wireless range is not required and also the budget is often restricted. 150+ meters isn't too shabby at all and should be plenty for most productions on this level.
The Teradek Bolt 500 is available in three versions – an HDMI version for $2,990, a 3G-SDI version at $3,490 and a HDMI/3G-SDI top end model for $3,990.
Claim your copy of DAVINCI RESOLVE - SIMPLIFIED COURSE with 50% off! Get Instant Access!