Video live streaming has become ubiquitous in a way as more and more filmmakers, including seasoned professionals and enthusiasts alike, are eager to dip their toes in this new and exciting technology. Due to the steadily increasing transfer speeds and the multiple dedicated platforms available on the Web, the demand for instant access to video is vastly growing. Nowadays almost everyone can stream video online regardless of their physical location. Everything you need is a camera with a clean HDMI video feed and a reliable internet connection.
Whether you like to share your behind the scenes experience on a film set with your collaborators or just want to know how to broadcast your client's live event or a webinar, here are a few insightful tips and tricks you should keep in mind along the line. Learn how to put quickly together both a wireless and wired live stream setup for your production in the video below by Mia McCormic, in which she breaks down the live streaming process and the gear needed in five simple steps.
First of all, the camera you choose is essential to the process. You want to use a camera with a clean HDMI output without display overlay in the video feed. Furthermore, make sure that you have a reliable internet connection. It's recommended to utilise a dedicated line without any firewall restrictions. That's how you'll be able to maintain a robust and steady feed. You will need at least 10Mbits/sec upload and download speed respectively.
All in all, you have two options when it comes to live stream. One is to stream wired with a hard line connecting your camera to a capture device and finally to a computer. Obviously, this is the most reliable connection as it's not dependent on wireless signal interference or instant drops of the signal that you might experience if you choose the wireless setup.
In the former case, you have to tether the HDMI feed from your camera to a capture device like the Blackmagic Ultra Studio Mini Recorder. In essence, it's a device that captures the HDMI's video signal and outputs it to a computer via Thunderbolt with no quality loss.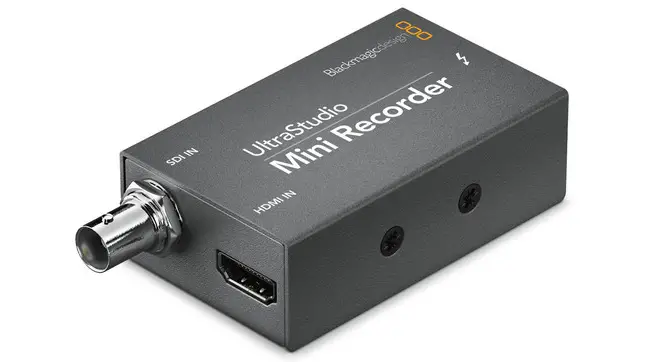 In case, your computer doesn't have a Thunderbolt port you can use the Blackmagic Design Intensity Shuttle instead, as it uses a USB 3.0 connection. Of course, you will need an HDMI cable to tether the camera and the recorder itself. Another Thunderbolt or USB cable is also required to connect the capture device to your computer. Overall, that's all the hardware that you will need for a wired live stream setup.
As for the minimum hardware requirements for your laptop or workstation, make sure these have at least a Quad Core processor, 4 GB of RAM and a dedicated video card along with an updated operating system.
If you decide to take the wireless road, instead of utilizing a capture card, you will need a wireless transmitter like the Teradek VidiU Mini or the Livestream Broadcaster Pro. Like the other devices, the latter receive the HDMI signal then encode and send the feed wirelessly to a streaming platform like Ustream, Livestream or YouTube Live. It's worth nothing that the Live Stream Broadcast modules work only with the live stream platform. Keep in mind, though that for a wireless transmission you will need a rock-solid wireless connection.
The hardest part of the process is finding the optimal balance between the highest resolution and the proper bandwidth for your connection. The bitrate is another factor that can have an impact on the live streaming. It's always an excellent idea to test your live stream on multiple devices to make sure that the quality is sufficient, and there aren't any signal drops.
At last but not least, you should create an account on any of the live streaming platforms available on the Web. Additionally, you may want to use a dedicated encoding software for more advanced options like multiple camera streaming and better overall image quality. No matter what platform you choose to stream from, a link will be supplied for your live broadcast so that you can send it out to people or embed the stream on your website.
[source: B&H]
B&H Order Links:
Blackmagic Design UltraStudio Mini Recorder Capture Device
Blackmagic Design Intensity Shuttle
Disclaimer: As an Amazon Associate partner and participant in B&H and Adorama Affiliate programmes, we earn a small comission from each purchase made through the affiliate links listed above at no additional cost to you.
Claim your copy of DAVINCI RESOLVE - SIMPLIFIED COURSE with 50% off! Get Instant Access!