The JetPack EVO is the next generation of the Jetpack series from US based battery and accessory maker Core SWX (previously known as Switronix). You may have be familiar with their HyperCore batteries, their Powerbase EDGE, or the new Nano-VBR98 battery for the Panasonic EVA1 (link to blog post here).
With the increased resolution and power requirements on the latest generation digital cinema cameras as well as they increased amount of on-board accessories with additional power requirements such as wireless lens motors, wireless video monitoring systems and others, all of a sudden you get less "juice" out of your high power draw battery to actually power your camera.
This is where the new JetPack EVO comes in handy; to help you deal with the increased power consumption, which requires more frequent battery changes throughout a day's shoot. Unlike the prior generation, which served as a power distro box, the new JetPack EVO reduces downtime thanks to its built-in 29 Wh lithium-ion battery pack capable of handling up to 15A draw for 5 minutes; giving you or your AC enough time to do a battery swap.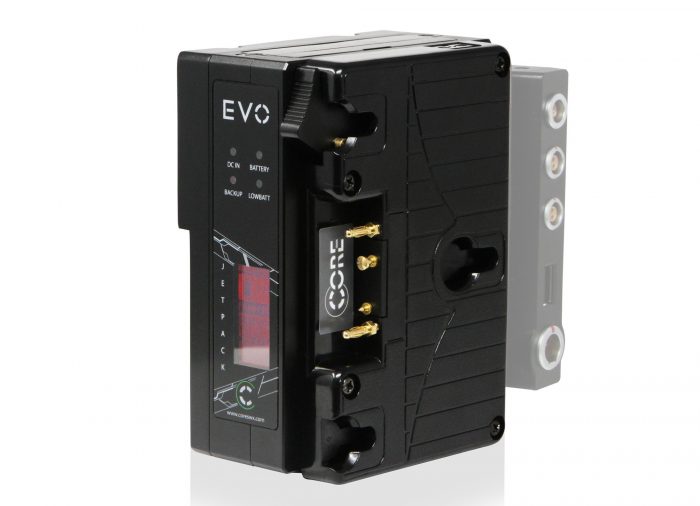 In addition to the backup function, the EVO has a "boost," or battery assist function should your on-board pack be unable to handle the startup current necessary. The JetPack EVO sits between your camera back battery plate and the V-mount or Gold mount battery that powers your camera rig; hence why the JetPack EVO is available in either V-mount or Gold mount.
In addition, Core SWX are working on getting the RED DSMC2 direct mounting version of the JetPack EVO, which should be available sometime later in the year.
Although designed for digital cinema cameras such as the RED DSCM2 cameras or the ALEXA Mini for example, you can use it on other cameras with V-mount or Gold mount battery plates (Varicam LT/35, AMIRA, and even Canon C300 II and Sony FS7 with V-mount or Gold mount battery plates for example).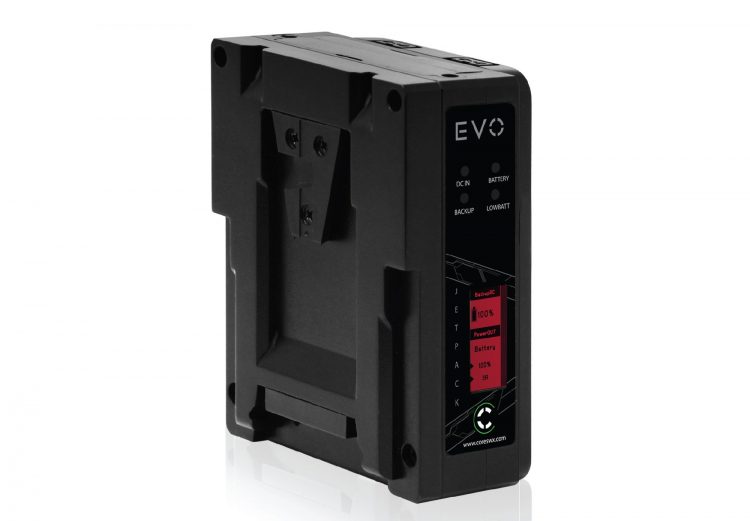 CoreSWX JetPack EVO Features/Specifications:
V-Mount to V-Mount & Gold Mount to Gold Mount versions
Built in 29Wh battery, capable of handling up to 15A draw for 5 minutes
Backlit LCD for status
Size:
Weight:
Power Input:

11-17V DC via battery plate

Output:
Battery Backup Output:
2x P-Tap Outputs:
In addition to battery backup and boost functions, the EVO has a backlit LCD which monitors power source, backup battery status, and the current load your camera system is consuming.
For additional power distribution, the JetPack EVO comes standard with two D-tap outputs, but also accepts a variety of modules built for the system. The JetPack EVO is priced at $775 and is available to pre-order directly from Core SWX with estimated shipping date of August 1st, for the V-mount to V-mount and Gold mount to Gold mount versions. As mentioned before, the direct RED DSMC2 version will be available at a later date.
The modules are available in different configurations with outputs including two 2-pin LEMO regulated 12v, as well as 3-pin Fischer 24v. The outputs are mechanically engineered to not obstruct connections on a RED DSMC2 Pro I/O module.
The JetPack EVO Modules, depending on type are priced between $150 and $200, also have a USB5v and 6-pin LEMO power input should you have available power supply or battery block power accessible. If you pre-order one of the JetPack EVO models before 1st August, you will also receive one output module for free.
If you are in the UK head over to distributor Holdan UK to see where you can buy Core SWX products (UK prices have not yet been confirmed), and if you are in the US you can either order direct from Core SWX, or via authorised dealers such as B&H.
Disclaimer: As an Amazon Associate partner and participant in B&H and Adorama Affiliate programmes, we earn a small comission from each purchase made through the affiliate links listed above at no additional cost to you.
Claim your copy of DAVINCI RESOLVE - SIMPLIFIED COURSE with 50% off! Get Instant Access!