Core SWX, a popular maker of battery and charging solutions, announces two innovative battery power solutions aimed at the traditional broadcast market, the Hydracore 100 is Core's first NiMH battery, offering owner/operators a travel-safe alternative. The Powerbase Edge is ideal for the Cine/DSLR sector and is 30 percent smaller than its highly successful predecessor, the Powerbase 70.
For those of you with chunky broadcast cameras needing an unregulated, travel friendly battery solution, the Hydracore 100 is a Gold mount battery pack supporting up to a 10A load, and offering 100Wh of power giving you plenty of juice. The Hydracore 100 is a Nickel-based pack, not Lithium, meaning it doesn't fall under the restrictive Air shipping and travel guidelines. This battery pack is about 2lbs lighter than the competition, at 3.3lbs, as well as 20% smaller.
Fully compatible with Anton/Bauer chargers, the pack will seamlessly integrate into your battery fleet. The Hydracore 100 also includes a backlit runtime LCD, D-tap output for powering accessories and also a USB port.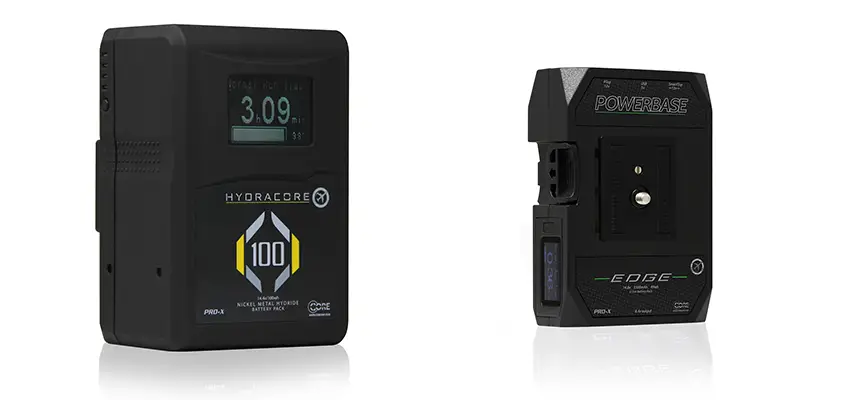 "Designed for two different spectrums of battery solution needs, the Hydracore 100 and Powerbase Edge are both testaments to Core's continuous innovation and drive to provide its range of customers with power solutions that meet any demand," says Ross Kanarek, CEO, Core SWX. "We listened to our customers and their requests for even more options for travel-safe batteries. Hydracore is our first NiMH battery and we are proud of the product and features we've put forth."
The Powerbase Edge is a small-form cine and DSLR battery with the versatility of two mounting options – as a V-Mount pack on cine cameras, such as the RED or Blackmagic Design Ursa Mini, or to the bottom of a DSLR camera. The 14.8v Lithium-ion battery pack includes one 8v port, two USB outputs and two power tap outputs, one of which being a SmartTap. The pack also features a built-in runtime LCD and a quick release plate for fast detachment from under the camera or rigs.
"Weighing only 1.3lbs, the Powerbase Edge doesn't compromise on power," adds Kanarek. "It can withstand the draw of a full size cinematic camera, providing customers with an extended runtime to meet an array of the highest shooting demands."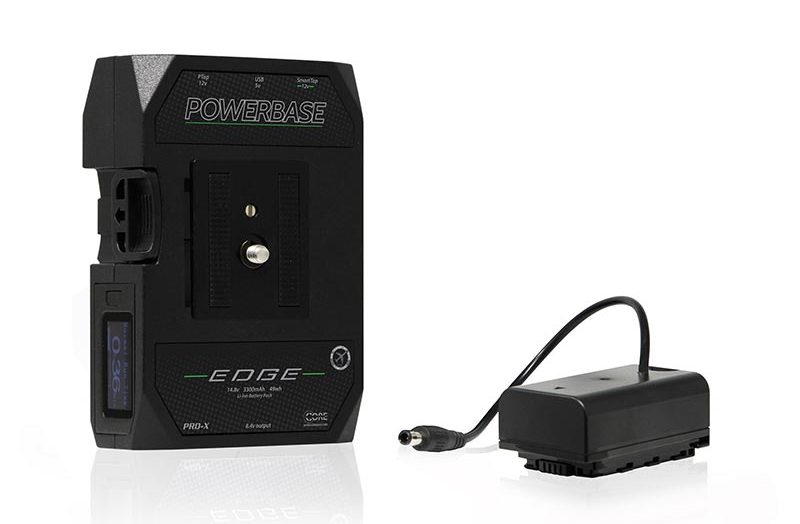 Core SWX PowerBase Features
Small Form Cine V-Mount Battery Pack 49wh, 14.8v with Panasonic VBR Battery Cable
Includes one 8v port to power various cameras
2 x USB output
2 x D-tap outputs, one of which being a SmartTap
Built-in runtime LCD
Quick release plate
Price: £230 + VAT

Core SWX PowerBase Specifications
Capacity: 49Wh (14.8vdc, 3.3Ah)
Size: 5.1" x 3.6" x 1.55"
Weight: 1.3lbs.
Normal Runtime: approx. 2.75 hours
Max Continuous Load: 8A
Having owned and used the predecessor Powerbase 70, I am looking forward to trying out the new version if I get a chance. I am looking for a longer lasting battery solution for my Panasonic GH5s, and this looks quite interesting.
Fore more info head over to Core SWX.
Claim your copy of DAVINCI RESOLVE - SIMPLIFIED COURSE with 50% off! Get Instant Access!