Just a few days ago DJI posted a teaser trailer for an upcoming product launch event in New York, which occurred just a few hours ago. Just like we posted yesterday, DJI's new flagship consumer drone is called the Phantom 4 and was unveiled earlier today. The company's latest consumer quadcopter features some really innovative new additions such as Obstacle Avoidance and and active tracking features among many others. Unlike the Phantom 3 series, which comprised of three models – the Phantom 3 4K, the Professional and Advanced Edition, DJI decided to keep it simple for the new Phantom 4 family by announcing just one version to keep everyone happy.
Apart from the new polished and slick look, the new DJI Phantom 4 packs some pretty advanced AI that looks like it was lifted from a Sci-Fi thriller – the new drone can track human subjects while simultaneously producing lovely 4K footage. This is all thanks to new features such as TapFly and ActiveTrack as well as sonar technology employing additional cameras that aid the aircraft with object avoidance.
Obstacle Avoidance System
The Phantom 4 offers incredibly innovative new technologies currently not present on consumer drones. The new 4K flying camera from DJI has an increased sensory perception thanks to two tiny cameras, each one placed directly above one of the two landing legs. These cameras give the Phantom 4 a sense of depth for calculating the distance between it and incoming obstacles. The Active Obstacle Avoidance feature enables the Phantom 4 to automatically re-adjust itself mid-flight in order to avoid contact with obstacles by flying around them or stopping completely.
The DJI Phantom 4 can also sense incoming objects when returning to home, avoiding them automatically to complete its flight path safely.
The Phantom 4 can also visually track three-dimensional objects through advanced computer vision, object recognition, and machine learning. Just tap a subject — such as a person, car, or dog — on the smart device connected to the Phantom 4, and the quadcopter's camera will centre on the subject and follow it as it moves, keeping the subject in the centre of the frame.
TapFly
This is a really impressive new feature that goes well beyond what other competitor drones in the same class offers – and it's probably the best feature for novice pilots. Users can double tap on their DJI Go App via their monitoring smart device and the Phantom 4 will automatically calculate the optimal route to the destination, while avoiding obstacles at the same time without users having to navigate the aircraft, instead they can just focus on controlling the gimbal and camera to get a more precise shot.
ActiveTrack
ActiveTrack is going to be used a lot by filmmakers for those special hovering shots around a subject from above.
The DJI Phantom 4 also adds a Sports Mode for more advanced pilots, which lets you speed up the drone to breakneck speeds of 45 mph. The max flight time has also been slightly bumped up to 28 minutes.
The downside however is a new 5350 mAh battery (making the previous generation's 4480 mAh battery incompatible with the new device). The good news however is that despite the new battery, the Phantom 4 is only 1.3kg, which is roughly just 100 grams over the weight of the Phantom 3.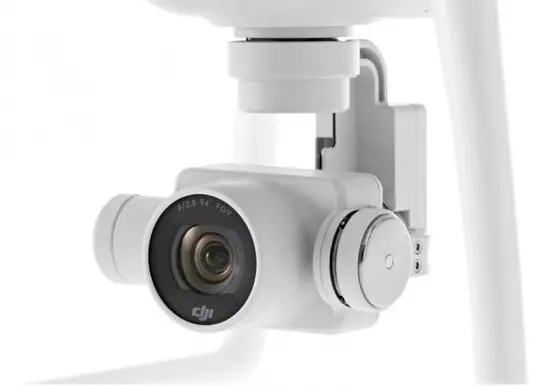 DJI Phantom 4 Video Features
In the video department the new DJI Phantom 4 really shines – the 3-axis gimbal with integrated camera can capture DCI 4K (4,096 x 2,160) at 24 and 25 fps as well as UHD 4K (3,840 x 2,160) at up to 24/25 and 30p in H.264 at 60 Mbps. In addition to 4K and UHD, the Phantom 4 can record in 1080p up to 120 fps (whereas the Phantom 3 could do it in 720p) for some stunning slow motion.
The 4K stabilised camera features a 1/2.3-inch sensor and an integrated lens with a field of view of 94 degrees, which is equivalent to about 20mm on a 35mm full-frame format. The maximum ISO you can push the camera in video mode is ISO 3200, which is not bad at all.
For those who want to take their footage even further in post-production, DJI's D-Log and Cine-D flat picture profiles are also present. 12MP still photos in JPEG or DNG RAW as well as time-lapse, burst shooting, HDR and single shot are available too.
Camera Resolution and Frame Rates:
DCI 4K (4096 x 2160): 24p/25p

UHD 4K (3840 x 2160): 24p/25p/30p
2.7K (2704 x 1520): 24p/25p/30p

1080p (1920 x 1080): 24p/25p/30p/48p/50p/60p/120p

720p (1280 x 720): 24p/25p/30p/48p/50p/60p
Here is a video detailing the latest technology employed in the DJI Phantom 4:
Camera Full Specs:
Sensor
1/2.3" Effective pixels:12 M
Lens
FOV ( Field Of View ) 94° 20 mm ( 35 mm format equivalent ) f/2.8 focus at ∞
ISO Range
100 – 3200 ( video ) 100 – 1600 ( photo )
Electronic Shutter Speed
8 s to 1/8000 s
Max Image Size
4000×3000
Still Photography Modes
Single shot
Burst shooting: 3 / 5 / 7 frames
Auto Exposure Bracketing ( AEB ): 3 / 5 bracketed frames at 0.7 EV Bias
Time-lapse
HDR
Video Recording Modes
UHD: 4096×2160 (4K) 24 / 25p
3840×2160 (4K) 24 / 25 / 30p
2704×1520 (2.7K) 24 / 25 / 30p
FHD: 1920×1080 24 / 25 / 30 / 48 / 50 / 60 / 120p
HD: 1280×720 24 / 25 / 30 / 48 / 50 / 60p
Max Video Bitrate
60 Mbps
Supported File Systems
FAT32 ( ≤ 32 GB ); exFAT ( > 32 GB )
Photo
JPEG, DNG ( RAW )
Video
MP4 / MOV ( MPEG – 4 AVC / H.264 )
Supported SD Cards
Micro SD, Max capacity: 64GB. Class 10 or UHS-1 rating required
Operating Temperature
32° to 104° F ( 0° to 40° C )
Here are some videos showing what you can do with a Phantom 4 quad: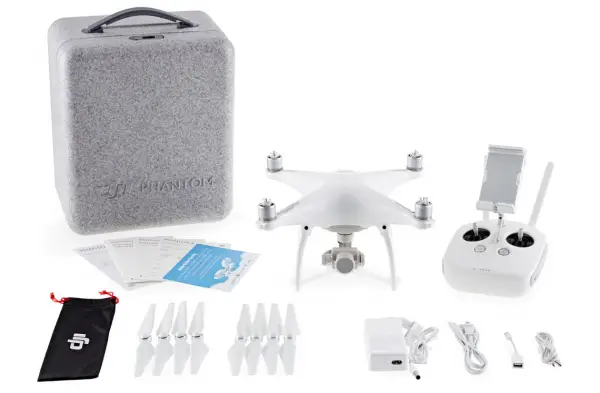 You can order the Phantom 4 now directly from DJI for $1,399 / £1,229. Alternatively major resellers such as B&H are starting to take orders on 23rd March with shipping estimated in early April.
Claim your copy of DAVINCI RESOLVE - SIMPLIFIED COURSE with 50% off! Get Instant Access!