The Blackmagic URSA Mini 4.6K was announced 11 months ago at last year's NAB. It was supposed to ship in July last year. The wait is finally over, as earlier today Blackmagic Design officially confirmed that the URSA Mini 4.6K and Micro Cinema camera are both shipping. But there is a catch. Both cameras will NOT have global shutter mode as originally announced due to technical hurdles that the engineering team at BMD was unable to overcome without sacrificing the quality of the cameras up to the high standards that CEO Grant Petty holds them to. The Blackmagic Design boss himself presented the situation and explain the reason for the delay in shipping in a video that you can see here.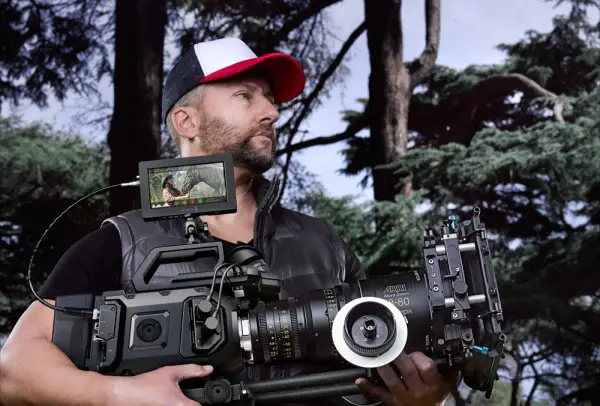 Blackmagic Design have also announced the release of a brand new promo short film that demonstrates the impressive abilities of the URSA Mini 4.6K camera as well as a "making of" video that shows how the camera was used on this shoot. This short film is available on the URSA Mini product page here as well as downloadable footage for you to grade in Resolve on your own.
Excerpt from the PRESS RELEASE:
Since being announced, Blackmagic Design have been working hard to get the new URSA Mini 4.6K and Micro Cinema Cameras into production and to fill backorders. The good news for our customers is that both these cameras are now shipping.
However the development of the global shutter in these cameras has taken longer than expected, and has been the reason the cameras have been delayed in shipping as problems in implementing the global shutter feature has been holding up their release. Both cameras have problems with their global shutter but the problems are different between the URSA Mini 4.6K and the Micro Cinema Camera.
For the past 6 months, Blackmagic Design engineers have been working extremely hard to resolve the issues. As the performance of the global shutter is not up to the high quality level that Blackmagic Design strives to give it's customers, Blackmagic Design have decided to ship both of the cameras without the global shutter feature.
The prime reason for this decision is that over the last few months, professional cinematographers and DOP's who have been beta testing the cameras on all types of different projects have reported incredible results. Their feedback is that the cameras should not be delayed for this feature as the main benefits of the cameras are the wide dynamic range, and that this dynamic range is only available when running without global shutter. The beta testers working in high end digital film and television production are urgently wanting to use cameras such as URSA Mini 4.6K to obtain the advantage of the 15 stops of wide dynamic range and high frame rate capabilities of the rolling shutter.
With the release of URSA Mini 4.6K, customers will be able to choose between two very different models of URSA Mini. Originally URSA Mini 4K was intended to be the entry level model and the URSA Mini 4.6K to be the higher end model with more features. However, now these two cameras are targeted for different kinds of work as customers can choose between URSA Mini 4K if they want global shutter for fast action sports and URSA Mini 4.6K if they want wide dynamic range for high end digital film work.
So in summary here are the main points of the URSA Mini 4.6K update:
URSA Mini 4K has both GS and RS
URSA Mini 4.6K – rolling shutter only – no Global Shutter
Micro Cinema camera – no global shutter
URSA Mini 4.6K – new colour science, 15 stops DR
URSA Mini 4K – GS, around 12 stops DR
If you want to shoot fast moving subjects or sports – Ursa Mini 4K is better
If you want high dynamic range – get the Ursa Mini 4.6K
Some frequently asked questions by customers according to Grant Petty:
Q: How much 4K Raw could you fit onto a single 256GB card?
A: 30 minutes roughly in 3:1/4:1 compressed Raw or 13 minutes uncompressed Raw.
Q: What is the maximum frame rate the URSA Mini 4.6K will record? 
A: 4.6K/60fps Full Sensor and 120fps in 1080p Window mode – about 2.4x crop compared to S35 frame size
Q: Can the metadata be edited on the 5-inch touch screen?
A: Yes, and it's embedded in all recorded files. 
Q: What is dual CFast 2.0 recording – where both slots are used at the same time? 
A: Used for 4K uncompressed Raw and 4K compressed raw 60p. Records every 2nd frame to each card with audio recorded into both so if you lose one card – you still keep your shot but with half the frame rate. 
Q: Is it true that only the PL version can take the B4 mount? 
A: Yes, the EF mount version cannot take the B4 mount, this is because of shimming. 
So what do you guys think? Is GS a big deal for you? While it certainly isn't cool that they have dropped an advertised feature, I understand where they are coming from and I'd rather not have it then to have an inferior feature that undermines the camera. As John Brawley, who shot the promo video has stated, the rolling shutter is fast enough as to where the lack of GS shouldn't really be a problem for most practical situations.
Does the Micro Cinema camera and the lack of GS there mean it's a deal breaker for you? To me it's not, but I am eager to read in the comments as to what you guys think. I still do believe that the URSA Mini 4.6K especially, even though I have not shot with it, just purely based on what I've seen online in terms of IQ compared to price, is a monumental achievement and I commend Blackmagic Design on getting over the final hurdle and shipping the cameras.
Speaking of shipping, I think (and this is purely just my opinion) is that there will be a limited supply in the upcoming weeks with a ramp-up after NAB. And I won't be too surprised to see another version of the 4.6K with global shutter or a completely new camera design in four weeks time from BMD. But that's just a hunch.
Claim your copy of DAVINCI RESOLVE - SIMPLIFIED COURSE with 50% off! Get Instant Access!