Cinemartin, the team behind the advanced & high effective standalone Video Denoiser, a Blu ray disc converter /decoder, as well as the 4K portable 4K Recorder – Monitor – Computer; NEXT 4K, now is proud to announce MiniM & TEO – the world 1st 4K UHD and QHD 5.6″ Monitors, 4K Recorders, Computers with Live Streaming capabilities. The MiniM has a native resolution of UHD 3840 x 2160, while the TEO's display maxes out at 2560 x 1440, but nevertheless both units have an impressive 170 degree viewing angle and an ample 550 nit brightness making them very usable in outdoor conditions.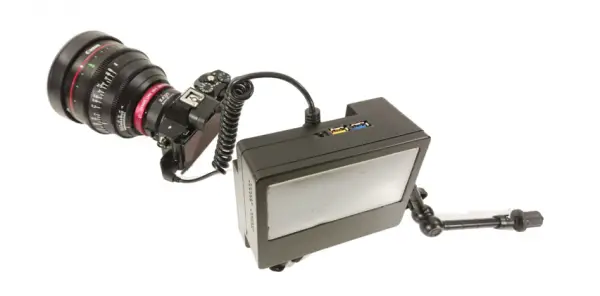 These new monitor/recorders are more than just simple monitors; professional features such as a display support LUT / 3D-LUT are including in addition to pro image control tools like Vectorscope, Histogram and Waveform.
Pretty much, these devices are true computers, featuring a workstation onboard computer based on Intel NUC, providing with an Intel Core last generation Skylake CPU processor with 16GB of DDR4 RAM as default (up to 32GB), and a Internal SSD drive from 250 GB up to 2.0 TB, 4x USB 3.0 ports (with one of them being 5 volts and thus able to charge devices at like smartphones in the field).
Other features such as Wi-fi, Bluetooth, NFC, GigaEthernet, HDMI in/out are also included.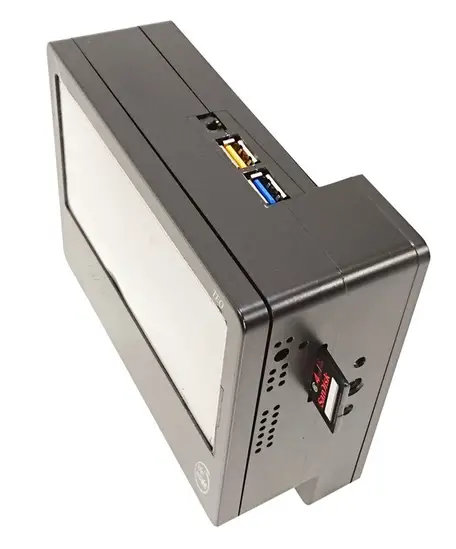 MiniM comes default with an integrated high speed Solid State Drive with up to 1TB and an integrated SDXC/SDHC card bay. Users can use also cheap SDHC class I cards up to 90 MBps to store videos, photos, audios and more just like you would on a regular PC. Live streaming via YouTube or paid providers is also possible with the addition of a capable SIM card.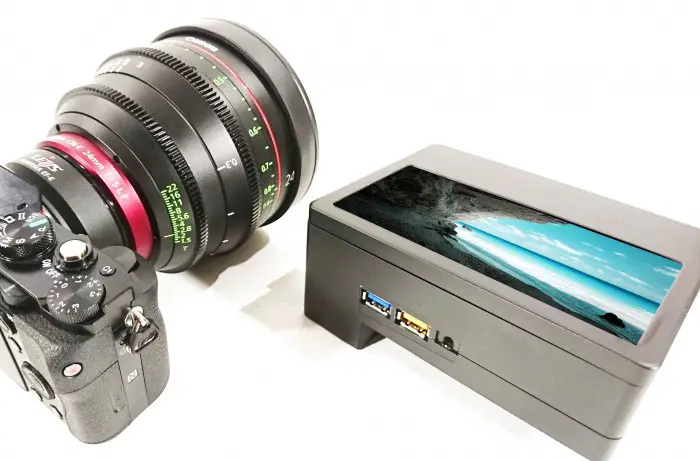 4K recording capabilities are via HDMI with resolutions from SD, HD up to UHD and 4K DCI at 8 and 10 bit up to RGB 4:4:4. YCC 422 is also supported.
Resolutions supported:
720p/50, 720p/59.94, 720p/60,
1080i/50, 1080i/59.94, 1080i/60, 1080p/23.98, 1080p/24, 1080p/25, 1080p/29.97, 1080p/30, 1080p/50, 1080p/59.94 1080p/60
2160p/23.98, 2160p/24, 2160p/25, 2160p/29.97 2160p/30.
A hardware scaler that provides SD/HD 720/1080 realtime conversions to configurable output via HDMI out is also included. The units also include up to 8 tracks of audio via HDMI and 2 SPDIF 24 bit and RCA stereo (dual mono) in/out audio channels via breakout cable.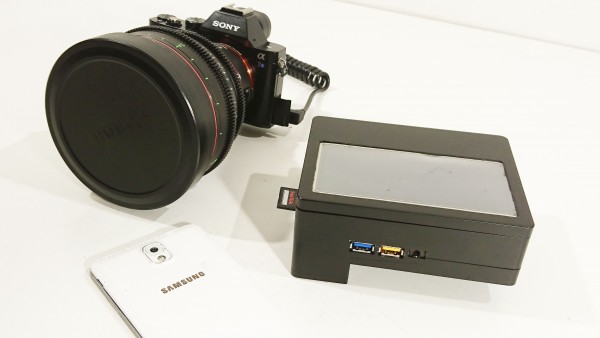 Features
5.6″ Inch AMOLED monitor
16.77 Millions of Colors
World First 4K UHD and QHD native display resolutions
HDMI INPUT (SDI input model might come later)
IZGO and IPS / 550 NIT's
LUT / 3DLUT support
Assist tools (VectorScope, Histogram, Waveform)
4K 8-10Bit up to 4:4:4 Recorder (Uncompressed, DPX, MJPEG, ProRes)
Intel Core Skylake computer 2.6 GHz up to 2.9 GHZ
16 to 32GB of DDR4 RAM at 2133 Mhz
Supports Adobe Cloud Video/Photo apps, DaVinci Resolve 12 and more
Uses partial RAM within SSD to provide +5.5 GBps R/W bandwidth (5,500 MBps)
Full of ports (usb3, usb 5V charge, HDMI, DisplayPort, SDXC
Built in WiFi and bluetooth, as well as NFC and CIR.
Win 10 pro by default, Mac El Capitan by simply plug a usb pendrives
Canon or Sony battery powered for 3 hours. DC in as well. 12V – 14V
Dimensions 14 x 10 x 5 cm
From < 2.000 US$ / EUR with Worldwide shipping (from USA or EU)
MiniM and TEO can be powered with Canon LP-E6 / Sony NP-FW50 batteries (or NP-F970s) with different adapter plates that would be sold separately. 3-4 hours operation can be expected depending on resolutions and workload. NFC is also featured as well as the ability to make payments with the thing!
It really is a one box does it all type of deal.
Cinemartin TEO (QHD) is available as of now for pre-order with delivery in June 2016 via Cinemartin TEO website, while UHD is available via Indiegogo and will be delivered in October 2016.
If you can work with the QHD display until the UHD is available, Cinemartin recommends for interested users to pre-order TEO QHD (which can be upgraded later at October / November 2016 for UHD).
All pre-orders until June (April and May) will get a special price and free worldwide shipping.
For more info visit Cinemartin.
Claim your copy of DAVINCI RESOLVE - SIMPLIFIED COURSE with 50% off! Get Instant Access!