Making cameras is no easy feat. Without a doubt. And despite this, every year there seem to be more and more companies making cameras. Today's pro camera market is way too saturated by big and smaller players, with the lines between what is an actual Professional Camera and what isn't getting blurrier and thinner, that for a new startup to get a working camera from the ground up would appear to be an insurmountable obstacle. Yet, again there are those who keep trying.
Some are backed by big Wall Street money, private investors with deep pockets, others are crazy enough take the crowdfunding DIY route, like the Apertus Axiom crew, who are a team of some super smart folks that are trying to make super customizable cameras.
A few months back – a new camera project popped up that caught my attention – the Craft Camera. You'd probably seen the Coming Soon banner with part of a mysterious new camera barely showing. Looks like they are following in familiar footsteps.
At the start of NAB 2016, the Craft camera went into "launching" mode with a new website, a video and some 3D renders of what the final camera(s) are supposed to look like. I have to say the Craft looks slick, like Robocop slick. I am really impressed, and if they can deliver on competitively robust images, they may find an audience among independent filmmakers.
Here's a minimalistic 3D render video that shows the modularity of the Craft camera system:
From the renderings we can see that the Craft camera features smooth metallic surfaces, complete modularity including interchange-able lens mounts, and camera modules or blocks they call Elements. The Craft camera starts with the Video Element, which is basically the sensor block with a lens mount (Craft refers to their mounts as Speed Mounts), SDI/HDMI, and power connections and a tiny back-lit menu control display with menu buttons on the side.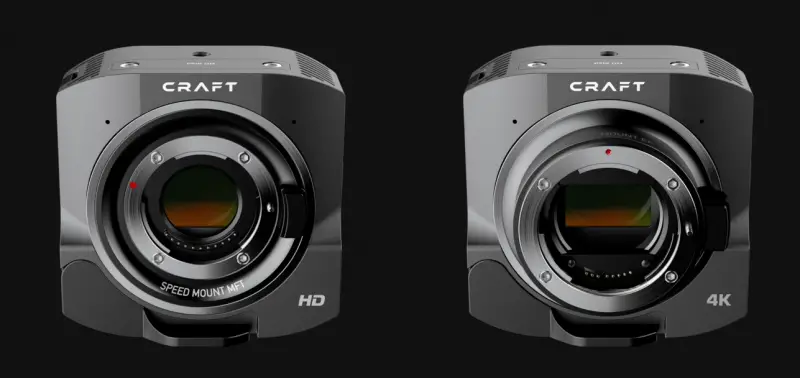 The Video Element, which is at the heart of the Craft system, is Full HD or 4K.
Craft HD Video Element Features
Super 16mm sensor
1920 x 1080 up to 120fps.
13 stops of dynamic range
Global shutter
PL, EF, and MFT Speed Mount options,
ND Sled filter technology
Craft 4K Video Element Features
Same size to HD Element
Super 35mm sensor with 4096 x 2160 resolution
high speed rates at 120fps.
13 stops of dynamic range
global shutter
PL & EF Speed Mount options
ND SLED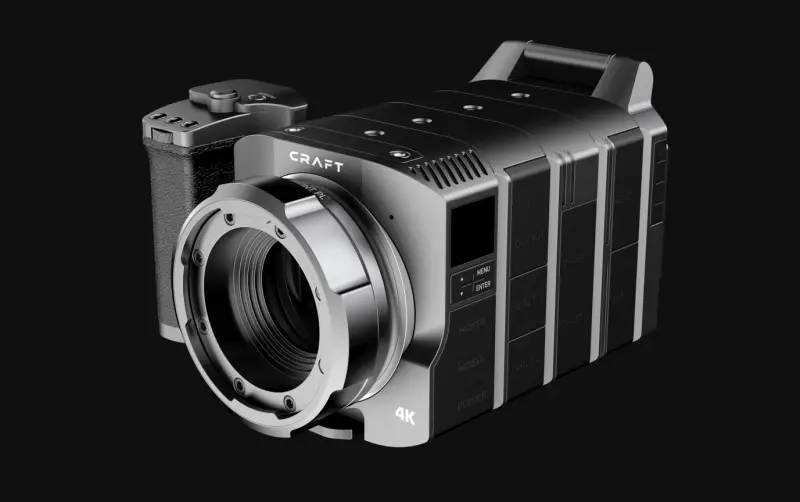 The team behind the Craft camera has come up with an innovative solution to the lack of ND filters on cinema cameras with their ND Sled, which is a mechanical device with two separate glass filters which provide 3 ND options, which sits between the lens mount and the sensor and acts as built-in ND filters – but it is removable.
Users can also add Audio Elements for audio inputs, Store Elements with Cfast media cards for internal storage, Power Element for batteries, Handle and LCD Elements and a Control Link, which features the communication port that communicates to the Handle.
The Control Link is also expandable which allows other devices to communicate with the Craft Camera.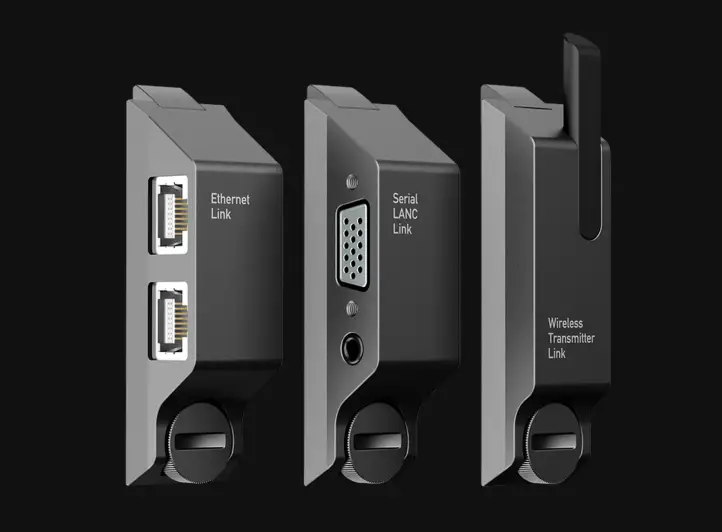 There are 3 additional Control Link accessories: Ethernet, Serial with LANC, and Wireless Transmitter. These can be used in place of the handle or along side when mounting it to additional Elements. Control the Craft Camera over Ethernet in a studio setting, use the Serial with LANC on a jib or stabiliser, or use the Wireless Transmitter for long distance mobile app control.
Full technical specifications will be announced early this Summer.
HD Video Element, Super 16mm CMOS Sensor with Global Shutter (1920×1080, 1280×720)
4K Video Element, Super 35mm CMOS Sensor with Global Shutter (4096 x 2160, 1920×1080, 1280 x 720)
Frame rates  23.98, 24, 25, 29.97, 30, 50, 59.94, 60
Fast and slow frame rate speeds at intervals up to 120fps
Recording Formats Cinema DNG and ProRes (additional formats will announced).
DIMENSIONS (W X H X D)
Video Elements: (97.15mm x 96mm x 39.68mm) (3.7" x 3.6" x 1.5″)
Store, Battery, Audio Elements: (97.15mm x 96mm x 33.4mm) (3.7" x 3.6"x 1.3″)
LCD Elements: (97.15mm x 96mm x 30mm) (3.7" x 3.6" x 1.2″)
Fully assembled cinema camera: (97.15mm x 96mm x 170mm) (3.7" x 3.6" x 6.6″)
Craft Camera are taking deposits of $500 for pre-orders as of today and final pricing is dependant on modules. Prices vary from $998 for a Studio Configuration which does not have internal recording abilities, to a $1,994 for a 1080p Super 16 Cinema Camera configuration or $2,894 for a 4K Cinema Camera configuration.
Delivery is estimated in Late 2016.
And although there are a lot of unknowns as of this stage with this camera, including which off-the-shelf sensors are going to be used (as its quite doubtful they'd be developing those on their own) as well as real world test footage, colour management, codecs, Raw etc.
It does look great though, and if they can really deliver, this could be a really interesting camera. The price is definitely very competitive. I hope they can pull this off.
Check out this pdf with introductory pricing. We've reached out to Craft Camera for more information on specs and details and we'll share more with you guys as soon as we can.
To place your pre-order head over to Craft Camera.
Claim your copy of DAVINCI RESOLVE - SIMPLIFIED COURSE with 50% off! Get Instant Access!