After announcing their NAB 2016 special promotions, which include some juicy discounts on their Apollo, Raw Bundle, and Odyssey7Q+ (which ends 4/30th), Convergent Design also announced exciting new features to their Apollo multi-cam recorder/monitor. The new features for the Apollo are Dissolves, Double Master Recording, Align Syncing, and 8-Channel Audio. These features will be included in the next free firmware update to the Apollo and Odyssey7Q+/Odyssey7Q with Apollo Option. The firmware is scheduled to be available in a few weeks. These new functions can be seen demoed at the Convergent Design booth (C9918) at NAB this week.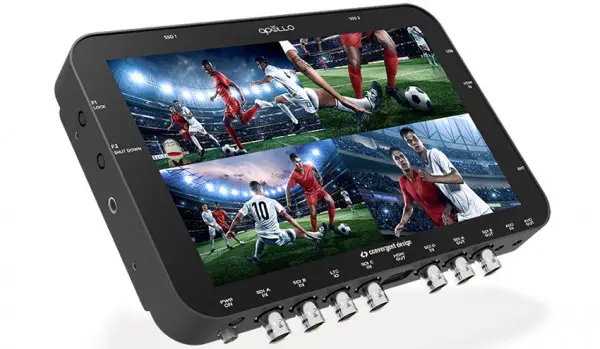 Here is more information about the new functionality:
This feature allows the synchronization between multiple cameras to be shifted. Each input can be adjusted for delay individually, and then video and audio delay separately adjusted. This allows for the mixing of brands and models of cameras that can introduce varying amounts of delay to the video and audio outputs.
A simple touchscreen interface allows the inputs to be quickly and easily adjusted, and the system will remember the settings for future use. A/V Align can save hours of tedious work in post, manually syncing the audio and video tracks for each clip.
In Live-Switch mode, Apollo adds Dissolves to what was previously a cuts-only switcher. Three dissolve speeds are available and the operator can switch between cuts and dissolves during recording via a touchscreen button.
Two SSD slots provide not only for spanning for extended record times. With the firmware update there is also the option for recording identical files simultaneously to both SSDs. Double Master Recording provides an immediate safety copy of the files. For example, a client can leave with an SSD as soon as the shoot wraps, while the DP retains a copy.
This feature is enabled for Apple ProRes recording. The 8-channel audio is for embedded audio tracks via SDI or HDMI. It is available in all resolutions, including Dual-4K and Quad-HD. Apple ProRes HQ/422/LT are supported. There are numerous additional new features and improvements in the upcoming firmware update, and a new edition of the CD Apple ProRes Transfer Tool with its own new functions.
Visit Convergent Design at NAB booth (C9918) for a sneak preview before the release of the firmware in a few weeks.
You can also take advantage of the Odyssey7Q+/Apollo special deals for NAB, which we have included among many other unmissable deals in our Top NAB 2016 Deals post here.
Disclaimer: As an Amazon Associate partner and participant in B&H and Adorama Affiliate programmes, we earn a small comission from each purchase made through the affiliate links listed above at no additional cost to you.
Claim your copy of DAVINCI RESOLVE - SIMPLIFIED COURSE with 50% off! Get Instant Access!