April is a great time to buy new gear as the closer we get to NAB (16th-21st) the more companies start announcing show specials or in the case of Convergent Design – April special pricing on their leading products including the Apollo video switcher/recorder. Back in January the company announced a juicy $500 discount on their premiere Odyssey7Q+ 4K raw recorder as well as firmware 2016.01 and the good news is that this special pricing of $1,795 (which already includes as free 256GB SSD) is being extended. Just as a reminder firmware 2016.01 added 4K/60p, Dual-4K recording, Quad 1080p/60 monitoring & recording, and 6G-SDI support for Blackmagic cameras to their Odyssey7Q+.
And now, the Apollo also gets a whopping $1,000 discount (now $2,995 at B&H) and a free 256GB Convergent Design SSD all for a limited time. In addition, the Apollo Option for the Odyssey gets a $500 discount (now $1295) and the Raw bundle is further discounted by $200 (now $795).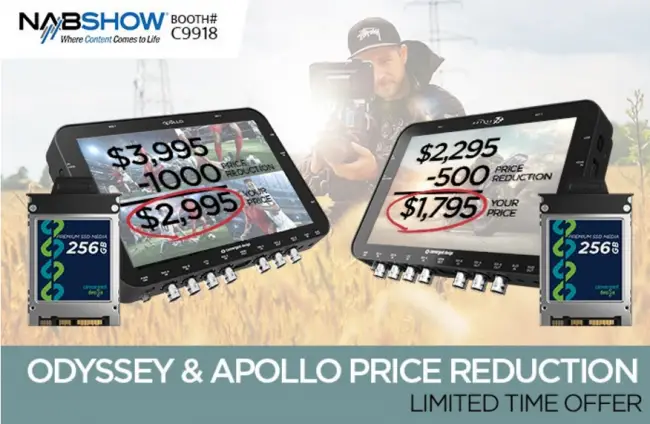 "The Apollo and Odyssey recorders are the most powerful and versatile devices of their kind," noted Convergent Design President Mike Schell. "We continue to add extra features to expand their functionality. A product that continues to grow even after years of ownership is unprecedented. At NAB this year we'll show new functions and ways of using these tools, some of which we've kept secret and are functions no one has ever seen before in devices like ours. It's great to offer an answer to a question clients didn't even realize they had, and then discover they suddenly can't imagine working without."
Here's more from Convergent Design:
Apollo is an OLED monitor, multi-cam recorder, touchscreen switcher, and synced playback device.
Simultaneously record up to four HD video signals, along with a fifth channel of either a live-switch between the four or a quad-split reference view. Apollo can also function as a live switcher while simultaneously recording the isolated HD video signals.
The size of a small tablet and able to run for hours on a camcorder battery, Apollo is truly portable and the only device of its kind that can both record multiple HD camera feeds as well as live-switch between them. It's a production studio in the palm of your hand.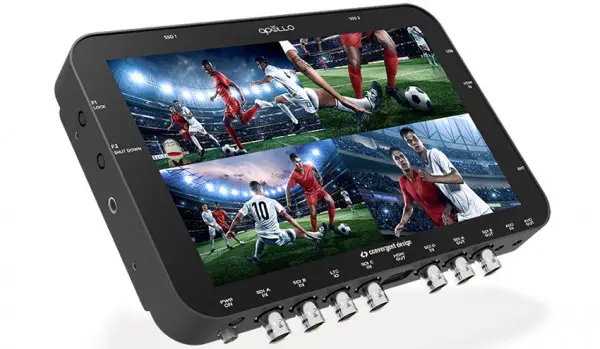 Promotional pricing is as follows:
Odyssey7Q+: $500 Off / New Price: $1,795 (includes free 256GB SSD)
Convergent Design Apollo: $1,000 Off / New price: $2,995 (includes free 256GB SSD)
Odyssey Apollo Option: $500 Off / New Price: $1,295
Odyssey RAW Bundle: $200 Off / New Price: $795
Convergent Design will show the Odyssey7Q+ and Apollo working in multiple scenarios at NAB booth C9918. Our commitment is to continue to support and expand the use of these devices. To celebrate these successful products, these NAB Specials will last the entire month of April.
Claim your copy of DAVINCI RESOLVE - SIMPLIFIED COURSE with 50% off! Get Instant Access!