The Panasonic GH4 is arguable one of the most popular cameras for low budget filmmakers and video content creators. Even though the camera is now two years old, the addition of significant features such as V-Log and Anamorphic shooting modes made the camera even more desirable. Not to mention that the price tag of the GH4 is now around $1298 making it one of the most affordable and capable video machines for shooters on a budget.
A lot of us were expecting to hear some sort of an update around the GH line at NAB 2016, but this was a long shot at best, given the fact that NAB is after all a broadcast show for big cameras and smaller cameras like the predominantly stills oriented GH4 don't often get the spotlight at a show like NAB.
The Sony A7s was an exception though as back in 2014, the camera was announced much to everyone's surprise at NAB 2014. This year however, NAB was more about compact cine zoom lenses, big broadcast shoulder 4K cameras, and VR and less so about more compact cameras. Panasonic did announce a couple of new handheld 4K camcorders – the UX Series, but other than that nothing else new from them.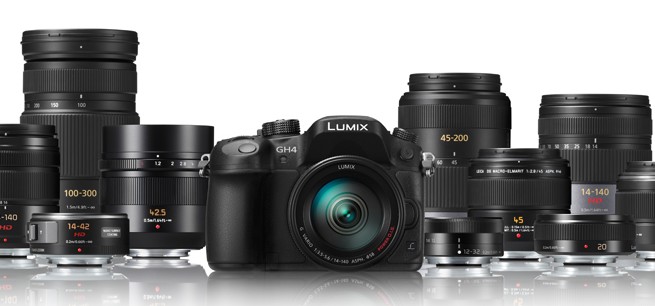 There are many rumours online about what the next GH camera will feature – whether it is going to be called a GH5 or something else, Panasonic will have no choice, but to really deliver on highly demanded features such as a stronger internal codec, possibly 10bit 422, a 4K/60p slow-motion frame rate and 1080/120, which is something the Sony 4K mirrorless cameras are already doing.
Some also believe that Panasonic might also bring a Super35 sensor in the GH5, and although I am not one of these folks, who believe that this will happen anytime soon, it has been discussed at length online in various filmmaking communities as a possibility and a dream feature for some.
Sadly, however in a recent interview with Hybrid Camera Revolution, Matt Frazer from Panasonic confirmed that the GH4 successor will not feature "anything else but a Micro Four Thirds sensor" around the 5:42 mark in the video below.
Now this may be a bit of a disconcerting news to some of you, however Matt did point out that the next GH5 or whatever it ends  up being called "will have some compelling features" that will hopefully bring a lot of new shooters into the MFT system and also convince those already in it to stay.
The Panasonic GH5 is also rumored to have the ability to record 6K up to 30p and 4K/60p, however I am sure most will agree that a resolution bump such as 6K may be a bit too far fetched at this stage due to the lack of 6K TV sets and a more data intensive workflow. Also, this would mean that H.265 needs to be used as compression, and at this point major NLE's and computer infrastructure is not yet ready to handle this codec.
What I want to see in the GH5 is more dynamic range and better low-light performance. MFT as a format I am fine with, after all there is a Metabones Speedbooster to take users to a pseudo-Super35 field of view already.
The most logical announcement for the GH5 is Photokina this year, which is held in September in Germany and is the premiere photo/stills show – kind of like the NAB of the photo world – where we will probably also see the new (and also rumored) Sony A9 4K full-frame mirrorless camera and the highly anticipated Canon 5D Mark IV. We'll keep an eye out for further developments and let you know.
What do you guys think of this? No Super35 chip in the GH5? What are your hopes for the next GH 4K camera? Let us know in the comments below.
Claim your copy of DAVINCI RESOLVE - SIMPLIFIED COURSE with 50% off! Get Instant Access!