What's NAB without brand spanking new cameras, eh? We'll, Panasonic just threw their hat into the mix earlier today and announced a new UX series of professional 4K camcorders at NAB 2016. The new 4K camcorders are the UX Premium model AG-UX180, with a 1-inch MOS sensor, 20x optical zoom and UHD/60p recording capability; and the UX Standard model AG-UX90, featuring a 1-inch (effective size) MOS sensor, a fixed LEICA lens with 15x optical zoom and UHD/30p recording. If you remember, last year at NAB 2015, Panasonic announced their DVX-200 4K pro camcorder with a 4/3 large sensor and earlier this year in February the company unleashed the Varicam LT, the more compact, but still very capable "baby brother" to the Varicam 35.
With the new UX lineup of camcorders it's a sure sign that Panasonic have fully embraced the calling of 4K much like arch-rival Sony, who keep cranking out 1-inch prosumer and handheld camcorders at astonishing speeds. It's about time Canon jump in the fire too. Anyway, check out more info on the new UX180 and UX90 below.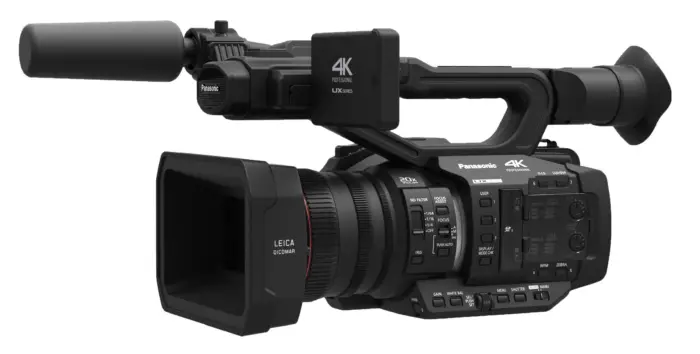 Panasonic AG-UX180 and AG-UX90 Features
4K (4096 x 2160) in 24p
UHD (3840 x 2160) up to 60p (AG-UX180 only, UX90 limited to 30p in UHD)
Records onto SD Memory Cards
Dual Codec Recording (UHD and Full HD) – AG-UX180 only
IR recording in low light – AG-UX180 only
3G-SDI/HDMI 2.0 output
Variable Frame Rate recording functionality (2-60 fps) is planned in Full HD mode.
"With an increasing demand for 4K video content, Panasonic is introducing the UX series to make 4K acquisition even more accessible to video professionals," said Steven Cooperman, Senior Product Manager, Panasonic System Communication Company of North America. "UX camcorders will provide high-mobility shooting and workflow equivalent to our existing professional integrated-lens handhelds."
The suggested list price of the AG-UX180 is expected to be under $4,000, and the SLP of the AG-UX90 under $3,000. The camera are to ship later in the year.
Claim your copy of DAVINCI RESOLVE - SIMPLIFIED COURSE with 50% off! Get Instant Access!