B&H held quite a few live seminars during NAB 2016, one of them was focused particularly on the new Varicam LT. For those yet unfamiliar with the camera, it was announced earlier in February and it represents a more compact and one-piece Super35 4K camera design compared to the Varicam 35. Despite featuring the same sensor and colour science, the Varicam LT is a bit different and way more usable for single shooters from an ergonomics perspective. Much like the its bigger bro the Varicam 35, the Varicam LT will record 4K, but up to 60fps (the Varicam 35 goes up to 120fps), however in 2K the slow-motion has been upgraded to 240fps on the LT.
The Varicam LT also features that unique to the Varicam Dual Native ISO feature (800 and 5000), which basically enables the cameras to shoot in very light starved environments without a huge image noise penalty. Check out some amazing low-light night footage from the LT here.
Panasonic Varicam LT Highlights
4K Super35 CMOS Sensor (same sensor as Varicam 35)
Native Canon EF mount (PL mount extra option – easily user swappable)
2K/Full HD 240fps Slow-Motion (uses sensor crop)
4K/60p and Full HD ProRes 4444 & 422HQ
4K/60p Raw to Convergent Design Odyssey7Q+
Built-in ND filters: 0.6/1.2/1.8
User Removable IR Cut filter
Single ExpressP2 card Slot for Main 4K/2K/HD recording
SDXC Card slot for Proxy Long GOP recording
Dual Native ISO – 800/5000
Optional OLED viewfinder ($5,400 at B&H)
3 x SDI Out (dedicated one for Viewfinder)
Support for 3rd Party Viewfinders like Zacuto Gratical and BMD URSA Viewfinder
2 x XLR inputs – 4 x Channel Audio 24bit/48kHz LPCM
PreRec / Interval rec / One Shot Rec
V-Gammut – exceeds BT.2020 HDR colour space
14+ Stops Dynamic Range with V-Log
V-Look and BC-Look Presets – similar to WideDR on Canon C300 (mix between V-Log and Rec.709 for faster turnaround)
Weight: 2.7 kg / under 6 lbs.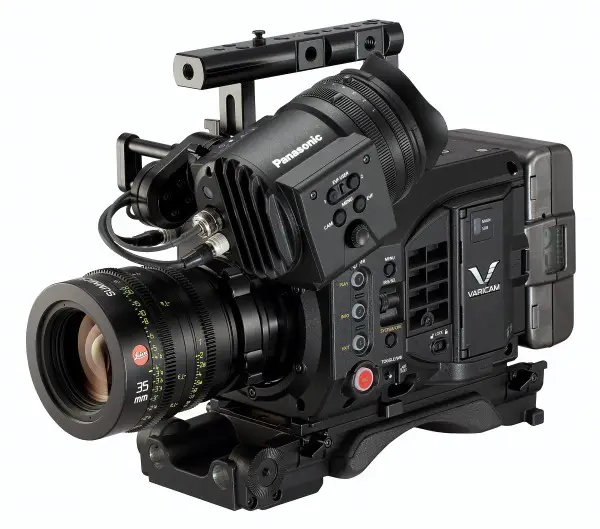 The Varicam LT is available in a few different packages starting at $16,500 body only, which includes the EF mount, detachable control panel and top handle. See details of the rest of the packages available below.
Varicam LT-PRO Package – $25,100

Camera Body
Control Panel
Top handle
Canon EF Mount
OLED EVF
Shoulder Mount
Side Hand Grip
User-Swappable PL mount
Varicam LT-PROEX Package – $27,600

CameraBody
Control Panel
Top handle
PL and Canon EF Mount
OLED EVF
Shoulder Mount
Side Hand Grip
2 x 256GB ExpressP2 cards + reader
Here's some more ISO 5000 footage shot on a mixture of Vari 35 and Varicam LT:
I really think that the Varicam LT is a super exciting option for those in the market for a serious cinema camera. If you are a single operator in the market for a top end pro 4K camera, which can do very well both in a TV drama environment as well as in a more intimate docu-style setup, if you can get your hands on a Varicam LT from a local rental house or reseller in your area I highly recommend doing so.
No camera is perfect, but from the footage I've seen and after playing with one at a local rental house for a bit, ergonomics-wise and in terms of images, Panasonic have really come up with something quite special.
You can now use a relatively low cost external raw recorder like the Odyssey7Q+ to capture 4K Raw up to 60p from the LT, instead of opting for the much more expensive and usually "rental only" Codex raw option, which was (and I believe still is) the only way to get the 4K raw out of the Varicam 35. The extension hand grip on the LT for example is very solid and feels nice, even though it is an extra accessory. The whole camera feels super solid, but at the same time manageable on the shoulder.
It is apparently very easy to change the mount too. The ExpressP2 media is still quite expensive and many would have wished they'd gone the CFast 2.0 route, but nonetheless if you are to drop $20K+ on a Pro 4K camera, spending $1200 on a 256GB card doesn't seem too bad of a deal, go ahead and ask any Red Weapon or a Scarlet-W/Raven owner about the cost of their media or anyone shooting with an F55 and the Sony R5 raw recorder. But I digress.
If you an experienced cameraman, or a production company looking to upgrade their camera kit, check out the Panasonic Varicam LT if you can.
(via B&H)
Claim your copy of DAVINCI RESOLVE - SIMPLIFIED COURSE with 50% off! Get Instant Access!