Announced at NAB 2016, the new Canon 18-80mm T4.4 EF compact servo zoom lens is set to fill the void left between large & expensive servo zoom lenses and photographic zoom lenses often used in video production. Cine zoom lenses are usually fully manual, quite bulky and too expensive for the general shooter, but the 18-80mm from Canon is quite different in the sense that it's a bit of a wolf in sheep's clothing. The lens features a decent zoom range at 18 to 80mm, covers the Super35 sensor size, it is compact enough and lightweight enough at just 2.7 lb as to where it does not require additional lens support and features some pretty advanced image stabilisation. Canon Technical USA Advisor Brent Ramsey goes over the features and benefits of the Canon Compact-Servo 18-80mm T4.4 EF in the video below.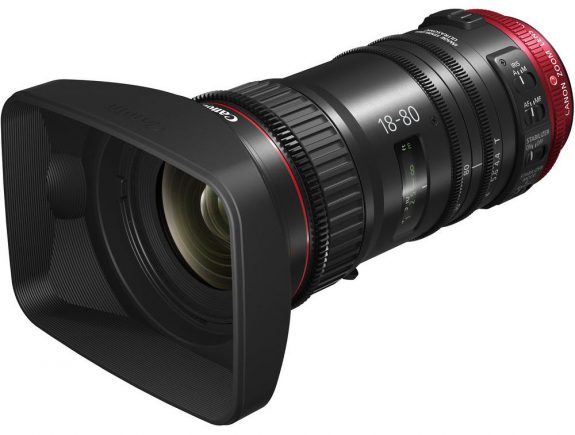 Canon CN-E 18-80mm T4.4L EF Features
Covers Super 35 & APS-C Sensors
Native EF Mount
T4.4 Constant Maximum Aperture
9-Blade Iris for pleasing bokeh
Parfocal with Minimized Focus Breathing
Compatible with Servo Lens Controllers
Optional Control Grip
77mm filter thread
Image Stabilization & Auto Focus Support
180° Rotation for Focus
Lightweight at only 2.65 lb
As stated by Canon at NAB, the 18-80mm Compact Servo zoom is the first of a brand new range of affordable compact zooms that they are planning on releasing in the future. The lens is available only in EF mount at the moment, and I am guessing they are not planning on releasing it with other mounts – reasons probably being that for PL mount they already have the CN7x17 17-120mm, which costs the moon compared to the 18-80, but its aimed at a more upscale market of shooters with access to bigger budgets.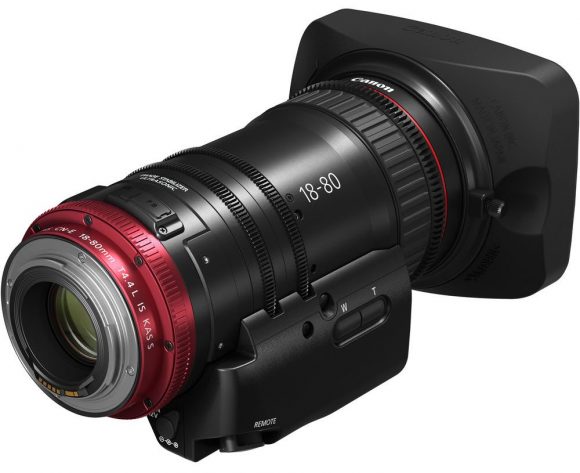 The Compact Servo 18-80mm is really built for C300 Mark II owners (C100 MKII owners can benefit from the Dual-Pixel AF support in the lens too) as the combination of price/range/image stabilisation/image quality with the outstanding Autofocus capabilities of the C300 mark II makes this camera/lens combo a dream for any documentary or run-n-gun production.
The Canon 18-80mm T4.4L EF Compact Servo s is currently available to pre-order from authorise dealers such as B&H and Adorama for $5,225 and is expected to start shipping sometime in the Fall. In the UK the list price of this lens at the moment is £4,699 inc. VAT.
The ME200S-SH multi-purpose S35 camera was also one of the major announcements by Canon at NAB, and the company has now released a more detailed video of the benefits and features of their latest S35 camera.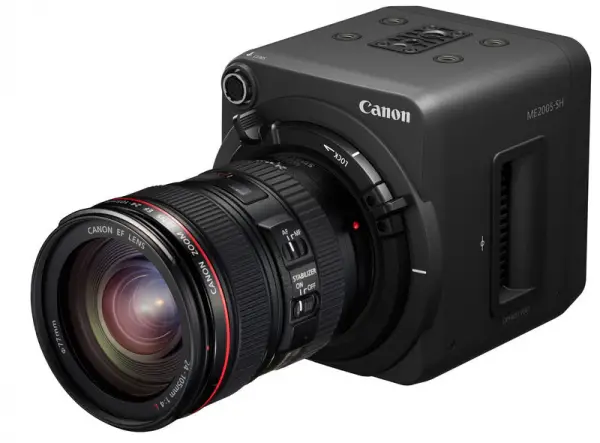 Canon ME200S-SH Features
Super 35mm CMOS Sensor
Canon Cinema Lock EF Lens Mount
12-Stop Dynamic Range
ISO Up to 204,800
1920 x 1080 / 1280 x 720, Up to 60 FPS
Dual Pixel AF
Motorized ND and IR Cut Filters
2x, 4x, 8x Digital Teleconverter
HD/3G-SDI & HDMI Connectors
RS-422 Remote Control Terminal
It would have been nice to have the ME200S-SH as a 4K camera, but given that it uses the Super 35 C100 Mark II sensor, it does the downscaling to 1080p from 4K in-camera on the fly for some super-sharp Full HD. More of a remote cam/jib cam than a single operator camera, the ME200S-SH lacks internal recording and XLR inputs, but compensates with a compact footprint, locking EF mount, 2x/4x and 8x teleconverter and decent dynamic range.
The ME200S-SH is priced at $4,999 in the US, £4,369 in the UK and 5,900 Euros in Europe. The camera is estimated to start shipping in towards end of August/early September.
Canon ME200S-SH – $4,999 (B&H)
Canon RC-V100 Remote – $2,850 (B&H / Adorama)
Claim your copy of DAVINCI RESOLVE 16 - SIMPLIFIED COURSE with 50% off! Get Instant Access!