Popular North Carolina-based monitor maker SmallHD just announced a couple of new, more affordable Full HD Studio monitors. You may remember just last month at NAB, SmallHD announced a trio of brand new 17″, 24″ and 32″ HDR production monitors with unbelievable durability and some pretty cool and useful features such as the RapidRail Shoe-mount system allowing for mounting of wireless transmitters and other accessories. The 2 new "Studio" monitors are basically a non-HDR versions of the 17-inch and 24-inch Production monitor sizes and are designed to provide the same level of durability, high-end software capability, and colour accuracy as their HDR counterparts announced at NAB 2016, but at a more affordable price point compared to the HDR versions.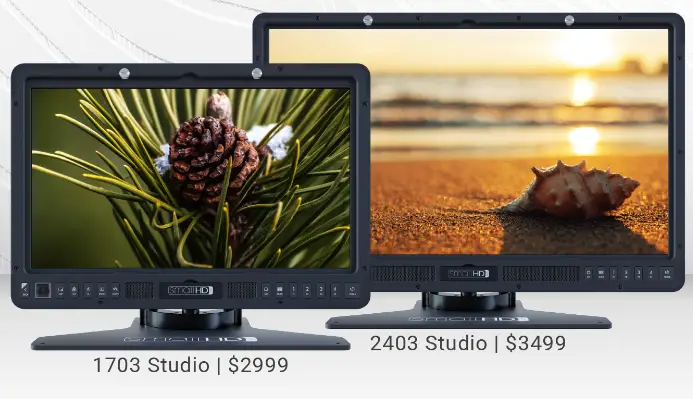 "Daylight view-ability is an incredibly convenient feature of our large HDR displays, but for those shooting in controlled lighting environments, the new 1703 and 2403 'Studio' are perfect for the video village and ACs," says Wes Phillips, SmallHD Co-Founder.  "They feature the exact same build quality and software feature set, but don't carry the same price tag of high brightness HDR displays."
The 17-inch Studio version features a 1920 x 1080 resolution 8bit IPS panel with 128ppi and 300 nits brightness and a contrast ratio of 700:1. The monitor has a 70 degree viewing angle and features 2 x 3G-SDI inputs and outputs, as well 1 x HDMI in and 1 x HDMI out connection.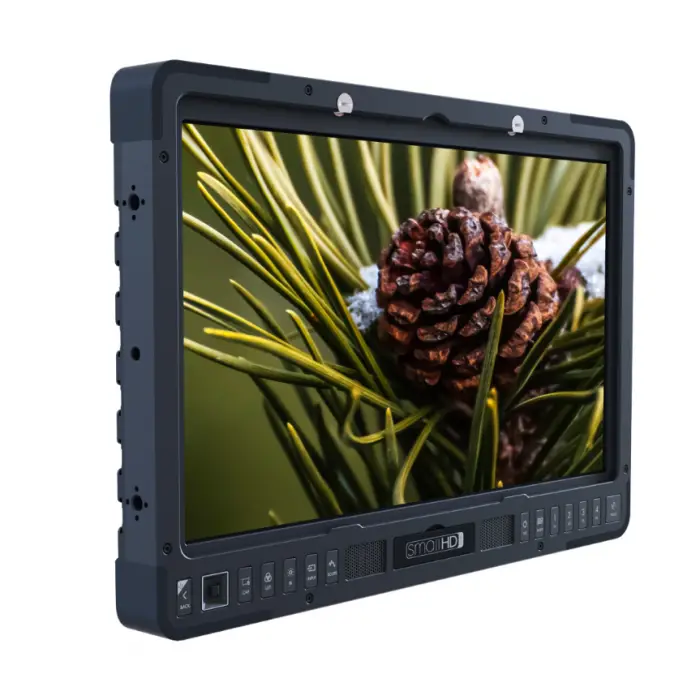 1703L Studio Monitor Input Signal Types/Formats
| | |
| --- | --- |
| 3G-SDI | YCC 4:2:2 @ 8 bits: 1080p60, 1080p59.94, 1080p50, 1080i120, 1080i119.88, 1080i100 |
| HD-SDI | YCC 4:2:2 @ 8 bits: 1080p30, 1080p29.97, 1080p25, 1080p24, 1080p23.98, 1080psF30, 1080psF29.97, 1080psF25, 1080psF24, 1080psF23.98, 1080i60, 1080i59.94, 1080i50, 720p60, 720p59.94, 720p50, 720p30, 720p29.97, 720p25, 720p24, 720p23.98 |
| SD-SDI | Not Supported |
| HDMI | Supports YCC 4:2:2 @ 8 bits, 8/10/12 bit color in RGB & YCC 4:4:4: 1080p60, 1080p59.94, 1080p50, 1080p30, 1080p29.97, 1080p25, 1080p24, 1080p23.98,1080i120, 1080i119.88, 1080i100, 1080i60, 1080i59.94, 1080i50, 720p120, 720p119.88, 720p100, 720p60, 720p59.94 , 720p50, 720p30, 720p29.97, 720p25, 720p24, 720p23.98, 480p120, 480p119.88, 480p100, 480p60, 480p59.94, 576p100, 576p50 |
| Component | Not Supported |
| Composite | Not Supported |
| Audio | HDMI & SDI ­ Monitor through Speakers in Front Bezel or through Headphone Jack ­ Metering up to 8 channels |
The 24-inch studio monitor on the other hand features a 10bit IPS panel again with 1920 x 1080 resolution but with 93ppi and only 250 nits, however the contrast ratio is bumped to an ample 3000:1.  The viewing angle is significantly improved to 178 degrees at least on paper.
SmallHD 2403L Studio Monitor Specs:
Panel Type

IPS

Size Diagonal

23.8

Resolution

1920 x 1080

Pixel Density (PPI)

93 PPI

Aspect Ratio

16:9

Active Area

20.74(W) x 11.67(H)

Brightness

250 Nits

Contrast

3000:1

Color Gamut

100% REC709

Color Depth

10­ bit

Viewing Angle

178 Deg.

Backlight Type

LED

Adjustable Backlight

Yes
Connectivity and supported resolutions up to 1080p/60 as well as HDMI/3G-SDI cross-conversion are supported on both models. Apart from the decrease in brightness, these two new monitors pretty much share the rest of the awesome features with their HDR production monitors brethren.
Functions such as the "Pages" presets that was designed to speed up your workflow on set by providing faster access to critical tools, improving on-the-fly focus, colour and lighting decisions.  Multi-View page provides simultaneous viewing of all 3 inputs, or multiple views of the same input with a different feature and/or LUT applied applied to each view.
Thanks to the built-in ColorFlow technology, cinematographers and ACs can use custom 3D LUTs in a variety of ways: custom display calibration, realtime preview of "creative" LUTs designed for post-production, and the ability to imbed LUTs in the video stream for display on monitors downstream.  Built-in HD Waveform can provide detailed analysis on pre-LUT and post-LUT video data, further improving exposure decisions when shooting in flat looking LOG profiles.
Designed to outlast years of abuse, every monitor housing is milled from billet aluminum and holds a 3mm thick polycarbonate screen protector that is user-replaceable.  The RapidRail Shoe Mount System enables quick mounting and powering of third party accessories, making wireless setups particularly easy.
The new SmallHD 1703 Studio and 2403 Studio models are priced at $2,999 and $3,499 respectively (saving you $1,000 form the 17-inch HDR version; and $2,000 from the 24-inch HDR version).
Both share the same array of custom accessories as their HDR counterparts, and will be available to order through SmallHD directly and through SmallHD authorised resellers such as B&H and Adorama. The new studio monitors are slated to ship later by end of May.
Pre-order links:
SmallHD 24-inch 2403L Studio monitor – $3,499 (B&H / Adorama)
SmallHD 17-inch 1703L – $2,999 (SmallHD direct)
Disclaimer: As an Amazon Associate partner and participant in B&H and Adorama Affiliate programmes, we earn a small comission from each purchase made through the affiliate links listed above at no additional cost to you.
Claim your copy of DAVINCI RESOLVE - SIMPLIFIED COURSE with 50% off! Get Instant Access!