The consumer drone market is one of the most lucrative market segments at the moment generating billions of dollars in revenue for leading manufacturers such as DJI, tempting money hungry investors to plunge their millions into ventures building and marketing unmanned aerial systems that are relatively cheap, safe and easy to operate by untrained pilots such as your neighbour, who's going through a midlife crisis and a 2nd divorce, for example. Xiaomi is a giant Chinese electronics mobile phone and accessories manufacturer and now they seem to be eyeballing market leaders DJI by announcing a consumer drone of their own, which costs quite a bit less than the latest DJI Phantom drones.
The Mi Drone will be available in two versions – one that shoots 4K and a Full HD only model. The 1080p version uses a 16MP Sony back-illuminated sensor, Ambarella sports imaging processor, a 6-element coated lens, and supports frame rates in Full HD up to 60fps.
The 4K version features a 12.4 MP Sony BSI sensor, Ambarella image processor, and a 104 degree fixed lens. The 4K version records UHD (3840 x 2160) in presumably a H.264 based format (or maybe H.265, it's not quite clear from the specs) format and is also able to capture stills in a raw format. Frame rates have not been announced for the 4K version, but I would presume that 30p would be the max frame rate at the highest resolution, but that is yet to be confirmed once more detailed specs are released. The 4K version of the Mi Drone will start selling for around $456 (2,999 RMB) sometime in late July. 
The Mi Drone has a large 17.4V (5100 mAh0 battery, offering a continuous flight time of 27 minutes, and the unit will come with propeller guards included. The 4K version will have the ability to transmit 720p live video feed up to a 2k distance, while the max live feed distance on the Full HD model will be 1km.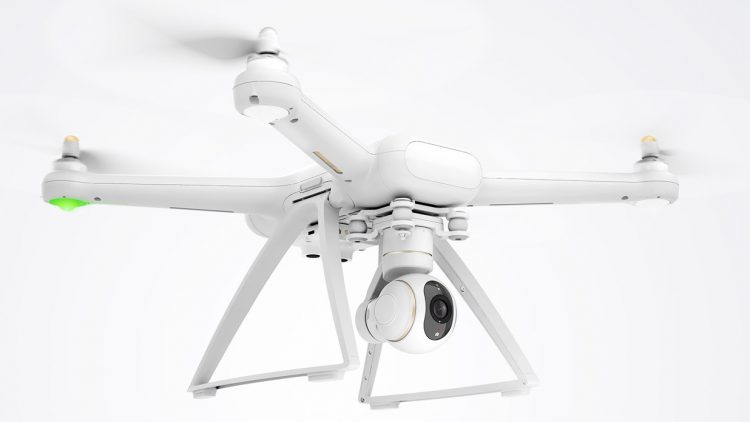 Xiaomi Mi Drone Features & Specs
4-propeller system with detachable shields
17.4V battery 5100 mAh, 27 minutes non-stop flying
1080p or 4K UHD camera, with 104° wide-angle lens
4K camera at 3840 x 2160 pixels; supports recording of stills in RAW format
720p live video with low latency from up to 2km distance
Camera attached to a 3-axis gimbal, stabilizes up to 2000 vibrations per second
Unbelievably lightweight design
GPS + GLONASS + vision-based positioning for max precision
Autopilot options:

Automatic take-off + landing
Waypoint flight path planning
Tap to fly on map
Circle an object on the ground

Intelligently detects low battery and returns home automatically
Real-time location tracking for easy retrieval even post crash
Hovers automatically at the edge of no-fly zones
Built-in PCB antenna array in remote control for maximum reach
Modular design and foldable landing gear
Full HD version will cost around $380 US (RMB 2499)
4K UHD version will be priced at around $456 (RMB 2999)
Apparently the 1080p Mi Drone version will be crowdfunded through the Xiaomi Mi Home app starting May 26th, while the 4K version is likely to be released sometime by end of July this summer. It is not quote clear yet how it will be sold, (if at all) outside of China. Although the footage in the promo to my eyes looks pretty decent, and it seems that Xiaomi put a lot of thought into marketing their first drone, they have a steep road ahead before the penetrate the DJI market to some serious extent.
DJI has a very well established brand name and following with generally well accepted products, which are well priced for the market they serve. Even though the Phantom 3 4K for example costs around $880, twice what the 4K Mi Drone will eventually be sold for, the Mi Drone will have to prove itself in terms of quality, ease of use and also customer support. I want to see more. I'll keep you posted on further developments.
via The Verge / source: Xiaomi
Claim your copy of DAVINCI RESOLVE - SIMPLIFIED COURSE with 50% off! Get Instant Access!