Even though most filmmakers know SmallHD as a company known for high-quality on-camera monitors like the AC7 OLED, DP7 Pro, and the newer 502 and 702 series, however at NAB 2016 this year they brought out new stunning 17-inch, 24 and 32-inch HDR production monitors and more recently a couple of Studio versions, which lose the HDR functionality but save you a quite a bit of money in the process. SmallHD have prepared a quick overview video of how you get power in and out of their new 1703, 2403 and 3203 HDR production monitors.
In short, here are the main points:
Can be powered from the mains via an IEC power cable (included)
The new 17-inch and 24-inch Studio monitors can be AC powered via an adapter into the 4-pin XLR input on the back
32-inch production monitors can get 28V battery power via 3-pin XLR
Users can even charge their mobile phones through the front USB ports on the panels
V-mount/AB-mount plates can be attached to a cheese plate and mounted on the back
Be aware that that 1700 series production monitor has a different screw/hole pattern compared to the rest of the lineup (2400/3200 series).
Features – 1703 HDR Production Monitor
Display size: 17-inch (1920 x 1080 resolution)
Input: 2 x SDI, HDMI
Output: 2 x SDI, HDMI
Construction: Milled Aluminium for maximum durability
1000 Nits brightness
Save time with revolutionary accessory rail system
Convenient table stand with built-in C-stand mount
XLR power input and 12v Lemo power out
Price: $3,999 for the 17 inch monitor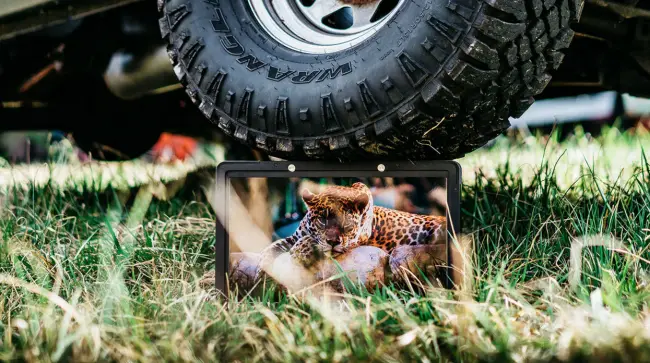 Apart from their super-brightness and insane build quality, their custom OS software dubbed "Page Builder" is another unique feature that sets them apart from the competition in my opinion. If you've ever used a SmallHD 502 or 700 series on-camera monitor, then you know what I am talking about.
The Page-Builder OS is based around users creating custom presets known as "Pages" which feature all your favourite features – including scopes, frame guides and anything else. It's perfect for setting up pages for specific shooting situations or different users on set. The joystick and back button combo is super intuitive and easy to follow. Check out the video below to get a better idea.
And for those of you who still doubt the durability and ruggedness of the new HDR and Studio production monitors from SmallHD, they have prepared for you probably the most awesome "Office Space" beatdown scene tribute ever!
While some may say that the pricing on these monitors may be quite a bit more than what some of us would  have preferred, I for one expected them to start at the 2,5-3K USD mark, but given their ballistic durability and quick and intuitive setup thanks to the rail design and PageBuilder OS, both of which pretty much puts these in a league of their own, I can see why they would cost that much.
Order links:
Claim your copy of DAVINCI RESOLVE 16 - SIMPLIFIED COURSE with 50% off! Get Instant Access!