Having a bunch of reliable SSDs while traveling is a fantastic way to keep your footage safe and secured no matter what. But what if you could shrink the size of your conventional solid state drives even further? It seems that the Austrian-based company Angelbird already did that as the company came up with a unique storage solution. The manufacturer recently unveiled its 512GB pocket solid state drive that is half the size of a conventional SSD. Don't let its form factor fool you, though. The drive is a fully capable unit that provides sturdiness and durability that guarantees it can keep your valuable information even after several severe crashes and drops. Johnnie Behiri of Cinema5D already had the chance to test out the sturdiness of these drives in a real-world situation and here's the result.
Angelbird 512GB SSD2go PKT – Hands On Review from cinema5D on Vimeo.
As we can see, the 512GB SSD2go from Angelbird is a small portable solid state drive with a hard anodized surface that makes the unit more resistant to physical impact and vibration than regular hard drives. The pocket SSD connects to your system via a well-protected USB 3.1 Type-C connector that supports data transfer rates of up to 10 Gb/s. Additionally, it is also compatible with USB Type-A, USB 3.0 and USB 2.0 interfaces.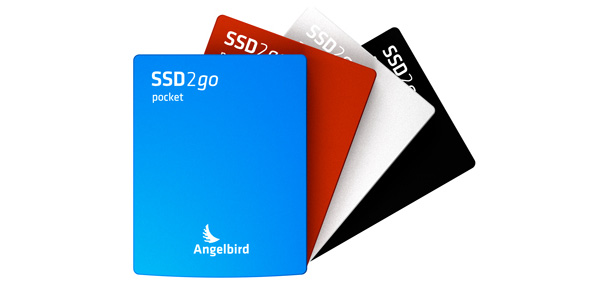 This SSD in not only as well as very small and lightweight, but it's also bus powered which means that once tethered to your Macbook Pro or Windows laptop it won't require any additional power supply to operate which makes it ideal for users who need fast performance in a pocket-sized form factor while being on the go.
This drive is based on Grade A MLC NAND technology and also features overload protection, as well as EMS and ESD protection ensuring that your data will be securely stored and protected even in the most challenging conditions. It's also the only mobile USB SSD with TRIM Support on Mac. Additionally, the Angelbird SSD2go pocket drive supports up to 62,000 IOPS, an access time of ~ 0.5 ms, and a mean time between failures of whopping 2 million hours. Each unit comes with Activation Code for additional free software licenses and Content along with a limited 3-year warranty.
All in all, for the retail price of $315 you get extremely reliable and highly resistant against physical impacts 512 GB SSD that boasts sequential read and write speeds of up to 560 MB/s and 460MB/s respectively, that can be a true life-saver and extremely valuable asset when it comes to transferring, storing and managing your valuable footage while being on the go.
[via: Cinema5D, source: Angelbird]
B&H Order Links:
Angelbird 512GB SSD2go PKT USB 3.1 Type-C External Solid State Drive (Orange)
Angelbird 512GB SSD2go PKT USB 3.1 Type-C External Solid State Drive (Blue)
Angelbird 512GB SSD2go PKT USB 3.1 Type-C External Solid State Drive (Silver)
Claim your copy of DAVINCI RESOLVE 16 - SIMPLIFIED COURSE with 50% off! Get Instant Access!