The Gripper batteries have a unique design making them super easy to just clip-on to any standard 15mm rod rig, and now our friends over at Zacuto are distributing them in the US and worldwide. You may remember our initial write-up we did on them back in January. Hawk-Woods are a very reputable UK-based battery maker, their kit can be found on rigs powering cameras like the C300 to ARRI Alexa's/RED Epics and everything in between on major narrative TV and Film dramas, commercials and other broadcast work especially in the UK and Europe. Back in February at BVE, I had a chance to check out the Gripper batteries in person and found them to be super compact and definitely worth picking up if you are looking for a compact solution for your DSLR, mirrorless or small Super 35 camera setup, precisely due to their unique clip-on design, which snaps onto any 15mm rod setup, thus eliminating the need for cheese plates or additional bulk to your rig.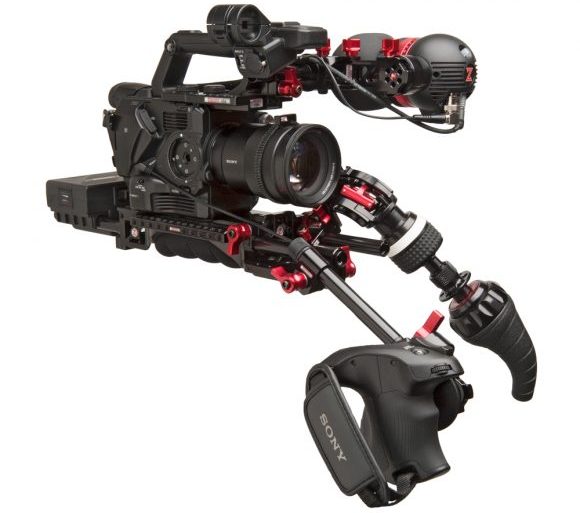 The Gripper series batteries come in 3 sizes and capacities – 75Wh, 100Wh and a 150Wh version. The low profile Gripper system directly to optional 15mm rods out the rear of the VCT Baseplate, or on any 15mm lightweight spaced rods. When paired-up with the Zacuto Next Generation Recoil Rig the Gripper batteries are really a match made in heaven!
Particularly if you're also a Gratical Eye SDI EVF user. The Gratical Eye has a 2-pin Lemo for power and requires external batteries. The Gripper Series 75Wh battery will power your Gratical Eye for a whopping 14 hours, which is like a solid, crazy shooting day on a low-budget feature!
Gripper Series Batteries Features
Clips onto 15mm lightweight spaced rods
75Wh ($260) & 100Wh ($290) battery options
Single fast charger ($90), charges 75Wh in 3 hours
2 position charger coming soon
Each battery has two P-Taps
Optional accessory with 4 additional P-Taps attaches to rods
LED battery gauge shows the remaining capacity of the battery
Add 2 M/F rods to your Zacuto VCT Baseplate to mount the Gripper
Half the weight and price of traditional rod mounted V Mount battery set-ups
Power your Gratical Eye and camera!
If you are based in North America, you can pre-order the Gripper series batteries from Zacuto here, starting at just $260 for the 75Wh version ($290 for the 100Wh). Shipping is estimated to commence July 1st!
Just as a reminder, Zacuto are doing some awesome Summer specials right now – you can get a FREE Power and Video cable for the Gractical Eye EVF (worth $160), and also save $75 on every Z-finder.
Claim your copy of DAVINCI RESOLVE 16 - SIMPLIFIED COURSE with 50% off! Get Instant Access!