Without a doubt, the DJI Osmo camera/gimbal system is a highly versatile tool with an ultra-compact form factor that can help you to capture a variety of smooth, professional shots for your productions. Moreover, in conjunction with the DJI Zenmuse X5R camera, you can get powerful cinematic 4K RAW images that could broaden your creative options in post significantly. Now, with the Kamerar Extender Adapter you can expand the versatility of the captured shots even further. With this accessory, you'll be able to emulate multiple jib shots while reaching new heights and angles. And, the best part is that the Osmo Extender lets you maintain the full control over the gimbal within finger's reach on the Osmo's handle.
In essence, the Kamerar Extender Adapter is a separate unit that fits perfectly between the joystick handle and the Osmo's camera/gimbal while giving you a 30″ extension. As Emm of Cheesycam points out, you can still attach the entire unit to an extension pole, but that way you will lose the ability to control the gimbal unless you're utilizing the remote access provided by the dedicated app. On top of that, you will add more weight to the end of your pole.
The Kamerar Extender, on the other hand, addresses all these issues by letting you mount both the handle and the camera/gimbal itself while still keeping the full functionality of the system. It's also worth noting that if you want to create a jib shot you should hold the trigger on the Osmo joystick handle so that when you point down the combo, the camera can keep up while following your natural movement.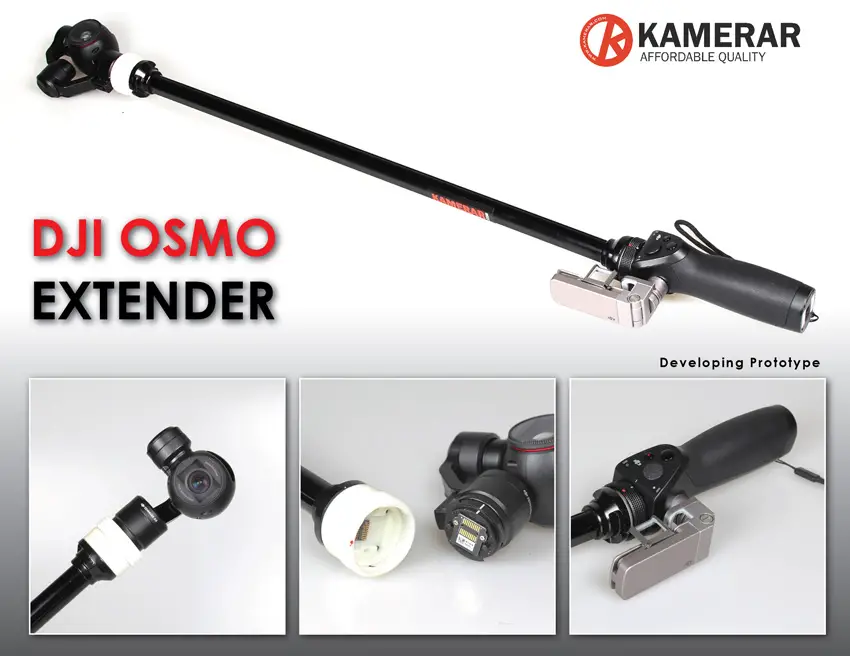 If you already own the DJI Osmo, the Kamerar Extender Adapter would be an excellent addition to your Osmo kit, plus it won't cost you an arm and a leg. Currently, the unit can be pre-ordered directly from Kamerar's official website for $85 as it's expected to ship at the beginning of July 2016.
[via: Cheesycam, source: Kamerar Extender Adapter]
B&H Order Links:
DJI Osmo Handheld 4K Camera and 3-Axis Gimbal
Zenmuse X5 Camera and 3-Axis Gimbal
Amazon US Order Links:
DJI Osmo Handheld 4K Camera and 3-Axis Gimbal
Zenmuse X5 Camera and 3-Axis Gimbal
Disclaimer: As an Amazon Associate partner and participant in B&H and Adorama Affiliate programmes, we earn a small comission from each purchase made through the affiliate links listed above at no additional cost to you.
Claim your copy of DAVINCI RESOLVE - SIMPLIFIED COURSE with 50% off! Get Instant Access!