Japanese audio gear manufacturer Zoom have been on quite the roll in the last 12 months by unleashing their top-end Zoom F8 multi-track recorder and more recently the new Zoom H4n Pro 4-track handy field recorder aimed at musicians, podcasters and of course low-budget filmmakers using DSLR style cameras, which lack professional XLR connectivity or high-quality pro audio recording features. DSLR shooters may be very well familiar with the original H4n handy recorder, which has been a favourite among the DSLR crowd for the last few years, and now the new H4n Pro successor is far from just a cosmetic upgrade to the classic H4n.
The new Zoom H4n Pro features new and improved advanced microphones, high-performance improved mic pre-amps, and an extremely low noise floor of -120 dBu among many other new features. Rob from our friends at B&H recently took a closer look at the brand new Zoom H4n Pro in the video below.
Zoom H4n Pro Improvements in Summary:
Built-In Stereo X/Y Mics are angle-adjustable allowing users to change the angle of capture from 90° (for a focused stereo image) to 120° (for a wider stereo image) only by twisting each mic's capsule.
On-board X/Y stereo microphone is capable of handling sound pressure levels of up to 140 dB (up from 127 dB from previous version) making it perfect for recording concerts
External Stereo Mic input has 10dB more capacity
Locking TRS/XLR connectors to prevent accidental cable pulls
More ergonomic feel of chassis with better rubberised coating
Improved and brighter LCD screen is easier to read in direct sunlight
Dedicated effects for musicians – cabinet emulators, pedal effects (only portable recorder of its kind to offer these features)
Zoom H4n Pro Detailed Features
Four-track simultaneous recording
High-fidelity mic preamps
Built-in X/Y stereo microphones, adjustable between 90˚ & 120˚
Record up to 140 dB SPL with X/Y microphones
2 x mic/line level inputs with XLR/TRS combo connectors
Stereo 1/8″ Mic In mini phone jack
+24 or +48V phantom power for main inputs and Plug-in power (2.5V) via Mic/Line In mini phone jack
Output/headphone jack with dedicated volume control
New rubberised and ergonomic body with improved 1.9 inch backlit LCD display
Built-in reference speaker for fast playback
Records directly to SD and SDHC cards up to 32GB
Supports up to 24-bit/96 kHz audio in BWF-compliant WAV or a variety of MP3 formats
Onboard Mid-Side decoding
Internal mix-down: four-track to stereo and stereo to dual mono
Up to 99 marks per recording
Built-in effects, including compression/limiting, low-cut filtering, modulation, reverb/delay and amp models
Normalise (maximum gain) and Divide (file splitting) functions
Chromatic tuner and metronome / Loop playback with user-defined start and stop points
Variable playback speed, from 50% to 150%, without affecting pitch
Variable pitch without affecting playback speed
USB port for file transfer to and from computer
2-in/2-out USB audio interface for PC/Mac computers
Mounts to mic stand or tripod, or directly to DSLR with optional Hot-Shoe adapter
Runs on 2 standard AA alkaline or NiMH rechargeable batteries with up to 6 hours of operation (up to 10 hours in Stamina mode)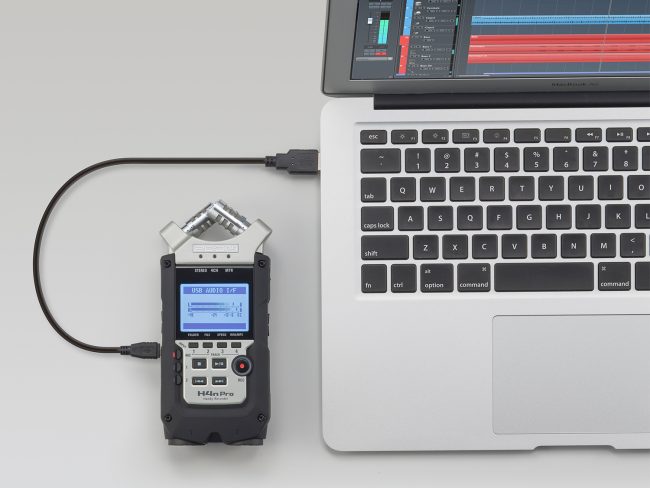 The Zoom H4n Pro may not have some all the bells and whistles of the higher end H6 multi-track recorder, but it sounds like an awesome piece of kit that is affordable enough at just $220 for filmmakers on a really tight budget, while still capable of producing professional audio results. As demonstrated from the First Look video above, musicians will also be able to take advantage of some of its unique features without breaking the bank and still sounding great.
You can pick your Zoom H4n Pro from B&H here.
For those filmmakers/video creators who are new to recording audio I highly recommend you guys head over to our online store here and check out Curtis Judd's "Learn Sound – Production Fundamentals for Film and Video" online course. The course is very easy to follow, it is super informative as it goes through the basics of what you need to know about getting professional production audio for your videos.
Disclaimer: As an Amazon Associate partner and participant in B&H and Adorama Affiliate programmes, we earn a small comission from each purchase made through the affiliate links listed above at no additional cost to you.
Claim your copy of DAVINCI RESOLVE - SIMPLIFIED COURSE with 50% off! Get Instant Access!