Filmmaker and post-production professional, Jon Carr took compares Canon Log 3 vs Canon Log 2 on the C300 Mark II with the latest firmware. For those of you who've missed our post on firmware version v.1.0.4.1.00 for the C300 Mark II, the latest firmware adds some very significant new features to the Canon C300 Mark II – primarily a brand new LOG gamma curve called Canon LOG 3. In addition, shadow and mid-tones noise in Canon LOG 2 (which was one of the major complaints from users as Canon LOG 2 is rather an aggressive curve) has been reduced, while focus magnification in the EVF has been added amongst a host of other new features concerning Dual-Pixel AF support with the new CN-E 18-80mm compact servo and CN7x17 17-120mm cine servo zoom. The comparison test below was shot by Jon Carr using the C300 Mark II and a set of CN-E cine primes alongside the EF 70-200mm f/2.8 IS II USM (make sure you see it in 4K by selecting 2160p via the sprocket).
According to Canon, the image-processing improvements to Canon Log 2 were made based on user feedback from early C300 Mark II adopters, who were concerned with the noise they were getting while exposing in Canon Log 2. And while Canon Log 2 still retains the maximum 15 stops DR the C300 Mark II is capable of, Canon engineers were able to reduce chroma noise across the entire image area in addition to shadows, which has improved significantly.
Another benefit will be the reduction of 'streaking levels' — an imaging phenomenon sometimes referred to as 'luminance banding' or 'CMOS smearing,' which occurs when an object with very bright luminance in a scene bleeds into adjacent dark areas of a shot.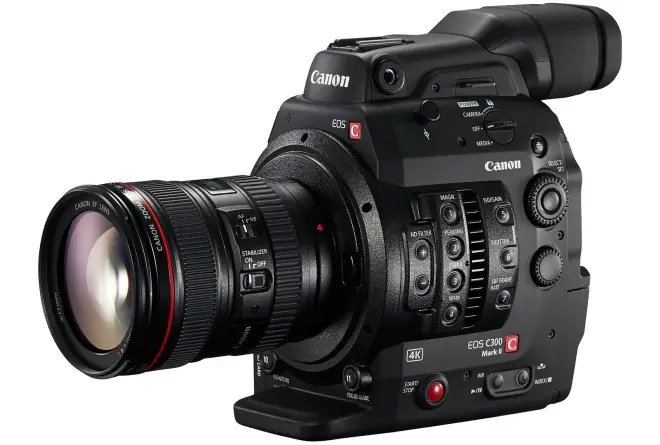 Canon Log 3 appears to be easier to grade then the more aggressive Canon Log 2, similar to the easier grade with Canon Log original. Canon Log 3 still maintains 1600% wide dynamic range, which according to Canon yields 14-stops, thus making Canon Log 3 a good halfway point between the more Rec.709-ish Canon Log 1 and the super-flat Canon Log 2.
I think the C300 mark II is really becoming an even better 4K machine with this update – the aren't many cameras out there with 3 separate log gamma curves for users to choose from depending on their particular shoot.
For example, Canon Log 1 is great for mixing footage with C100 or C300 original or DSLR's, while Canon Log 2 is for bigger budget productions destined for cinema release or high-end commercials, which will require heavy grading in post. And of course, the new Canon Log 3 being a more versatile and quicker tool for more streamlined corporate work or the slick broadcast documentary.
[via Canon CPN USA]
Claim your copy of DAVINCI RESOLVE - SIMPLIFIED COURSE with 50% off! Get Instant Access!