Back at NAB 2016, Canon announced a bunch of firmware updates to be delivered later in 2016 for their C100 Mark II, C300 Mark II and Canon XC10 cameras among some others, and now the major firmware update for the C300 Mark II is available for download for free. Firmware version v.1.0.4.1.00 adds some pretty significant new features to the Canon C300 Mark II – primarily a brand new LOG gamma curve called Canon LOG 3, also it reduces the shadow noise in Canon LOG 2 (which was one of the major complaints from users as Canon LOG 2 is rather an aggressive curve), and adds focus magnification in the EVF while recording among other features. For a full list of new features and improvements check out the list below.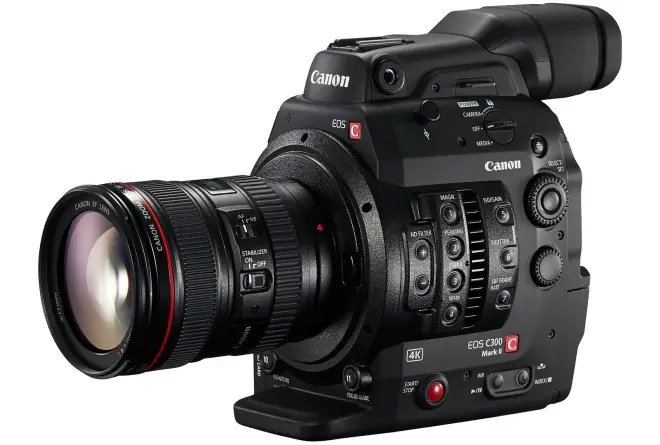 Canon C300 Mark II Firmware v.1.0.4.1.00 Highlights
Adds Canon Log 3 to already existing Canon LOG 1 and 2.
Reduces Canon Log 2 noise in dark areas.
Enables magnification to be used even during recording.
The following features are enabled when these lenses are attached: CN7x17 KAS S/E1, CN-E18-80mm T4.4 L IS KAS S or CN20x50 IAS H/E1:

Enables autofocus using the Dual Pixel CMOS AF function. (Not applicable to the CN20x50 IAS H/E1 lens)
Enables the joystick on the camera's grip unit to be set to operate the zoom.
Enables control of iris to be set to manual operation, and control of focus, zoom and iris using the separately-sold Remote Controller RC-V100.
Enables automatic aperture and push auto iris functions.
Enables retrieval of metadata, such as the model name and the focal distance of the lens attached, and display of metadata on the camera.

Enables Dual Pixel Function when these lenses are attached: CN7x17 KAS S/E1 lens, CN-E18-80mm T4.4 L IS KAS S lens or any of the EF cinema prime lenses.
Adds peripheral illumination/chromatic aberration correction for the following lenses:

COMPACT-SERVO lenses: CN-E18-80mm T4.4 L IS KAS S
CINE-SERVO lenses: CN20x50 IAS H/E1
EF lenses: EF 35mm f/1.4L II USM, EF 50mm f/1.8 STM and EF-S 18-135mm f/3.5-5.6 IS USM.

Enhances menu operations so that settings related to resolution/colour sampling, etc. are retained to the extent possible when changing recording settings such as the frame rate.
Supports ACESproxy (ACES 1.0).
Alleviates the black-dot phenomenon that appears in the periphery of high-brightness light sources.
Download the firmware update from Canon here.
Apparently the new Canon LOG 3 is not as aggressive as Canon LOG 2 in the shadows, and while still it manages to give you around 13-14 stops DR, Canon LOG 3 has a bit more saturated shadows, in contrast to the leaner Canon LOG 2, which still gives you the maximum 15 stops DR according to the guys at Abel Cine, who have a very nice write up on the new Canon LOG 3. Those of you more technically inclined can check out their blog post here.
A while back I shot a small promo piece with the C300 II (with the original firmware) but still, I love what the C300 II could do.
Dapper Barbershop – Shot on Canon C300 MKII in 4K from 4K Shooters on Vimeo.
And with the latest firmware update and DPAF support for the new CN-E 18-80 compact servo zoom, combined with the substantial price reduction it recently received (it's now $11,999 from $15,999 or about £7,999 in the UK) the C300 mark II becomes a very desirable and capable 4K workhorse for those shooters who want to have a broadcast compliant 4K camera without having to worry about external recorders (unless you want to do 4K Raw of course, which you can do with the C300 II and an Odyssey7Q+ or the soon the be released Atomos Shogun Inferno).
Claim your copy of DAVINCI RESOLVE 16 - SIMPLIFIED COURSE with 50% off! Get Instant Access!