Canon continues their NAB 2016 series of announcements by letting all of us know of their planned new firmware updates for the current Cinema EOS camera line including the EOS C300 Mark II, C100 Mark II, the 1-inch 4K hybrid XC10, the new cine servo 18-80mm zoom and even their DP-V2410 4K reference display. To some the upcoming firmware updates will bring vital new features such as viewfinder magnification while recording on the C300 II as well as the surprised addition of a new Log gamma – Canon Log 3, which has been designed to protect the highlights (as apposed to Canon Log 2 which favours shadow detail retention).
To others the updates may seem lacking. There's no 4K/60p upgrade for the Canon C300 II, which some folks seem to be adamant about, or higher frame rates on the XC10, which in all honesty is a much better camera than most give it credit (it takes time to get used to it, but the images are stellar). It would have been nice to get more juice out those cameras, but the show hasn't even started yet, so they may have something big coming up, who knows.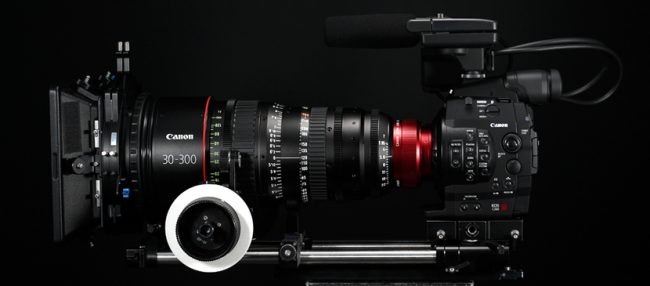 Anyway, here's a full list of upcoming firmware updates from Canon Pro:
Canon C300 Mark II (new firmware late July 2016) – Major new features including:
Canon Log 3 (Canon Log and Canon Log 2 will still be available in the camera)
Viewfinder magnification during recording
Focus guide with EF cinema prime lenses
Push Auto Irish and Zoom function on the grip joystick with new compact-servo and CN E 18-80mm cine-servo zoom lens
Overall images improvements such as noise level reductions in low light for Canon log 2.
EOS C100 Mark II (new firmware late July 2016)
Dual-Pixel AF, Focus Guides, One Shot AF & Auto Iris, Push Auto Iris to work with the CN7x17 & new CN-E 18-80mm compact servo lens
Peripheral illumination correction updates
Selectable disabling of the microphone
ME20F-SH Camera (late June 2016)
Lens support for an additional 19 EF and CINE lenses
Activates 12-pin front terminal to power CN-E servo lenses
Aspect Ratio Markers (4:3, 2.39:1, 1.85:1, 1.66:1) added can be output via the On Screen Display (OSD)
3 x Magnification Option in addition to the current 2x and 4x
DP-V2410 4K Reference Display 
Added support ARRI Log C and ARRI metadata;
Improve display contrast and dynamic range;
Add support for Canon Log3 and Hybrid Log Gamma;
Display of SMPTE 2084 input signal on the waveform monitor
DP-V3010 4K Reference Display
Improve display contrast and dynamic range
Support for Canon Log3 and Hybrid Log Gamma
Display of SMPTE 2084 input signal on the waveform monitor
CN7x17 Cine Servo 17-120mm Lens
Support for Canon's DAF function in the EOS C300 Mark II and EOS C100 Mark II Cameras
XA35 and XA30 Pro Camcorders and LEGRIA HF G40 Camcorder (expected Late May 2016)
New MP4 file format at 8Mbps (720 / 59.94P, 50P) allowing the user to shoot low bit rate footage.
XF305 and XF300 Professional Camcorders (early June 2016)
Wide DR Gamma (600%) Mode
Highlight Priority Mode
Signal/Noise priority mode
XC10 4K Hybrid (Late June 2016)
New file format MP4 in HD mode
Improved AF speed (2x as fast)
Shutter speed options for flicker reduction.
Claim your copy of DAVINCI RESOLVE - SIMPLIFIED COURSE with 50% off! Get Instant Access!