After recently introducing the Blackmagic Ursa Mini 4.6K, Sony FS5, Sony a6300 and Samsung NX1 profiles, FilmConvert now officially adds support to the DJI Osmo X3 camera as well. As part of the Phantom 4 and Inspire 1 ecosystems, the X3 camera and the newly released FilmConvert will allow DJI users to create more advanced, cinematic look by taking the X3 footage to a whole new level. With this latest addition, the popular software for emulating various film looks now supports 40+ market-leading digital cameras including brands like Arri, Black Magic, Canon, Digital Bolex, DJI, GoPro, Nikon, Panasonic, Red, Samsung and Sony.
FILMCONVERT from Film Convert on Vimeo.
Just as a recap, FilmConvert enables content creators, video editors and colourists alike to add film colour and grain to footage captured with any of the supported digital cameras in a few simple clicks by turning the flat and unpleasing log images into more organic and appealing footage.
The company develops camera packs containing accurate data for each camera picture style allowing authentic film stock looks across a wide range of cameras and settings. In order to get the industry standard results, FilmCovert continues to work directly with camera companies to bring the latest profiles by developing a complex density based grain and colour algorithms.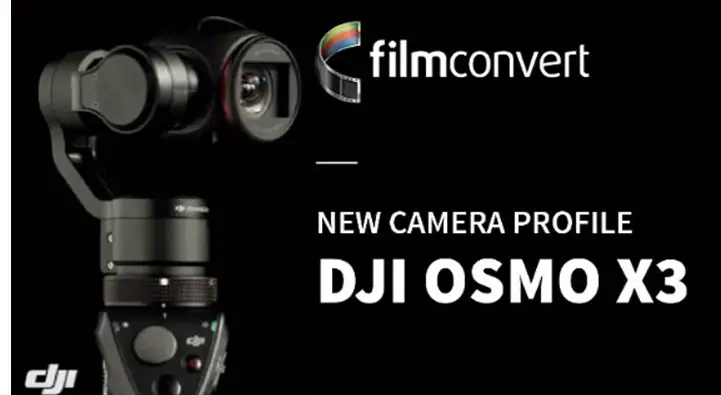 Users can utilise either the full standalone version of FilmConvert, or the proprietary FilmConvert plugin. The latter comes in different versions based on the NLE of choice. Currently, Premiere Pro, Final Cut, Avid, DaVinci Resolve Studio and Sony Vegas are supported. If you already own the DJI Osmo gimbal, Phantom 4 or Inspire 1 (version 2) drone, you can test the X3 profile by downloading the trial version of FilmConvert.
You can also check out the full list of supported camera models here. If you don't find the exact match for your camera, you can still use the profiles from similar cameras. Being an essential asset for multiple colour correction workflows along with the 40+ camera profiles already available and a few more in the making, FilmConvert is certainly a software that can make your life as a colourist a lot more enjoyable and productive.
[source: FilmConvert]
B&H Order Links:
DJI Osmo Handheld 4K Camera and 3-Axis Gimbal
DJI Inspire 1 v2.0 Quadcopter with 4K Camera and 3-Axis Gimbal
Amazon US Order Links:
DJI Osmo Handheld 4K Camera and 3-Axis Gimbal
DJI Inspire 1 v2.0 Quadcopter with 4K Camera and 3-Axis Gimbal
Claim your copy of DAVINCI RESOLVE - SIMPLIFIED COURSE with 50% off! Get Instant Access!