The latest installment in the Jason Bourne franchise is yet another big budget Hollywood film to use Blackmagic Design-made cameras. Indie filmmaker darlings the Blackmagic Pocket cinema camera and the newer Micro Cinema camera alongside the 5-inch Blackmagic Video Assist monitor/recorder where used to capture scenes in the latest Jason Bourne movie. In the past numerous big time Hollywood movies like "Expendables 3", "American Sniper" and "Mad Max: Fury Road" have all used Blackmagic cameras to some degree, because of their manageable size and most of all stellar image quality are often chosen to supplement A-cameras on major motion pictures.
It's always nice to read that some big movie have used a camera that you may have used or even own; and the case with the latest Bourne movie is no different, where Second Unit DP Igor Meglic used the Pocket and Micro Cinema cameras to capture the visceral pace of the film in particular in the chase/action sequences. I am a huge fan of the Bourne franchise and I hope I can find some time to check out the film in my local cinema in the next few days; and of course I'll try and spot the BMMCC/BMPCC shots (it won't be easy as I am sure the editing will be quite frantic).
Meglic also worked on 2007's "The Bourne Ultimatum," which was also helmed by franchise favourite director Paul Greengrass, so Meglic was very familiar with the requirements for capturing the thrilling chase scenes and heart-pounding action that the second unit was responsible for on the film.
"One of the most important things when shooting action scenes for any movie is to stay consistent with the established look of the movie, so once you transition to an action scene, there's no difference to the eye, and it feels like the same scene and style," explained Meglic. "On 'Bourne,' it was especially important because of the particular visceral documentary style of the film."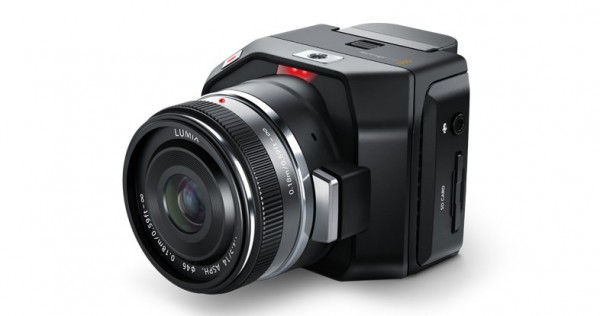 Blackmagic Micro Cinema Camera Highlights
Super 16mm-Sized CMOS Sensor
Active Micro Four Thirds Lens Mount
13 Stops of Dynamic Range
1920 x 1080 CinemaDNG RAW or ProRes
Ultra-Compact Design
Expansion Port with Radio Control Ports
SDHC/SDXC Memory Card Slot
HDMI & Composite Output
3.5mm Audio Input for compact microphones
When asked why they chose those two cameras, Meglic replied:
"…because of the combination of size and performance they delivered, which in turn helped us match the look and style of the film. I haven't found another camera that will deliver on those two things: being as light as they are while still delivering the image quality needed to blend in with the A cameras. I always try to extract as much as I can from a camera, so they are dealing with good footage in post, and the dynamic range on both cameras was very good."
A total of five Micro Cinema Cameras were used to help capture the final car chase scene in the film, which took place on the Las Vegas strip. Mounted to the side of a S.W.A.T. truck, the Micro Cinema Cameras captured all the action as the truck plows through rows of cars on the strip.
"Cutting to these mounted shots really quickly gives your senses a jolt, and you see cars flying right by the cameras," said Meglic. "In the same sequence, the car that Bourne is driving jumps onto the S.W.A.T. truck, and we put a Micro Cinema Camera on the ground right in front of the truck. We timed it so the camera captured Bourne's car landing on the truck as the truck drives right over the camera. Our Key Grip Peter Chrimes had built a little cage for the camera, and even though all 8,000 lb. of truck ran over it, the camera survived.

"At one point, the S.W.A.T. truck crashes into a casino and drives inside," he added. "We put Micro Cinema Cameras in between the slot machines where the truck hits. We got a great shot, and the cameras kept on recording."
In addition to the Micro Cinema cameras (on which they used Blackmagic Video Assist monitors to assure accurate framing) several Pocket Cinema Cameras were also used during a chase scene in the Canary Islands involving a motorcycle and car chase scene, "…which required a very light camera that could be mounted onto the helmet and body of the stunt person on the motorcycle," explained Meglic. "This was pretty serious stuff, and we had the guys going up and down stairs, over jumps and down very narrow alleys and streets. We used the footage for great POV shots."
In addition to the Blackmagic Cameras, the following cameras and lenses were also used on Jason Bourne 2016:
Aaton Penelope, Panavision Primo, Zeiss Super Speed, Ultra Prime, TLS Morpheus, Fujinon Premier Cabrio and Angenieux Optimo Lenses
Aaton XTR Prod, Canon Lenses
Arri Alexa Plus 4:3, Angenieux Optimo Lenses
Arri Alexa XT, Zeiss Super Speed, Ultra Prime, Fujinon Premier Cabrio and Angenieux Optimo Lenses
Blackmagic Micro Cinema Camera
Blackmagic Pocket Cinema Camera, Kowa Prominar Lenses
Canon EOS C500, Zeiss Super Speed, Ultra Prime and Angenieux Optimo Lenses
Codex Action Cam
Red Epic Dragon, Zeiss Super Speed, Ultra Prime and Angenieux Optimo Lenses
This is quite a diverse list of cameras and lenses that even features good-old Aaton XTR Prod "cat on a shoulder" film cameras, which is perfect for handheld shooting. The ARRI Alexa XT and Alexa Plus 4:3 were A-cams, with Canon C500s and Epic Dragons used to supplement. I definitely do not envy the colourists that worked on this film as trying to get all those to match must have been quite the challenge, which a good colourist should be able to do, after-all this is a $120 Million budget Hollywood movie, but nonetheless it must have been painful.
Jason Bourne is currently in cinemas worldwide. If you're fans of the franchise, BM cameras or just kick-ass action flicks go see it and let me know what you thought of the film and if you could spot the BM shots in the comments below.
[via Blackmagic Design]
Claim your copy of DAVINCI RESOLVE - SIMPLIFIED COURSE with 50% off! Get Instant Access!